This #MeToo Stat About Men Who Lost Their Jobs Shows The Movement's Major Impact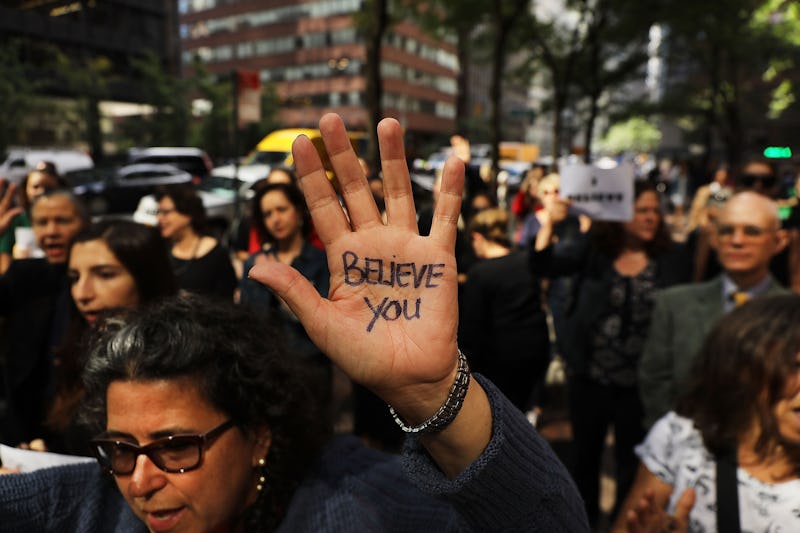 Spencer Platt/Getty Images News/Getty Images
A year after reports surfaced that Hollywood mogul Harvey Weinstein was accused of using his power to sexually harass and assault women, 201 men have lost their high-profile jobs following sexual harassment allegations, by The New York Times' count. While that in and of itself sounds encouraging, one statistic about the men brought down by #MeToo shows the movement's potential staying power.
Of the 201 men out of a job, 122 have already been replaced — and almost half of their replacements have been women. A total of 53 women have taken over for men ousted for alleged sexual harassment, compared to 69 men, as The Times reports. One-third of the jobs given to women were in the media industry, one-quarter in government, and one-fifth in the arts. Though a majority of the job openings have seen another man step into power, it shouldn't be overlooked that women make up nearly half of the recent successors.
"We've never seen something like this before," Joan Williams, a law professor who studies gender at the University of California, Hastings, told The Times. "Women have always been seen as risky, because they might do something like have a baby. But men are now being seen as more risky hires."
Among the male politicians replaced by women was Minnesota's Sen. Al Franken, whose congressional seat was filled by Tina Smith in January. Franken resigned after he was accused of sexually harassing women, although he said some of the allegations were "simply not true" when he announced that he would step down.
"I find it so interesting the number of people who come up to me and say, 'Thank you for stepping in when someone needed to step in,'" Smith told The Times. "That's a lot of what women do a lot of the time, right?"
It's impossible to ignore the fact that women are frequently only brought in at the highest level in order to clean up a man's mess. In fact, a phenomenon commonly referred to as the "glass cliff" describes when women are hired to turn a company around in a tough time, which puts them at risk of taking the blame if things continue to go poorly. A 2013 study by Utah State University researchers Alison Cooke and Christy Glass found that within Fortune 500 companies, women and people of color are more likely than white men to be promoted to CEO when the company's performance is weak. They're also likely to eventually be replaced by white men.
Of course, time will tell whether or not that's the case for the women succeeding men ousted by #MeToo scandals. And whether or not this trend of women taking over alleged harassers' jobs continues will be the real barometer of how much lasting impact the movement has had on society — and whether #MeToo's power is strong enough to finally break the glass cliff.
In the meantime, the #MeToo movement has multiple not-so-small victories to celebrate that will hopefully only be the beginning of a more equitable society.