This Mickey Mouse x SIWY Denim Collab Was Made For Hardcore Disney Fans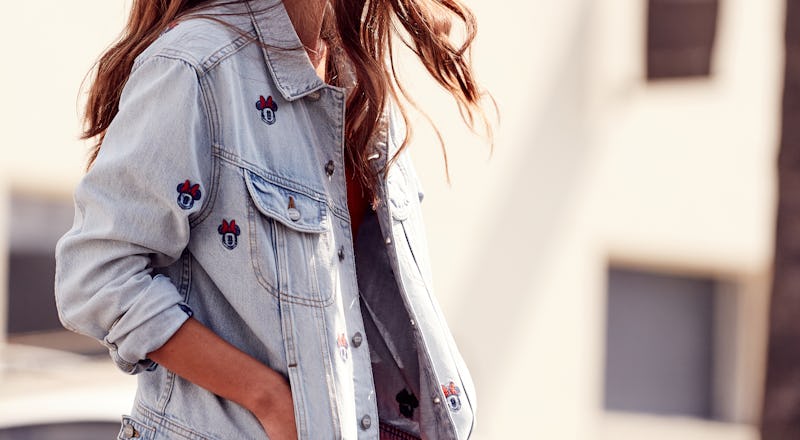 If you're a child of the nineties, chances are you rocked some Disney apparel back in the day, but it can be difficult to find Disney clothes as an adult. SIWY is here to change that. The LA-based brand collaborated with Disney for a Mickey Mouse denim collection for adults, which means you can wear Disney denim once more.
The SIWY x Disney denim collab was created to help launch ShopDisney.com, which is the revamped version of The Disney Store, where fans can buy official Disney, Pixar, and Marvel merchandise, in a trendier, chicer environment. The exclusive collab features vintage denim styles emblazoned with iconic Mickey and Minnie Mouse motifs, in a way that is totally wearable as a grown up.
The collection ranges from $170 to $400 and consists of a Minnie Mouse embroidered jean jacket, tuxedo stripe jeans with Mickey Mouse printed on the right thigh, a pair of high waisted jean shorts with Mickey Mouse on the front, and a pair of boyfriend jeans embroidered with little Minnie Mouses all over. All of the items in the SIWY collab are cute, but the Minnie Mouse boyfriend jeans are absolutely out-of-this-world adorable, not to mention totally wearable.
The SIWY x Disney capsule collection is featured on ShopDisney's "IT List," which showcases fashion items, all with a Disney twist, from designer brands.
SIWY isn't the only brand to create a Disney capsule collection for ShopDisney. Coach has created a line of Disney-inspired accessories for the site, David Lerner designed a loungewear line, and NCLA made super cool Disney villain nail wraps. Here are a few of pieces from ShopDisney's "IT List" that you're going to want to buy immediately.
These SIWY Minnie Mouse Boyfriend Jeans
Minnie Mouse Embroidered Boyfriend Jeans by SIWY, $299.95, ShopDisney.com
How cute are these Minnie Mouse jeans!? Their vintage cut and wash pair perfectly with the small embroidered Minnie Mouse icons for a super cute, Instagram-approved look.
This Patchwork Coach Saddle Bag
Mickey Mouse Patch Patricia Leather Saddle Bag by Coach, $389.95, ShopDisney.com
This beautiful brown leather Coach bag gets a trendy twist with a selection of Mickey Mouse patches, and it even has a cute red, Mickey Mouse bandana attached to it. Doesn't get much cuter than that.
These Ursula Nail Wraps
Ursula Nail Wraps by NCLA, $17.95, ShopDisney.com
Nail wraps are the easiest way to get a popping manicure, and these Ursula-inspired nail wraps by NCLA look super cool on nails, even if you're not a Disney fan. There are also nail wraps based on Ariel, Snow White, Maleficent, Cruella de Vil, and Sleeping Beauty available on the site.
These Mickey Mouse Sweatpants
Mickey Mouse Sweatpants by David Lerner, $62.95, ShopDisney.com
These super subtle Mickey Mouse sweatpants are an easy way to quietly show your Disney pride while at the gym.
These SIWY High Waisted Mickey Mouse Shorts
Mickey Mouse Denim Shorts by SIWY, $169.95, ShopDisney.com
Not for the faint of heart, these retro-inspired high waisted shorts with a faded Mickey Mouse printed on the right hip, proudly display your Disney spirit — perfect for a visit to Disney World.
This Mickey Mouse Bomber Jacket
Mickey Mouse Reversible Varsity Jacket by Coach, $429.95, ShopDisney.com
A Disney version of the ultra trendy bomber jacket, this reversible coat is a fun way to show off your Mickey Mouse love.
This Minnie Mouse Denim Jacket by SIWY
Minnie Mouse Embroidered Denim Jacket by SIWY, $399.95, ShopDisney.com
If the Minnie Mouse boyfriend jeans are a little too much for you, this light wash denim jacket with embroidered Minnie Mouses might be the perfect piece to show your appreciation for Disney in a more casual and subdued way.