Arkansas Says Men Can Block Their Wives' Abortions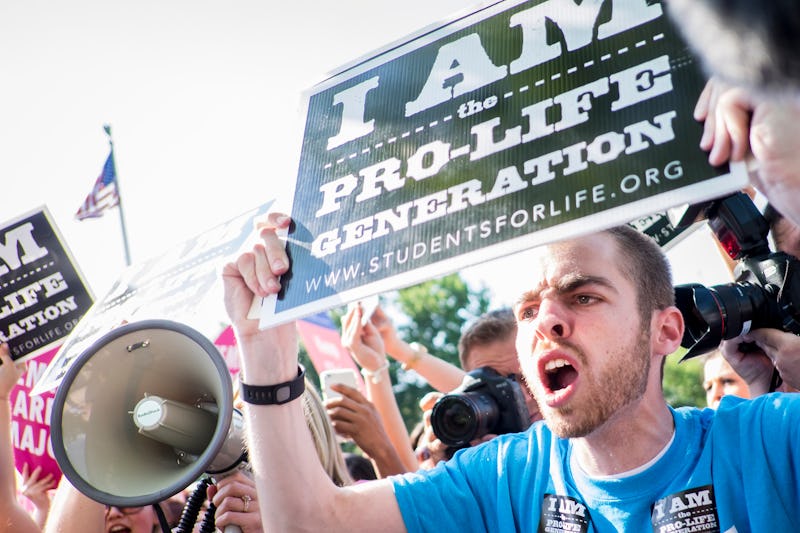 Pete Marovich/Getty Images News/Getty Images
A new law in Arkansas may allow fathers to block abortions, as well as potentially the parents of women seeking abortions. Signed last Thursday by Gov. Asa Hutchinson, Arkansas Act 45 potentially permits fathers to sue abortion providers to prevent women from having the procedure, according to a report Thursday in the Daily Beast. Parents or guardians of the women seeking an abortion can also potentially sue abortion providers for civil damages or injunctive relief.
Arkansas' abortion law also prohibits dilation and evacuation procedures. According to the Daily Beast, once the law takes effect in Arkansas, performing dilation and evacuation will be considered a Class D felony, which can be punished by up to six years in prison and a $10,000 fine.
Because this is the procedure used in 95 percent of second-trimester abortions, according to the Centers for Disease Control and Prevention, Arkansas will be "essentially blocking abortions after the 14 week mark," as Lisa Ryan wrote in New York's The Cut.
"The D&E method is the most common method of second-trimester abortion in the United States and in the world. It is the method endorsed by the World Health Organization, the American College of Obstetrics and Gynecology, and the American Medical Association," the president and CEO of Planned Parenthood Great Plains, Laura McQuade, told the Daily Beast.
The law has not yet gone into effect, and thus it is not exactly clear how much legal leeway fathers would have in court. When pressed on this concern by Daily Beast reporter Kelly Weill, Arkansas Act 45's co-sponsor Rep. Andy Mayberry offered a somewhat unclear answer. He stressed that the law would only affect cases involving dilation and evacuation, but that "we've tried to account for all the worst case scenarios."
Democratic state senator William Bond was less equivocal in his interpretation. He told The Daily Beast, "There is an injunctive relief section in the bill that, in my reading of it, would seem to allow litigation among family members." Bond, who opposed the measure, added, "If one spouse sought injunctive relief to prevent a certain procedure, or possibly other family members have the possibility for injunctive relief, that was a concern of mine."
"The law puts an undue burden on a woman's constitutional right to obtain a second-trimester abortion, and I think the legislature knows it and doesn't care," Rita Sklar, an attorney for the Arkansas chapter of the American Civil Liberties Union, told Reuters.