There's Going To Be A Paul Walker Documentary, So Get Ready To Sob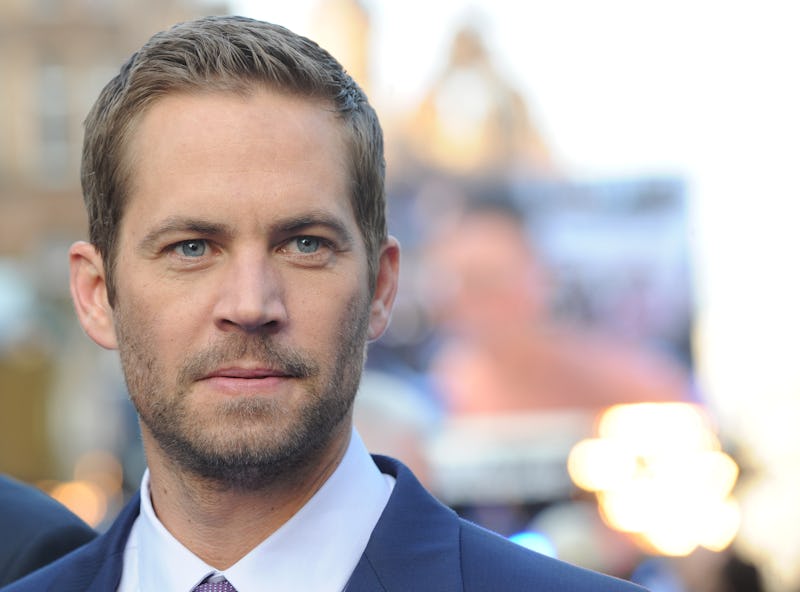 Stuart C. Wilson/Getty Images Entertainment/Getty Images
It's been over four years since Paul Walker's sudden death, and it still remains one of the greatest Hollywood tragedies in recent history. Now, a new documentary called I Am Paul Walker will give his fans a closer look at the star after he passed away in a car accident. As People reports, Paramount Network will create the documentary, which will give Walker's fans a completely new look at the late star's life.
Paramount has previously created documentaries about other celebrities who passed away tragically, which includes Heath Ledger, Chris Farley, and JFK Jr. As with those other documentaries, the network revealed that Walker's will give audiences an intimate look at his life — and death. As the press release stated, the documentary will include the late star's Fast and Furious co-stars, so you can probably bet that Vin Diesel will make a few emotional appearances. While the release date hasn't been confirmed, People reports that more information about the documentary will be released soon.
Walker starred in The Fast and the Furious movies, from the first of the series in 2001 until Furious 7, which came out in 2015. Sadly, he died during the filming of his final Fast and Furious film in Nov. 2013, in a car accident unrelated to the film's production. According to Entertainment Weekly, Furious 7 found a way to complete Walker's character's storyline with CGI and Walker's two brothers, Cody and Caleb.
In addition to sharing memories from Walker's film career, the upcoming documentary will also focus on commemorating Walker's commitment to charitable work. According to the Daily Beast, Walker founded a nonprofit called Reach Out Worldwide, which he was as passionate about as his acting career. He certainly was equally committed to giving back, as Reach Out Worldwide offered natural disaster relief around the world. According to the Daily Beast, Walker's organization helped out in Indonesia, Chile, Alabama, the Philippines, and Haiti before the actor passed away at age 40.
His Fast and Furious co-star, Michelle Rodriguez told the Daily Beast, "He was a real f*cking dude with a big-ass heart." She continued, saying, "Like, f*ck talking about doing shit for people, I'm going to go out there and start a charity. Hands first."
The car crash that ultimately resulted in Walker's death occurred while he and his friend, Roger Rodas, were leaving a Reach Out Worldwide event. As US Weekly reports, earlier in the day, Walker had been co-hosting an event to raise money for victims of a Philippines Typhoon. The fact that I Am Paul Walker will focus on the late actor's philanthropic achievements sounds like the perfect way for the documentary to pay tribute to the actor's life.
Even though Walker is best known for his character, Brian O'Conner, in the Fast and Furious movies, the actor also appeared in other movies that you might now call late '90s staples. From Pleasantville and She's All That to Varsity Blues, his career had already impacted many before he stepped foot onto a Fast and Furious set. Once he did, though, he secured his place in Hollywood history, and, more importantly, in his co-stars' hearts. If you just take a quick look at Vin Diesel's Instagram, you'll easily find a few pictures of the two Fast and Furious stars together, as the two actors had an infamously close bond.
After Walker's death, Diesel wrote a Facebook post about how his late friend's mother comforted him at the funeral. "His mother hugged me and said I am so sorry … I said sorry? You're the mother who lost a son? … She said yes, but you lost your other half," Diesel wrote, according to The Hollywood Reporter.
Because fans will remember how tragic it was to mourn Paul Walker's death after it happened, they might feel apprehensive about re-living it all with the new documentary. But, based on all the information that's been shared about I Am Paul Walker so far, the film may be a great way to commemorate the late actor's legacy. Watching it might result in a sob-fest, but it will likely be worth it.