You Need This New TJ's Item For The Fourth Of July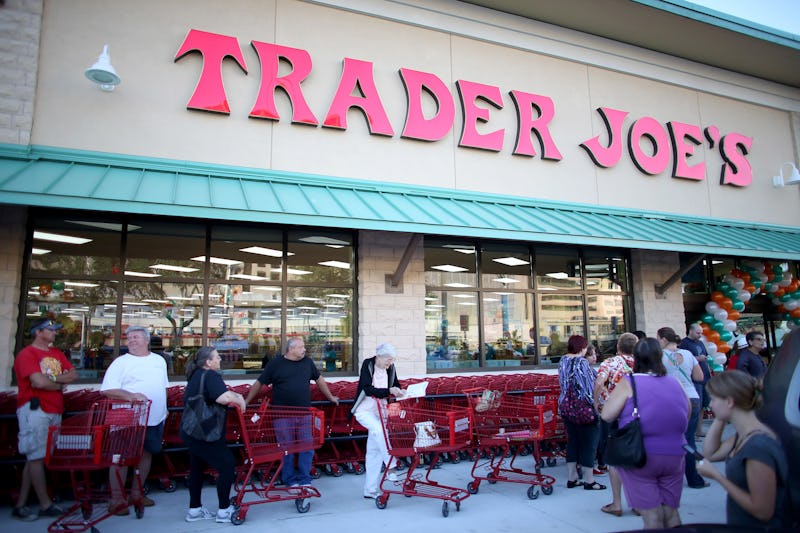 Joe Raedle/Getty Images News/Getty Images
Every year on the Fourth of July, Americans come together to celebrate their country by exploding colorful pyrotechnics in the sky, wearing flag tank tops, and consuming medically-questionable amounts of grilled meats. But let's face it — as much as we may love steaks and burgers and America, we can't all be Bobby Flay. Some of us need a little help upping our grill game, and fortunately, Trader Joe's came to the rescue with its new, limited time only, Mango Chipotle BBQ sauce.
The sweet, spicy, tart, smoky sauce contains pretty much everything good and delicious in this world: apple cider vinegar, Bourbon, pineapple juice, Balsamic vinegar, brown sugar, Worcester sauce, and an array of spices, in addition to mangoes and chipotles.
According to Trader Joe's: "Mango Chipotle BBQ Sauce is an ideal basting sauce for chicken or ribs, and works well as a dipping sauce or sandwich spread. Try simmering it with slow smoked pulled pork, or blending it with our Organic Ranch Dressing to add a sweet-spicy somethin'-somethin' to your summer salads."
And if all of that doesn't scratch your mango-chipotle itch, at just $2.99 a bottle, one could easily buy enough of it to fill a bathtub for a sweet-and-savory (and possibly sticky) night of BBQ-scented relaxation.
Look, some BBQ traditionalist might call this cheating. They might say going to the store and buying a sauce to slather over your meat at the last minute in order to cover up the fact that you forgot to marinate it and/or overcooked it, makes you nothing more than a fire pit charlatan. In light of that, I want to be clear about one thing: I am NOT suggesting you pour this sauce out of its fanciful packaging and into an unmarked squeeze bottle, and I am certainly NOT saying that once you did that, you tell everyone at the party that this BBQ sauce is an old family recipe with a secret ingredient that you can't disclose or your grandmother would disown you. I am NOT saying you should definitely do that to get BBQ cred.
And if you're really looking to establish yourself as the reigning master of the local BBQ circuit, Trader Joe's has you covered. There are the Puff Dogs you can serve as tasty apps (which, as Brits fairly pointed out, they did invent, but let us have this, please?!), a facial cleansing oil to keep you looking dewy and fresh even amidst a noxious swirl of meat smoke and mosquitos, and Avocado Citrus Greek Whole Milk Yogurt, to help you self-actualize into the Millennial you were always meant to be.
So go forth, friends, armed and informed, and dominate every BBQ you go to this summer.