The Latest 'New Yorker' Cover Reimagines Its Mascot As A Black Woman & That's HUGE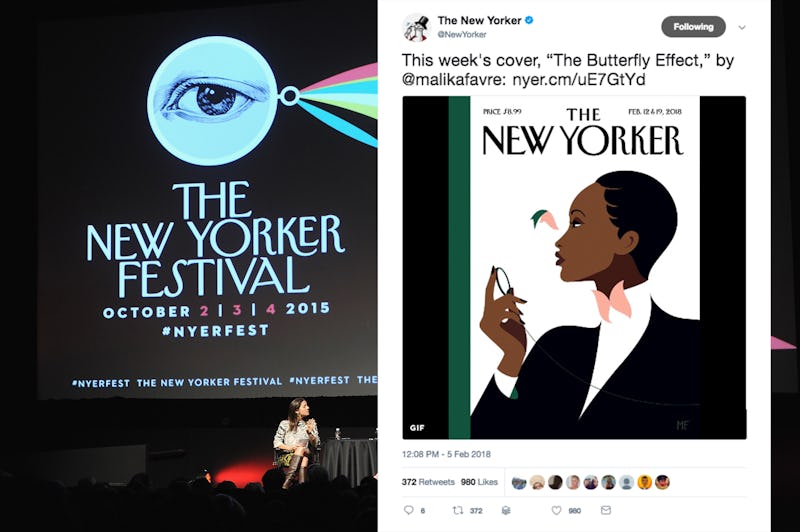 Craig Barritt/Getty Images Entertainment/Getty Images; New Yorker/Twitter
The days of seeing primarily white faces grace magazine covers are coming to an end, slowly but surely. The cover of the very first edition of The New Yorker portrayed a dandy watching a butterfly through a monocle, and that iconic mascot has graced the magazine's front page in many different forms since it debuted in 1925. But this week, a black woman appears on The New Yorker's latest cover, "The Butterfly Effect," as the magazine's mascot for what appears to be the first time.
"Our specific intent was to create something modern with a throwback to the twenties," New Yorker art editor Françoise Mouly tells Bustle. "It felt right that, in these times, Eustace Tilley should be depicted as a woman. It's both a conversation and homage, bringing an icon into the present."
Each year, the magazine's anniversary issue riffs on the original dandy drawn by Rea Irvin. Last year, the cover featured Russian President Vladimir Putin holding up a monocle to a butterfly featuring Donald Trump's face. In 2016, the same dandy that appeared on the 1925 cover was depicted sitting on the New York City subway watching a fly. In 2015, one of nine covers for the 90th anniversary showed a white woman drawing a butterfly on a mirror with lipstick. Black men and white women have appeared multiple times in modern reinterpretations of the dandy, but judging by a slideshow of previous covers posted by the magazine, no anniversary cover has depicted a black woman until now.
In the online version of the cover, an animated butterfly flutters past the woman as she puts down her monocle to give a side-eye glance in the viewer's direction. The design is simple, but her stare gives the slightly eerie impression that she knows you're watching.
"I wanted to capture the poise and the pose of the original Eustace Tilley dandy, but do it as something extremely simple and modern," Malika Favre, the artist, told The New Yorker. "Like the original Tilley, I had her look slightly up, which shows her curiosity — and of course it was delightful to have the flight of fancy, the poetic touch, of the butterfly."
Favre is a French artist currently living in London. She's created quite a few New Yorker covers, including illustrations of a half-eaten apple, young girls drawing a hopscotch board, and female surgeons. "Her bold, minimal style — often described as Pop Art meets OpArt — is a striking lesson in the use of positive/negative space and colour," her website reads.
Her minimalist techniques are meant to evoke emotion without trying too hard. "I am a very logical person and I like things to be there for a reason," Favre told the British blog It's Nice That in 2015. "I believe that out of structure comes freedom. Setting rules makes it more interesting and it triggers something when people look at the images. That's what I love to do in my work, when people have a reaction to it and don't see all the work that's gone into it."
Her latest New Yorker cover is dazzling not only because of Favre's handiwork, but also because of what it represents. The very first cover depicting Eustace Tilley was based on an image of Count d'Orsay, a fashionable Victorian man and amateur artist whose mother was a baroness and whose father was a Bonapartist general. Tilley was a character created by Corey Ford for The New Yorker. Recreating the image of a wealthy white man immortalized in 1925 as a black woman in 2018 forces readers to reevaluate who they see as elegant and poised — and why.
It's telling that it took 93 years to see a black woman on the anniversary cover, though. Different variations of hipster white men, chic white women, and regal black men have appeared as updated versions of Eustace Tilley over the years. The 2000 anniversary cover even depicted a dog. So Favre's reinvention of the classic Tilley cover has been a long time coming.