Here's The Pamphlet Migrant Parents Get On How To "Locate" Their Kids After Being Separated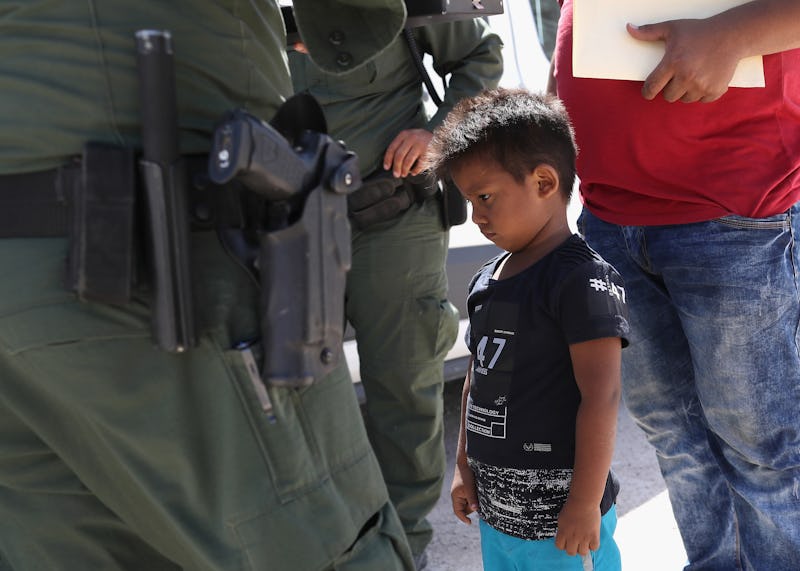 John Moore/Getty Images News/Getty Images
Recently, news emerged that over 2,000 children have been separated from their families at the southern U.S. border crossing in just a six-week period. On Sunday, CNN released a "Next Steps for Families" separated at the border pamphlet that exposes the startling reality of the Trump administration's immigration policy. The pamphlet suggests measures parents can take to locate their children after their kids have been removed from their custody.
As CNN reported on June 18, a copy of the pamphlet was provided to the outlet as reporters toured a border processing facility in McAllen, Texas. The "Next Steps for Families" handout outlines (in English and Spanish) four steps that parents can take after they have been detained at the U.S. border.
The first step notes the charges faced by someone who has been detained: "illegal entry" into the United States. The second step then indicates that any adult who has been detained will be transferred to the U.S. Department of Justice, while children will be transferred to the Department of Health and Human Services (DHHS) and either placed in foster care or a temporary child shelter.
Step three offers several different actions parents can take to locate their children. The document recommends calling the U.S. Immigration and Customs Enforcement (ICE)'s call center, calling the Office of Refugee Resettlement's (ORR)'s Parent Line, and/or emailing ICE or the ORR.
Finally, step four notes that, once parents face trial, they are then transferred to ICE's custody. It also indicates that, while they are in custody, ICE will assist parents in contacting their children via telephone or video conference. The agency will offer them "legal self-help materials."
The "Next Steps for Families" pamphlet serves as a stark visualization of the Trump administration's recently-enacted zero tolerance immigration policy. The policy mandates that any undocumented immigrants seeking to enter the United States are criminally prosecuted. As a result, children and parents are being separated after they arrive at the border crossing, with parents facing criminal trials and children separately facing non-criminal immigration proceedings.
While the pamphlet may outline steps that parents can take to locate their children after they are removed from their custody, it seems that doing so may not necessarily be a straightforward process. For example, Texas Monthly recently spoke with Anne Chandler, the director of the Houston office of the Tahirih Justice Center, who has been traveling to border facilities to talk with detained parents and hear their stories. As Chandler described, many parents do not know where their children are being housed, despite being provided with a phone number to assist in locating them. As Chandler noted:
We spoke to nine parents on this Monday, which was the 11th, and these were adults in detention centers outside of Houston. They had been separated from their child between May 23 and May 25, and as of June 11, not one of them had been able to talk to their child or knew a phone number that functioned from the detention center director. None of them had direct information from immigration on where their child was located. The one number they were given by some government official from the Department of Homeland Security was a 1-800 number. But from the phones inside the detention center, they can't make those calls. We know there are more parents who are being deported without their child, without any process or information on how to get their child back.
A Border Patrol spokesperson has told The Independent that claims children were unlawfully taken from their parents are not correct. "I would tell you nothing could be further from the truth and these allegations are unsubstantiated," he said.
Many have condemned the family separation policy, saying that it is damaging to children and families. On Sunday, protests took place outside of immigration detention facilities in New Jersey and Texas, with activists calling for an end to the policy. While President Trump has indicated that he "hates" the family separation policy (and blamed its existence on Democrats), there has not yet been any indication from the administration that the policy will be rescinded anytime soon.