This Ohio Bill Is Setting Up A Huge Fight For The Future Of Abortion Rights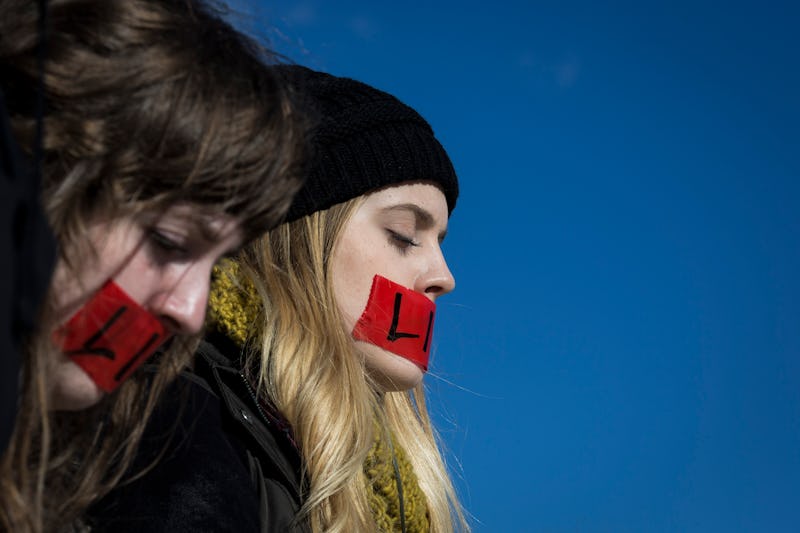 Drew Angerer/Getty Images News/Getty Images
On the same day Mississippi Gov. Phil Bryant signed a 15-week abortion ban into law, another crackdown on abortion access was quietly beginning in a different state. Ohio state legislators on Monday introduced a bill that would ban abortion in all cases and, if passed, would easily top Mississippi's ban as the most restrictive abortion law in the nation.
Ohio's House Bill 565 calls for abolishing abortion with no exceptions made for cases of rape, incest, or threats to a woman's health or life. The bill would also allow for women who seek an abortion in the state of Ohio to face criminal charges. Yet experts say bills like this one in Ohio aren't simply about restricting access to abortion in one state, but rather they're part of a larger strategy to undermine abortion rights nationwide.
"The recent 15-week abortion ban that was enacted in Mississippi, the debate on the six-week abortion ban in Iowa, and this Ohio bill show that abortion rights opponents are looking to very extreme legislation to set up a legal challenge to Roe v Wade," Elizabeth Nash, senior state issues manager at the Guttmacher Institute, tells Bustle. "And it appears that states are jockeying for position as to which state will be the first in line for that case."
A number of states have passed restrictions designed to chip away at women's access to abortion in the 45 years that have passed since the U.S. Supreme Court ruled women had a constitutional right to the procedure in Roe v. Wade. These have included laws designed to restrict insurance coverage for abortion procedures, impose gestational limits, limit the number of abortion providers, and delay access to care through two-visit requirements or mandatory counseling.
But Ohio state legislators appear to be taking things a step further with HB 565, which seeks to outlaw abortion across the state. Along with banning abortions without exception, the bill would also define an "unborn human" as a person under the state's criminal code regarding homicide, murder, and manslaughter. That means that should the bill be enacted, women seeking abortions could be hit with criminal charges and even punished with a life sentence or the death penalty per Ohio law. For these reasons, Nash describes the Ohio abortion ban as "the most extreme [ban] that has been introduced in years."
Ohio's HB 565 is far from being the first abortion restriction the state has proposed. In fact, this bill comes roughly one week after a federal judge in the state blocked legislation aimed at banning abortion in cases where prenatal tests reveal a positive Down syndrome diagnosis, or where there is "any other reason to believe" the fetus may have the condition. And in 2016, Ohio Gov. John Kasich vetoed a so-called "heartbeat bill" that would have banned abortion as early as six weeks in favor of signing a 20-week ban. But if the state's most recent attempt to restrict abortion has come under judicial scrutiny, why are Ohio lawmakers looking to now pass a total statewide ban on abortion?
Reproductive rights advocates say anti-choice legislators in Ohio are likely spoiling for a fight. "This bill is written for one purpose only and that is to make it all the way to the Supreme Court and overturn Roe v. Wade," Gabriel Mann, communications manager for NARAL Pro-Choice Ohio, tells Bustle. "It's meant to be a U.S. Supreme Court case to end abortion across the country. That's why they're doing this."
Ohio isn't the only state to push restrictive abortion legislation in the wake of Mississippi's 15-week ban. Louisiana state legislators recently proposed a 15-week abortion ban of their own. Currently the state bans abortions at 20 weeks. "Abortion rights opponents believe that the U.S. Supreme Court could become more conservative in the near future," Nash tells Bustle. "This makes these debates at the state level even more important as abortion rights opponents are looking to a long-term strategy to undermine abortion rights, not just make it harder to access abortion."