This Oklahoma Senator Proposed A New Bill To Classify Abortions As Homicides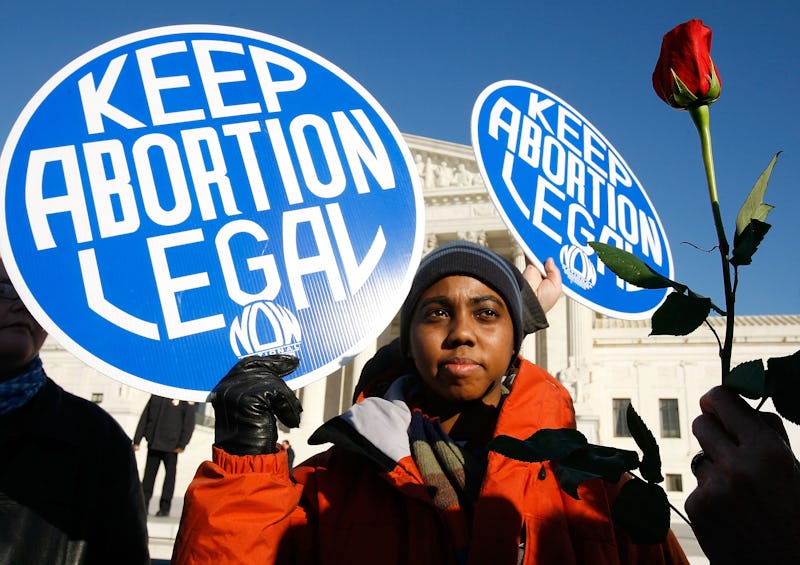 Alex Wong/Getty Images News/Getty Images
While the landmark Supreme Court case Roe v. Wade established people's legal right to an abortion, access to the procedure remains under attack in states across the country. Indeed, one Oklahoma senator wants abortion to be a felony homicide. In an interview with KFOR, state Sen. Joseph Silk argued that abortion was equivalent to killing a one-year-old child.
"It's gonna be classified as a homicide because, essentially, a fertilized egg is a human life just like a one-year-old baby is a human life," Silk said of abortion in an interview with KFOR on Friday. "So, an abortion would be considered intentionally taking a human life."
Silk has recently introduced The Abolition of Abortion in Oklahoma Act, a bill that seeks to classify abortions as homicides punishable by life in prison, Tulsa World reported.
In speaking with KFOR, Silk argued that someone seeking an abortion was equivalent to "a mother who just killed a one-month-old or one-year-old child."
"It's a horrific act and there shouldn't be any tolerance for it," he added.
According to KFOR, Silk's bill does not make exceptions for incest or rape, situations Silk argued were rare. "The numbers of rape and incest are so tiny, under half a percent," he told KFOR. "So, it's almost not even an arguable question. It is a human life, regardless of how it came to be."
Silk's bill reportedly goes on to void any federal laws or court decisions, such as Roe v. Wade, which would oppose the bill's criminalizing of abortion. "Any federal statute, regulation, executive order or court decision which purports to supersede, stay or overrule this act is in violation of the Constitution of the State of Oklahoma and the Constitution of the United States of America and is therefore void," Tulsa World reported the measure read.
While speaking to KFOR, Silk argued that states sometimes needed to challenge federal court rulings, pointing to the Supreme Court's initial stance on slavery as an example. "The Supreme Court also ruled that slavery, you know, that slaves were private property and they were wrong," he said. "And so, the courts do need to be challenged."
While reproductive rights advocates fear anti-choice state legislators may seek to use anti-abortion bills as an attempt to overturn Roe v. Wade under Donald Trump's presidency, Silk told Tulsa World that wasn't his intention at all. "The goal is to say we are a sovereign state and choose to abolish abortion," the news outlet reported he said.
Reproductive rights advocates like the American Civil Liberties Union (ACLU) have criticized Silk for what they described as a lack of understanding of constitutional law. "Sen. Silk is demonstrating yet again that he has little interest in honoring his oath to uphold the constitution," ACLU of Oklahoma Deputy Director Allie Shinn told Tulsa World. "Indeed, he seems more interested in scoring cheap political points at the expense of Oklahomans than he is [in] promoting the well-being of his district."
"When to have children or whether to have children at all is a deeply personal decision, one in which the government has no right to interfere," Shinn added.