Brett Kavanaugh Once Gave A Speech Where He Talked About Getting Super Drunk & Partying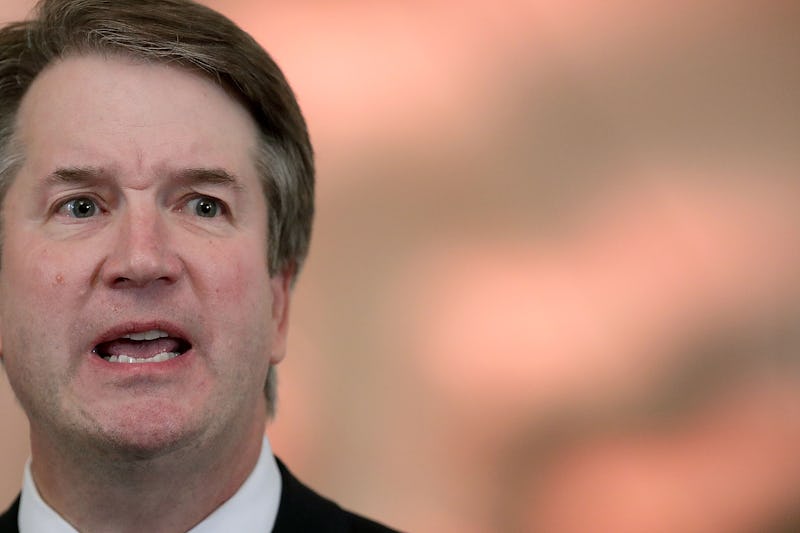 Chip Somodevilla/Getty Images News/Getty Images
Four and a half years ago, Supreme Court nominee Brett Kavanaugh spoke at a Yale Law School Federalist Society banquet about his days as a student in the organization. In the wake of the recent drunken attempted sexual assault allegation facing him from Christine Ford (he "categorically and unequivocally" denies it), Kavanaugh's old speech about drunk partying is raising alarms for some.
"I am approaching the 24th anniversary of my graduation from this school," Kavanaugh told the banquet in April 2014, according to transcript of his address that was brought to light by Washington Post reporter Felicia Sonmez. "That means I am approaching the 24th anniversary of my organizing 30 classmates in a bus to go to Boston ... only for us to return falling out of the bus onto the front steps of Yale Law School at about 4:45 a.m."
"Fortunately for all of us," he added, "we had a motto: What happens on the bus stays on the bus. Tonight, you can modify that to what happens at the Fed Soc after-party stays at the Fed Soc after-party." He goes on to talk about a time when one of his friends drunkenly fell into and smashed a bar table.
That "motto" is reminiscent of another Kavanaugh speech that's resurfaced this week from when he addressed a D.C. law school a year later. In the speech, he talked about his high school days, saying he and his classmates "held firm to this day" to the "good saying" that "what happens at Georgetown Prep, stays at Georgetown Prep." (Ford alleged that he attempted to assault her while "stumbling drunk" in his high school days.)
Other evidence has arisen this week suggesting that Kavanaugh may have had a pattern of drunkenness in his youth. In his high school yearbook, he called himself as the treasurer of the "Keg City Club — 100 Kegs or Bust," according to The Washington Post. BuzzFeed reports that Kavanaugh reportedly joined the secret society Truth and Courage (TNC) when he was at Yale. The outlet interviewed a student who attended around the same time as Kavanaugh and was familiar with the group. "All I remember is them drinking," she said, adding that TNC was "organized around having sex with coeds."
Then there's the 1997 memoir Wasted from Mark Judge, the person Ford alleges was in the room when Kavanaugh tried to rape her. (In a statement provided by his lawyer to the Senate Judiciary Committee leaders, Judge said he has "no memory of this alleged incident" and that he "never saw Brett act in the manner Dr. Ford describes.") According to Mother Jones, the memoir describes how Judge and his friends would regularly get extremely intoxicated during their days at Georgetown Prep.
Judge even seems to make a thinly-veiled reference to Kavanaugh in the book, according to Mother Jones. "Do you know Bart O'Kavanaugh?" he writes that a girl asked him once, adding that she'd "heard he puked in someone's car the other night." Judge wrote that he responded, "Yeah. He passed out on his way back from a party."
At this point, the Senate Judiciary Committee plans to hold another hearing to question Kavanaugh about Ford's allegations. They've also requested that Ford herself appear for testimony, although she has not yet agreed to publicly testifying. It also seems likely that Kavanaugh's lifestyle as a young person will come up, including whether he frequently engaged in drunken partying, and he could face questions on his own words.
If you or someone you know has been sexually assaulted, call the National Sexual Assault Telephone Hotline at 800-656-HOPE (4673) or visit online.rainn.org.