This Line In Don Jr.'s Emails Confirms The Kremlin Coordinated For Trump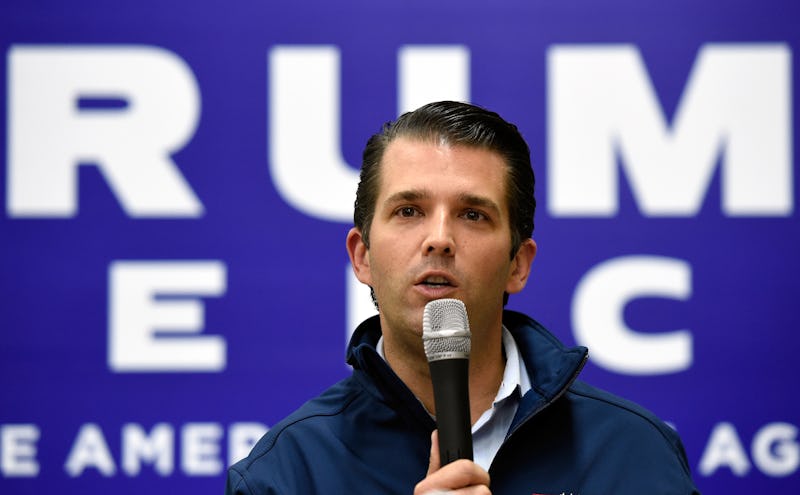 David Becker/Getty Images News/Getty Images
On Tuesday, the New York Times published a report that Donald Trump Jr. set up a meeting during the presidential campaign to get information on Hillary Clinton from the Russian government. The report, however, came just minutes after Trump Jr. released a statement — along with email correspondence between himself and Rob Goldstone — which shows he had knowledge that the Russian government wanted to help his father win the election.
In the original email from Goldstone to Trump Jr., he says that the "Crown prosecutor" of Russia "offered to provide the Trump campaign with some official documents and information that would incriminate Hillary and her dealings with Russia and would be very useful to your father." But the most striking line came next: "This is obviously very high level and sensitive information but is part of Russia and its government's support for Mr. Trump."
The New York Times notes that there is no such title as "crown prosecutor" in Russia, but an equivalent for the British position would be the Prosecutor General of Russia.
According to the emails, Trump Jr. set up a meeting for June 9, 2016 with the individual whom he was told had the intention to provide the Trump campaign with information about Clinton in order to help Trump win the election. Trump Jr. also claims that no information about Clinton was actually given during the June 9, 2016 meeting, but instead they discussed Russian adoption policy.
In Trump Jr.'s written statement, he says, "the woman, as she has said publicly, was not a government official." However, according to the email chain, Trump Jr. was told that the information he was supposed to be receiving was from the Russian government.
In Trump Jr.'s statement, he wrote, "The information they suggested they had about Hillary Clinton I thought was Political Opposition Research." He does not deny in the statement that he was interested in getting information from Russia to help his father's campaign. In fact, in his email response to Goldstone offering to set up a meeting to give the information to the Trump team, Trump Jr. said, "if it's what you say I love it, especially later in the summer."
The meeting, according to Trump Jr., involved Kremlin-connected Russian lawyer Natalia Veselnitskaya, as well as Trump's former campaign manage Paul Manafort and Trump Jr.'s brother-in-law and current advisor to President Trump, Jared Kushner.
President Trump's role in the entire series of events remains unclear, however, with the White House released a statement saying that Trump only learned of the meeting this week.