This One Quote From Obama About The GOP Health Care Bill Will Scare You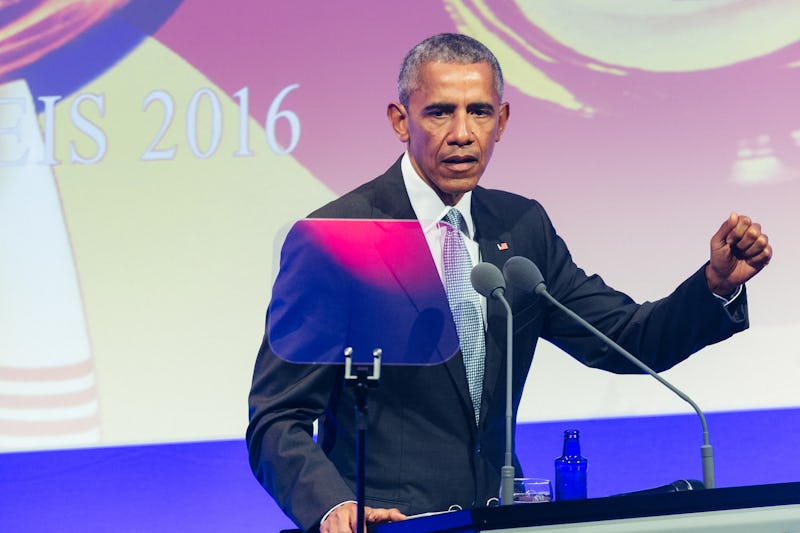 Alexander Scheuber/Getty Images Entertainment/Getty Images
President Barack Obama responded to the Senate's version of the Obamacare replacement bill in a scathing Facebook post Thursday, hours after Republicans unveiled the legislation. And one quote from Obama summarized the Republican health care bill: "Simply put, if there's a chance you might get sick, get old, or start a family — this bill will do you harm."
Reminding his audience of the constantly conflicted arena of domestic politics, Obama noted that while American politics are "divided" and have been so for "a long time," it is important for Republicans to listen to those opposing the Republican health care bill, or, as it's officially called, the Better Care Reconciliation Act of 2017.
Obama further noted on the nature of the bill, which he found to be unkind. After noting that ill, elderly, and new families could be hit most disproportionately by the bill, Obama went on to highlight the "small tweaks" to the bill that have been taking place during behind-the-scenes planning among Senate Republicans. "[S]mall tweaks over the course of the next couple weeks, under the guise of making these bills easier to stomach, cannot change the fundamental meanness at the core of this legislation," Obama added.
Obama's statement has arrived at a particularly tense moment in American politics wherein the debate on health care has become an even more controversial point of contention between liberals and conservatives for their respective reasons.
In his statement, Obama urged senators to consider the material implications of their political leanings, noting that sometimes, legislative jargon obscures us from seeing the people such legislation directly affects. Imploring senators to see the real-world consequences of their actions, the former president conjured images of vulnerable Americans who would potentially affected by the health care bill.
Obama went on to ask, "What will happen to the Americans grappling with opioid addiction who suddenly lose their coverage? What will happen to pregnant mothers, children with disabilities, poor adults and seniors who need long-term care once they can no longer count on Medicaid?" These questions have become impossible to ignore due to the fact that the bill does not require insurance companies to cover maternity care and other essential benefits.
By giving insurance companies carte blanche to decide what to cover and what to exclude, critical protections for Americans are gutted by the Senate Republican health care bill. That's why Obama's words shared today are vital to remember as they highlight the future of American health care.