This Easy Pancakes Recipe Is Literally The Only Thing Your Next Sunday Brunch Needs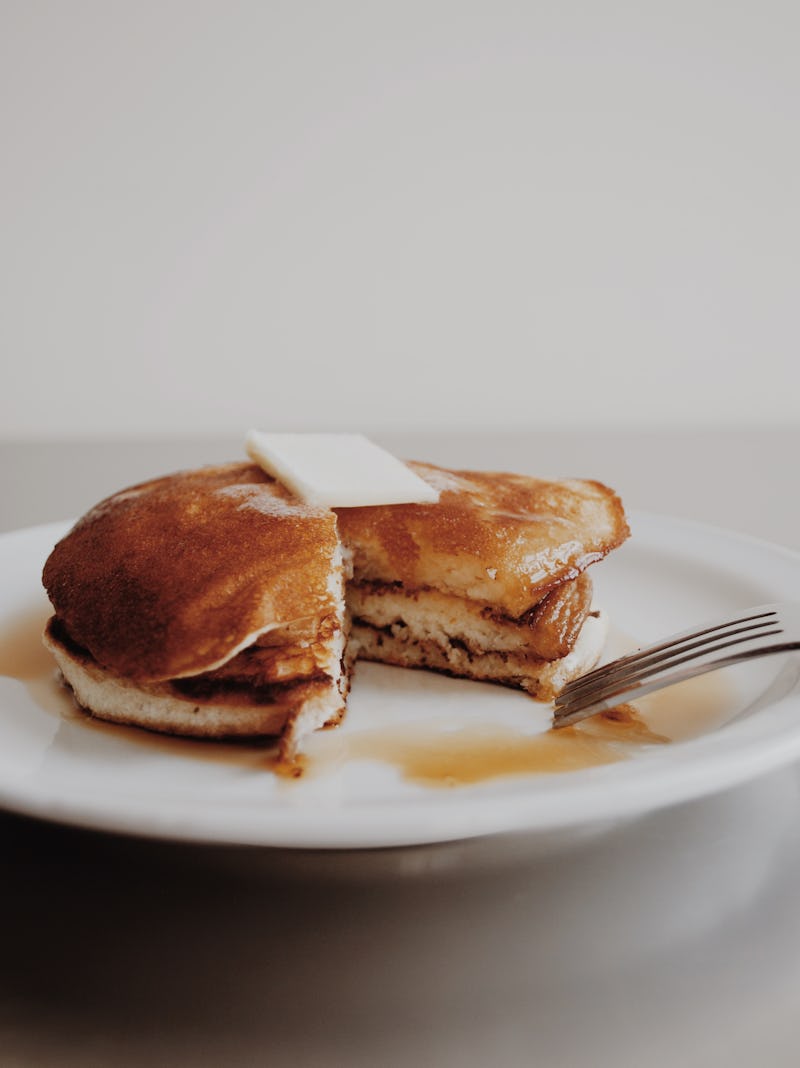 Sogoal Zolghadri/Bustle
Sure, you like to cook, but sometimes you want to bake just a single cupcake or whip up fajitas for one. Bustle's new series, Single Serving, dishes up your favorite recipes in the perfect portions for when your speed is less "entertaining my crew" and more "watching Netflix alone on my couch."
Pancakes are the food equivalent to that perfectly worn-in sweater you've had for over a decade. They're warm, comforting, and familiar; perhaps they remind you of eating breakfast in bed while growing up, or of mixing the batter with your grandmother on Sunday mornings. But, as an adult, I have to say that I don't make pancakes as much as I want to — because, as sad as it is, pancakes can seem like kind of a daunting breakfast option when you're running short on time and need to make food. Recipes usually yield enough batter to feed a family of six, so mixing that much batter for that many pancakes isn't just a waste of time, but it's also bound to be a waste of food. That's why I whip up this pancakes recipe specifically designed for one person whenever I'm feeling the craving coming on. They're fluffy, easy to make, and the perfect portion for one.
What makes these pancakes stand out is their fluffiness. Two things give us this whisper soft texture: self-rising flour and whipped egg white. While self-rising flour is readily available at most groceries, it's not necessarily a staple in many people's pantries. So here, in addition to this pancake recipe, I've also included steps to make your own with items you most likely already have on hand (you're welcome). Note: If you're a kitchen whiz and already have self-rising flour, just measure out 1/4 cup for this recipe.
Cooking these requires a good nonstick pan, since the batter is quite wet, and you'll need to flip it halfway. Let your pan properly heat, and oil it enough to prevent sticking. Though I'm personally guilty of frequently lifting the edge of the pancake to check for doneness, the pancakes will let you know on their own when they're cooked: once you start seeing bubbles on the surface of the pancake, they're safe to flip. Since these are fun-sized, flipping is a little less scary, too! In this recipe, I've measured out three 1/4 cup-sized pancakes for the perfect, single-serving stack.
Lastly, though this recipe is for plain, classic pancakes, you can very easily customize these to your heart's desire. Chop up some ripe bananas and gently mix them into the batter, or top with slightly softened Nutella and a sprinkling of flaky sea salt for some dessert vibes; crumble up cooked bacon for a savory rendition; or just treat yourself already and go for chocolate chips and shredded coconut. The choice is yours!
Adapted from: The Kitchn
Prep Time: 25 minutes
Yields: 3 four inch pancakes
1 cup all purpose flour
1 ½ teaspoons baking powder
¼ teaspoon kosher salt
2 teaspoons granulated sugar
1/4 cup milk (not nonfat)
1 tablespoon vegetable oil, plus more for cooking
1 large egg white
Butter and maple syrup, for serving
Thoroughly combine flour, baking powder, and salt in a small bowl. And, congrats: You just made self-rising flour! Measure out 1/4 cup for your pancakes, then store and save the remainder.
1. Whisk together the self-rising flour and sugar in a small bowl.
2. Add the milk and 1 tablespoon oil, then whisk until smooth.
3. In another small bowl, whisk the egg white vigorously until soft peaks begin to form.
4. Gently fold the beaten egg white into the batter with a spatula. Slow and steady here!
5. Heat a nonstick frying pan over medium-high heat. Add a few drops of vegetable oil and heat until it's simmering. Add a third of the batter and cook until bubbles form on surface, two to three minutes. Flip and cook until the second side is golden-brown, two to three minutes more.
6. Repeat with the remaining batter. Remove from heat once cooked through.
7. Finish with butter and maple syrup.
How delicious do these look? Bon appetit, my friend!