This Parkland Dad's Father's Day Message Will Break Your Heart In Two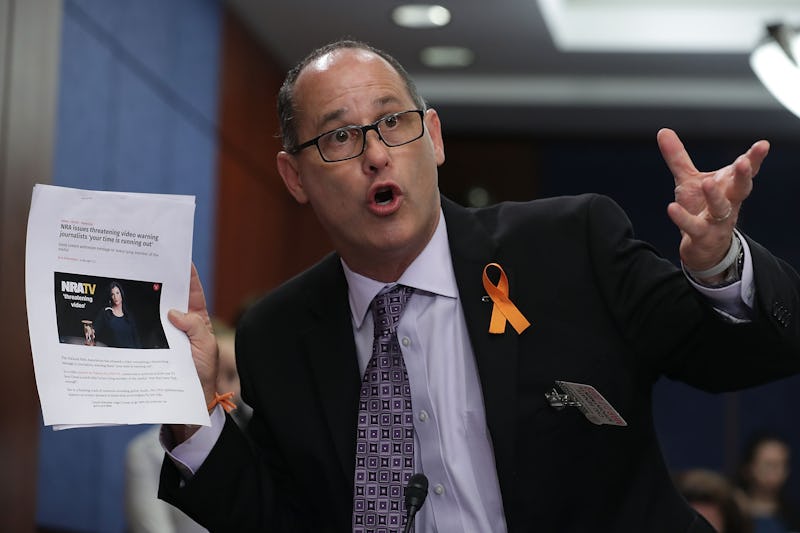 Chip Somodevilla/Getty Images News/Getty Images
It's been more than four months since 14-year-old Jaime Guttenberg was shot and killed at Marjory Stoneman Douglas High School. Like so many others after the shooting at the Parkland, Florida, school, Jaime's father has not stopped his advocacy work after being thrust into the spotlight. Fred Guttenberg's Father's Day tribute to Jaime will break your heart and inspire you.
Guttenberg begins his Twitter thread like a letter. "Dear America," he wrote. "Today I will begin Father's Day by going to the cemetery to visit my forever 14 year old daughter Jaime. It is just over 4 months since she was murdered at school."
Because of the pain of losing his daughter, Guttenberg wrote that he's "too sad" to focus on himself, but would rather spotlight others. Guttenberg said how grateful he was to still have his own father alive to offer support during such a heartbreaking time. He's also sought solace in his son, Guttenberg wrote. "I first want to say how thankful I am to have Jesse as my son," Guttenberg wrote, adding that his son has taught him "amazing strength and resilience." Guttenberg thanked almost every member of his family for their support, including his father-in-law who has "been here for me every minute of every day."
Jaime's death has brought a community to give him strength, he wrote. "I am thankful for my wife and my extended family as we have gone through this brutal hell together. I am also thankful for my amazing community which has stood by our family and given us strength."
This year, Father's Day will be a reminder of the loss his family has suffered, Guttenberg wrote. "Jaime is not here with us because she was a victim of gun violence and I cannot ignore that," he wrote.
Guttenberg used the tribute thread to urge people reading to "vote orange" in November. An "orange vote" is a vote in favor of gun violence prevention and gun reform. Orange is the color adopted by many gun violence prevention activists. Friends of Hadiya Pendleton — a 15-year-old girl in Chicago who was shot and killed in 2013 — wore orange in remembrance. Guttenberg encouraged those reading to tweet their intention to vote with the hashtag #OrangeWaveInNovember.
He also specifically asked fellow fathers and dads to voice their intention to vote. Guttenberg said he does not want another parent to experience what his family has gone through. "Father's Day is a day for us dads to remember our main purpose, and that is our commitment to the safety of our families," Guttenberg wrote. "Trust me, the fun times stop when you lose one of your children. Do not let your family become the next to suffer like this."
Guttenberg closed his Twitter thread with a photo of his daughter Jaime performing. Jaime was a competitive dancer.
In an interview with the Miami New Times, Guttenberg described his daughter as constantly moving. "She'd complain about how tired she was, and then the next thing you knew, she'd be dancing around the house," he told the alt-weekly. "She wouldn't stop."
Guttenberg founded Orange Ribbons For Jaime after his daughter's death. Orange Ribbons For Jaime is a nonprofit foundation dedicated to supporting causes important to Jaime (such as dance, bullying prevention and children with special needs) as well as issues like gun reform. "About two weeks after Jaime was murdered, we learned that orange also happens to be the universal color of the gun safety movement. With that, our hope is to make the Orange Ribbon the symbol of the gun safety movement," according to the organization's website.