Some Think Melania Trump Should Redecorate The WH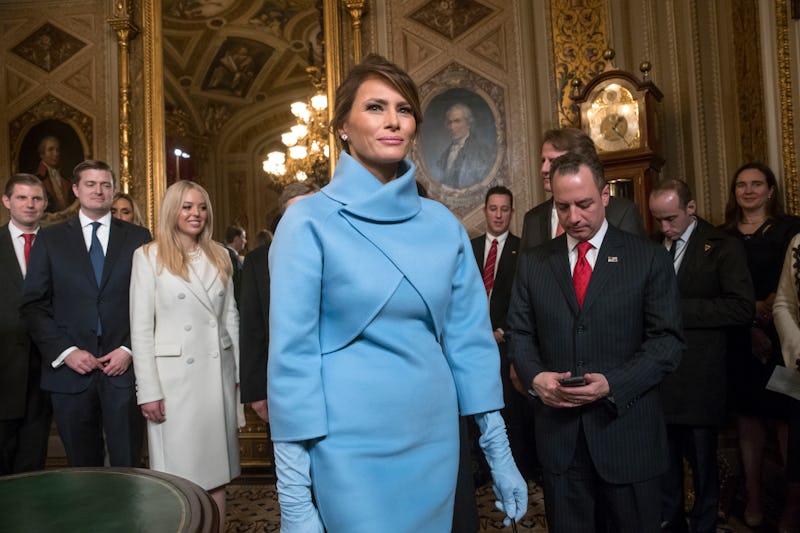 Pool/Getty Images News/Getty Images
At first glance, it might seem reasonable to expect Melania Trump's first lady duties to be stereotypically gendered. Having had a successful modeling career, she is primarily associated with the conventionally feminine worlds of fashion and beauty. There have also been headlines regarding the first lady's plans for a White House "glam room." While there would be nothing inherently wrong with Melania choosing to take a traditionally feminine role for the next four years, is it fair to automatically assume that she will do nothing more than parade around in Chanel outfits for photo-ops?
A tweet by Darrell Scott, who served as CEO of the National Diversity Coalition for the Trump campaign during the election and who currently works for the president's transition team, is an example of the expectations many have of the new first lady. "How many would agree that the FLOTUS, Melania Trump needs to re-decorate the White House," he wrote. "Some of that furniture needs to go." Most of the responses he received echoed his sentiments.
Darrell Scott did not return Bustle's request for comment. Scott probably did not think too deeply into his comment, but it's a subtle sign of how Melania (and many women) is viewed. It's difficult to imagine that anyone would have the same expectations of, say, Hillary Clinton, in 2017. While Clinton was often pressured to go along with superficial events and tasks when she lived in the White House — in fact, even years prior to becoming first lady — these comments typically came from a different place: contempt at the fact that she was not a submissive wife and had a career of her own. The comments toward Clinton were meant to pressure her into being a "proper" wife, while the comments toward Melania appear to automatically assume that she will take on a stereotypical role, perhaps stemming from the belief that she has nothing else to offer.
Given the care President Trump took to have his NYC penthouse designed and decorated to serve as a "tribute to his self-image," as Michael D'Antonio says the president described it during a 2014 interview for his book The Truth About Trump, it seems like the first lady isn't the one with the most interest in interior design.
During her husband's campaign, Melania gave occasional hints regarding what she'd be doing as first lady. In one speech she promised to be an "advocate for women and for children" and to make cyberbullying "one of the main focuses" of her work during her husband's administration.
"Our culture has gotten too mean and too rough, especially to children and teenagers," she said. "It is never OK when a 12-year-old girl or boy is mocked, bullied, or attacked. It is terrible when that happens on the playground." Given her 10-year-old son Barron Trump's recent experience with online bullying, it's possible that we'll see Melania truly dedicated to that. [Insert joke about changing her husband's Twitter password here.]
Whether or not Melania Trump chooses to go down a traditional route in how she approaches her new role is ultimately up to her, but we shouldn't reflexively assume that her duties for the next four years should be limited to decorating the White House.