This Paul Ryan Ad Promoting The Border Wall Is So Awkward, It Hurts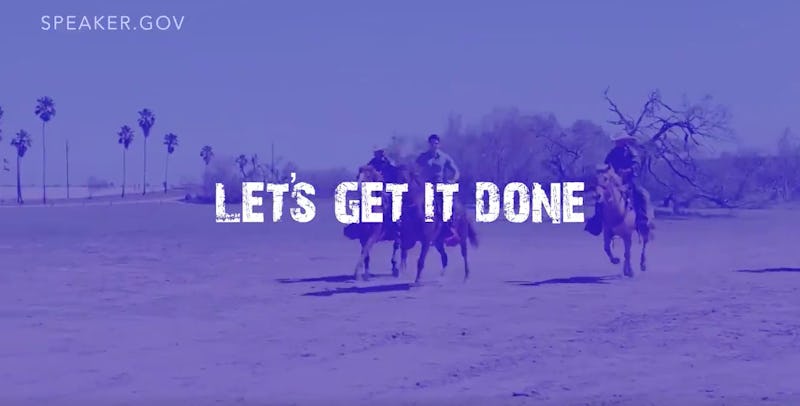 speaker.gov
In a video released on Tuesday, Speaker of the House Paul Ryan fully backed President Donald Trump's border wall, which he's promised to build since his presidential campaign. And he did so with a vaguely ominous message: "It's Time For 'The Wall.'"
Through helicopter, boat, and horse rides (and an eye-twitch inducing collection of aesthetically-warring fonts), Ryan's PSA video details his February tour of the Rio Grande Valley to visit the U.S. Customs and Border Protection agency. Set to some deeply uncomfortable dance-y music, the video is meant to promote the spending bill (approved last week by the House of Representatives) with nearly $1.6 billion set aside for the wall as part of the $790 billion package for security expenses.
Notably, Congress is facing a potential government shutdown if they aren't able to pass a final spending bill by the end of September. In the voice-over of the video, which Ryan tweeted out on Tuesday with a call for retweets, he said:
I had the opportunity to travel down to Texas to go to the Rio Grande Valley and spend time with our Border Patrol. When you see what they're up against, it really gives you even greater respect for what they do. They clearly need more tools and more support to do their jobs effectively. That's why we're going to get this done this week.
The video also came alongside a Department of Homeland Security announcement on Tuesday that it would issue "a waiver" to bypass certain laws (including environmental laws), regulations, and other legal requirements to expedite the construction of the wall near the international border near San Diego.
The waiver, which will be published in the Federal Register in the coming days, would cover "certain border infrastructure projects in the United States Border Patrol's San Diego Sector," according to the DHS. Given the hefty price tag —reported by CNN to be $1 billion for 62 miles — and the xenophobic language underpinning the construction of the wall, it's remained a controversial part of Trump's platform.
As the Associated Press reported in April, most Americans are still against funding the wall. A poll released by the AP and NORC Center for Public Affairs Research found that 58 percent of respondents opposed spending money on the wall, with about half saying that they "strongly oppose funding for the project." Of those results, AP noted 86 percent of the Democrats and 57 percent of the independents surveyed were against the border wall. Republicans were more in favor of it at a 2:1 ratio, though it was noted that it was a narrower margin of support than they had for other proposed items.
As Ryan's campy video looks to hype up support for the wall's construction, the future of Trump's controversial campaign promise remains up in the air until September, at least.