You Can Buy This Personalized Cookie Cutter To Make Cookies Of Your BFF's Face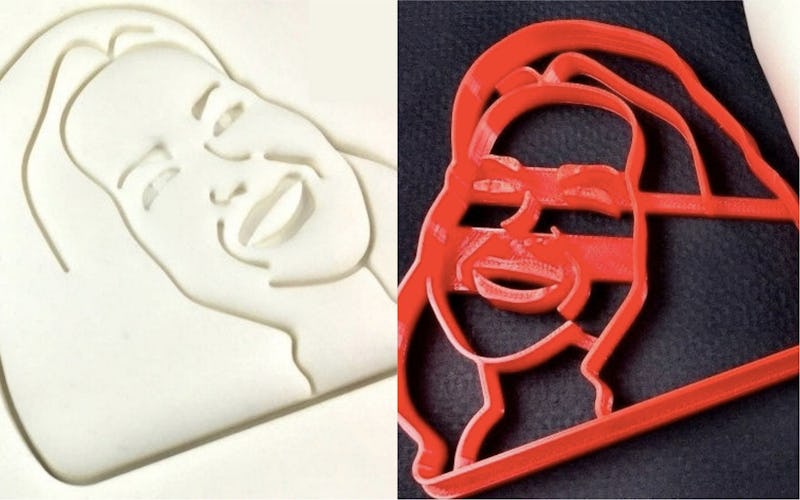 Etsy
People like to put their own faces and their friends' and pets' faces on things, probably because it's comforting to look at them all the time, but also because it's hilarious to gift your buddy with pajamas with her mug all over them. Etsy has a great present for face-fiending friends: a personalized face cookie cutter that you can custom order to look like whomever you please. May the customized online wonders never cease.
Indeed, Etsy seller Spoiled Kitty Designs will whip up a "Custom Selfie Cookie Cutter and Custom Selfie Fondant Cutter" for a mere $20, which is a fair price to pay for literal art. The cookie cutters are handmade, and consist of food-safe and biodegradable plastic, per Spoiled Kitty Designs, which advertises them as follows:
Be the hit at your next party by bringing in cookies that look like you, the bride and/or groom to be, the mother to be, mom, dad, your Bitmoji, or that important loved one in your life. These cookie cutters will be inspired by your submitted photographs and will vary in measurements based on the portrait being generated and size needed.
How it works is this: You add the cookie cutter to your cart, and upload the photo of your preferred face. Note that the cutter won't be a perfect rendering of said face ("We believe in creating the portrait cookie cutters and face cookie cutters with simple lines to lessen the chance of your dough sticking," Spoiled Kitty Designs says), but it'll be a pretty good approximation. It takes some time for Spoiled Kitty Designs to make these custom beauties, so don't order them as a last-minute gift. But, indeed, once they arrive, you've got a hand-washable tool at the ready to make your friends eat your face at every party from here to eternity.
The reviews are in:
Such a fun gift for Mother's Day! Was a hit giving my mother-in-law cookies that looked like her mom! Everyone said they were the funniest thing they've ever seen!
Of course, Spoiled Kitty Designs' custom cookie cutters aren't the only way to feed faces to your pals. A quick perusal of Etsy's "cookie cutters face" tab yielded the following results: