Petition Urges Mormon Choir To Dump Trump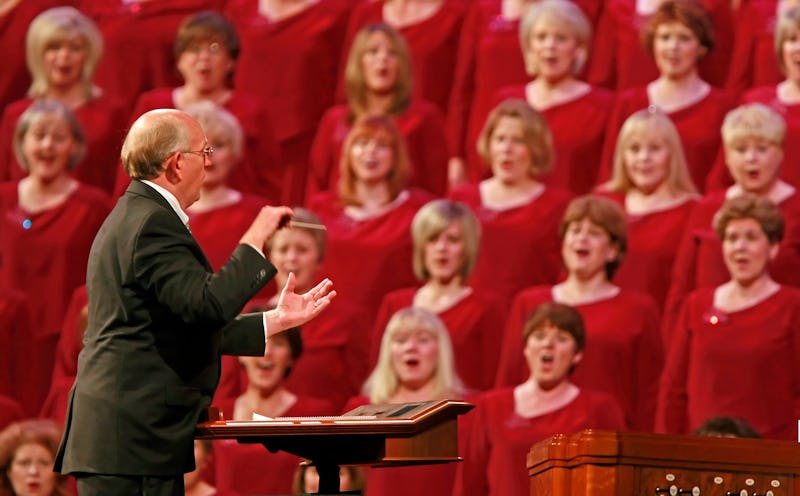 George Frey/Getty Images News/Getty Images
Tens of thousands of people disappointed with the Mormon Tabernacle Choir's decision to sing at President-elect Donald Trump's swearing-in ceremony are urging the choir to cancel their performance at the U.S. Capitol in Washington, D.C. By Friday afternoon, more than 24,000 people had added their signatures to a petition urging the Mormon Tabernacle Choir not to perform at Trump's inauguration.
Since it was created Dec. 26, a petition entitled "Mormon Tabernacle Choir Should NOT Perform at Trump Inauguration" has garnered thousands of signatures. It states Trump "does not reflect the values of Mormonism" and warns that performing at the inauguration of "an incoming president who has demonstrated sexist, racist, misogynistic, and xenophobic behavior that does not align with the principles and teachings of The Church of Jesus Christ of Latter-day Saints" would "harm this spectacularly talented and beloved choir's image."
The petition's creator, change.org user Randall Thacker, who is Mormon, said Trump's personal conduct had driven him to create the petition, which he plans to personally deliver to the Mormon Tabernacle Choir and the Church of Jesus Christ of Latter-day Saints. "My heart sank when I heard the news," Thacker said in a statement. "The thought of this choir and Mormonism being forever associated with a man who disparages minorities, brags about his sexual control of women, encourages intolerance and traffics in hate speech and bullying, was unacceptable."
Although Trump's inauguration would not be the first time the Mormon Tabernacle Choir has serenaded a president at their official swearing-in ceremony, it appears to be one of the most controversial ceremonies the choir will have agreed to perform at. A member of the Mormon Tabernacle Choir resigned Dec. 29 in protest of the choir's decision to perform at Trump's inauguration, The Salt Lake Tribune reported.
"I've tried to tell myself that by not going to the inauguration, that I would be able to stay in Choir for all the other good reasons," Jan Chamberlin said in a message to the choir's directors, which she later shared on Facebook. "But it's no use. I simply cannot continue with the recent turn of events. I could never look myself in the mirror again with self respect. ... [It] will appear that Choir is endorsing tyranny and facism [sic] by singing for this man."
The choir's performance at Trump's swearing-in ceremony is set to be the sixth time the choir has sung at a presidential inauguration. The choir has previously sung at inaugural events for George W. Bush, George H.W. Bush, Ronald Reagan, Richard Nixon, and Lyndon B. Johnson.
"Singing the music of America is one of the things we do best," Ron Jarrett, president of the Mormon Tabernacle Choir, said in a statement announcing the choir's decision to accept Trump's invitation to perform at the inauguration. "We are honored to be able to serve our country by providing music for the inauguration of our next president."
Many of those who signed the petition cited a disagreement between Trump's words and actions and their values as Mormons. "I am saddened and perplexed that my church would send its most famous representatives to perform at the inauguration of a man who is the antithesis of LDS values," one signer from Stanford, California, wrote.
"Donald Trump does not represent my values as a Mormon and I do not want that assumed by the participation of a cherished Mormon institution in his inauguration," another signer from Fayetteville, Arkansas, wrote.
The petition's initial goal is 25,000 signatures.