This Photo Of A Soon-To-Be Congresswoman & Her Daughter Is Just The Cutest Thing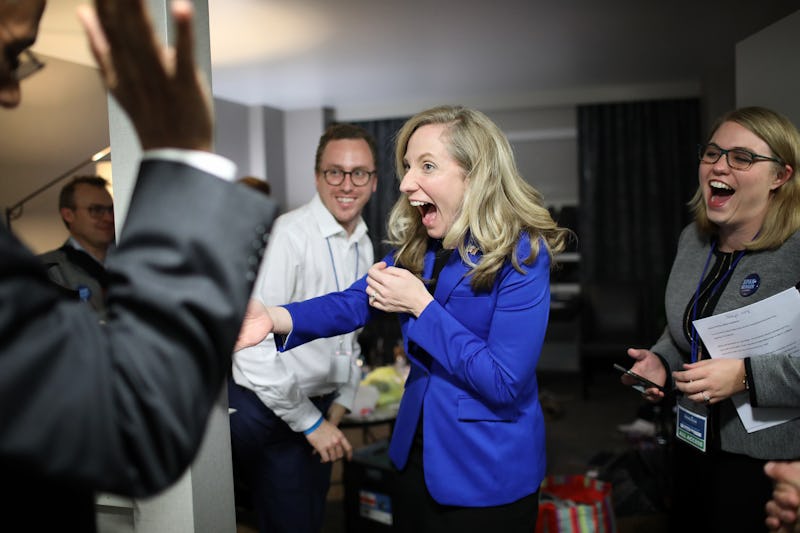 Win McNamee/Getty Images News/Getty Images
After she defeated Republican incumbent Dave Brat and was elected to represent Virginia's 7th District in the House of Representatives, Abigail Spanberger gave her victory speech on Tuesday night. Amid the celebrations, a photo of Spanberger and her daughter playing at her feet as the former CIA operative delivered her comments that triumphant night has been shared widely on social media.
Photojournalist Erin Schaff took the photo on assignment for The New York Times. On Twitter, Schaff tweeted, "Abigail Spanberger's daughter Catherine, age 4, crawled in-between her mother's legs and looked up at her mom during @SpanbergerVA07's victory speech after winning Virginia's 7th District congressional seat as a Democrat, in Richmond, VA on Nov. 6."
Facing the audience at The Westin Hotel on Tuesday night, a visibly thrilled Spanberger said, "We won an unwinnable district by doing exactly what campaign should do. We focused on the needs of the people, the voters. We talked about the substinant issues affecting their lives."
The Democrat also said that she would be certain to represent the needs of local Virginians regardless of what political party they belonged to. "It is my profound honor to be standing here tonight," Spanberger said, "and I am committed to bringing you the kind of responsive and accountable leadership you deserve." In Schaff's photo, Spanberger's daughter could be seen looking up at her mother while smiling.
While Spanberger's fans seemed overjoyed by her victory, she said she was aware of those who may not have agreed with her political platform. But it wouldn't stop her from being an effective representative for them, she said.
"To those who are disappointed this evening, to those who did not vote for me and whose candidate did not win, I will serve you as your representative," the Democrat said. "I have been elected to serve each and every resident of the district and that's exactly what I intend to do."
For many, Spanberger's victory isn't just the Democratic Party's victory; it's also a success for locals in Virginia's 7th congressional district where a woman, prior to the former CIA operative's campaign against Brat, has never represented the demographic.
Now, you might have gotten a good dose of deja vu by looking at Schaff's photo of Spanberger and her daughter. And that's for a good reason. It looks similar to former President John F. Kennedy sitting at his desk in the Oval Office while his son, JFK Jr., can be seen peering from under the Resolute Desk. That was some 56 years ago. In spite of the decades between both photos, it's clear that people — regardless of the era — love a good photo showing a parent and their young one.
It's photos like these ones that may have the potential to soften and humanize the image of high-ranking politicians and other operatives. With a photo like that taken by Schaff, people may have the chance to see Spanberger as not only a politician but also a mother and wife — someone they can relate to.