Trump Signed A "Gag Order" On Abortions Worldwide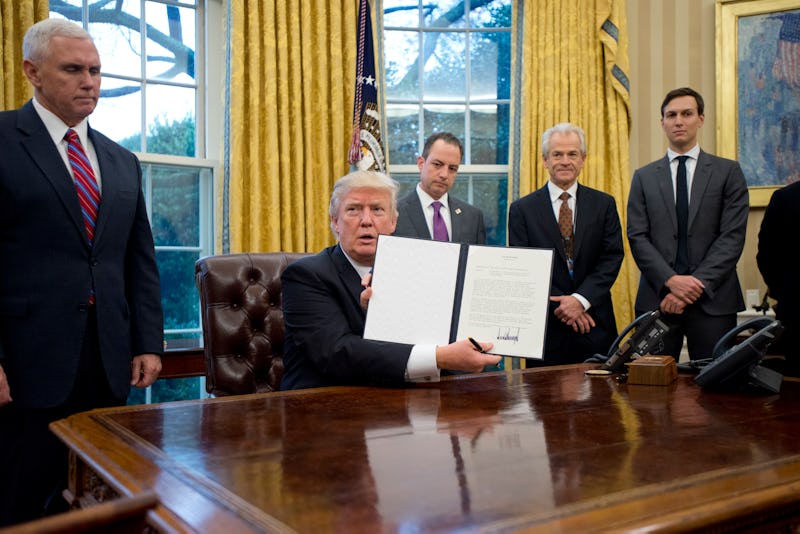 Pool/Getty Images News/Getty Images
On Jan. 23, surrounded by other white men, President Donald Trump reinstated a Reagan-era rule that bars U.S.-funded foreign aid from any organizations which provide abortion access, information, or counseling to women around the world. Known as the "Global Gag Rule," this anti-abortion executive order was first instated by President Reagan in 1984, and prohibits foreign aid dollars from going to organizations that discuss abortion to their patients as a method of family planning. According to the Center for Health and Gender Equality, the GGR does not bar funding from abortion and abortion counseling in the cases of incest, rape, or potentially life-threatening illness, but the documentation of such exemptions is often unclear.
Also known as the "Mexico City rule" (due to being initially instated at a United Nations conference in Mexico City), the GGR has been alternately reinstated and rescinded by almost every administration since Reagan's. It's regularly described as a form of "political football" that switches rapidly between repeal and law dependent upon the current administration's views on abortion. Trump reinstating the Mexico City rule also shows his seriousness about restricting abortion access, a campaign promise made to members of the GOP who would see the Supreme Court vacancy left by Antonin Scalia filled by an anti-abortion justice who might work to repeal Roe v. Wade.
If a picture is worth a thousand words, then this photo of a newly-inaugurated Trump signing an executive order surrounded by men who, to me, look like Sith lords is worth a novel. Here is a gathering of older cisgender white men, none of whom have ever directly experienced a pregnancy, watching their new president sign away financial access to organizations who help women around the world avoid the financial strain of unplanned pregnancies or potentially fatal unsafe abortions. How courageous and noble of them!
In 2008, the World Health Organization estimated that 21.6 million women around the world (the majority of whom live in developing countries) have unsafe abortions each year. Forty-seven thousand deaths result from these abortions, and nearly 13 percent of all maternal deaths result from unsafe abortions. That is what the men in this photo are smiling about, though they of course see it as some sort of protective measure for women and babies.
The timing of the reinstated Mexico City rule is telling. Trump not only signed the executive order the next day after the 44th anniversary of the Roe v. Wade ruling, but he also did it a mere two days after the largest demonstration in American history convened all of the country to march for women's rights. The political message Trump sent when reinstating the GGR is striking, and won't be forgotten soon.