This Photo Of Ivanka & A Homophobic Evangelical Pastor Has Twitter Calling Her Out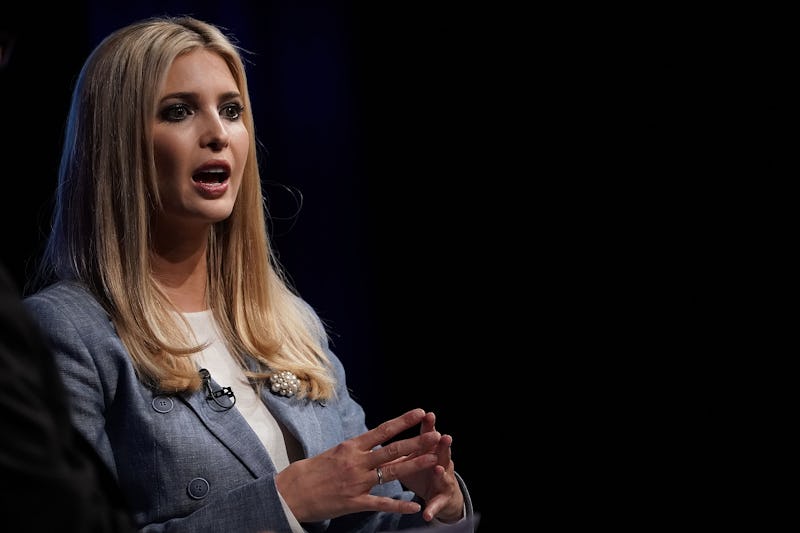 Alex Wong/Getty Images News/Getty Images
At a private White House event on Monday night, supposed LGBT supporter Ivanka Trump posed with an anti-LGBT evangelical pastor in a move that's being criticized by activists. Rev. Jim Garlow of Skyline Church in California posted a photo of himself and Ivanka on Twitter Monday, as well as a shot of himself and Ivanka's husband Jared Kushner.
HuffPost reported that about 100 evangelical leaders — including famed evangelist Franklin Graham — attended Monday night's dinner. Garlow appears to have deleted the photos since.
To say Garlow is against gay marriage would be understating his opposition to same-sex marriage. In 2017, Garlow said homosexuality was "a demonic happening in our midst" at the Sixth Annual Family Leadership Summit. "The bottom line is this, 'If I were Satan, I would want to destroy on the earth the image of God. This is why marriage is such a hotbed issue. It's more than just the issue of homosexuality. It's much more than that. It's much more cosmic," Garlow said. "They want to destroy the very image of God upon the planet. This is a demonic happening in our midst."
In 2016, Garlow said proponents of marriage equality should live in houses without adequate plumbing to better "understand the difference between the male and female end of piping or plumbing."
Garlow is pretty clear about his anti-LGBTQ views, and has been for years. Back in 2008, on his own website, Garlow supported California's Proposition 8, which banned gay marriage in the state. "When same-sex relationships — especially marriage — acquire government sanction, anyone in opposition to it must be intimidated, silenced, fined, jailed or at least threatened. For the sake of freedom, Proposition 8 must pass," Garlow wrote. "Failure to stop this in California means it will eventually come to your state."
Marriage equality became the law of the land in June 2015.
Ivanka has called herself a LGBTQ ally in the past. At the start of Pride Month in 2017, Ivanka tweeted, "I am proud to support my LGBTQ friends and the LGBTQ Americans who have made immense contributions to our society and economy."
But in her capacity as a senior adviser to the president, Ivanka's support for LGBTQ rights hasn't exactly translated into meaningful gains. For example, President Trump announced his ban on transgender military service members about two months after her Pride tweet.
But beyond Ivanka's choice to be photographed with someone with such hostile views to queer people, her father — the president — made some odd claims of his own at the closed-door dinner. According to NBC News, Trump told the crowd that he got "rid of" a law that makes it illegal for churches to endorse candidates. The law hasn't been tossed out. Congress tried in 2017, but didn't succeed. Politifact rated this claim as "mostly false."
"Now one of the things I'm most proud of is getting rid of the Johnson Amendment," Trump told the audience of the amendment that prohibits such organizations of making political endorsements, according to NBC News. "That was a disaster for you."
Trump also told the room that the midterm elections were a referendum on their faith and beliefs. "Part of it is because of some of the things I've done for you and for me and for my family, but I've done them," Trump said, according to NBC News. "This Nov. 6 election is very much a referendum on not only me, it's a referendum on your religion, it's a referendum on free speech and the First Amendment."
Ivanka is reportedly playing a prominent role in the GOP's midterm strategy. She will be sent to suburban red-state areas to rally support, according to The Washington Post. With just weeks until the midterm elections, it's hard to tell if Ivanka will have sway among suburban voters just yet.