John Kerry Signed The Paris Deal With His Granddaughter & It's Heartbreaking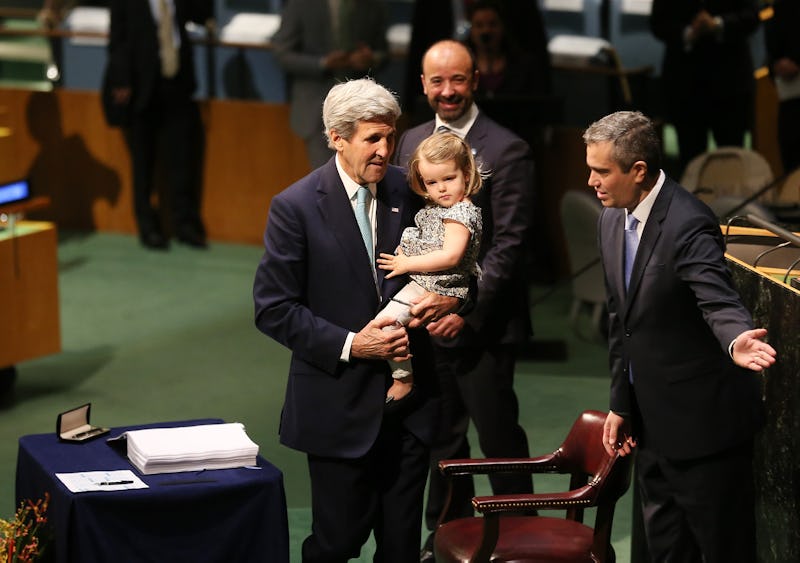 Jemal Countess/Getty Images Entertainment/Getty Images
The day before Donald Trump pulled the United States out of the Paris climate accord, former Secretary of State John Kerry urged the president to think about the country's grandchildren in deciding the fate of the planet. It was certainly something he himself did, as a photo of Kerry signing the Paris Climate Agreement for the U.S. just last year showed.
In 2016, Kerry sat down with his then-2-year-old granddaughter Isabelle in his arms and signed the Paris climate deal. Just over a year later, he was telling the new president, "billions of grandkids will have to live with this decision, however it lands. Think of them, please."
The Paris Climate Agreement was solidified at the end of 2015 and signed by the U.S. and more than 170 other countries on Earth Day in 2016. In an attempt to combat climate change issues worldwide, nations made a voluntary agreement to try to keep the national average temperature from rising 2 degrees Celsius or more; reduce greenhouse gas emissions; and help poorer countries where possible. All of those goals were just guidelines — there was no punishment if the goals were not met. Kerry, a longtime climate advocate, brought his granddaughter to the official signing to underscore its importance.
After Trump was elected in November, Kerry gave a speech before the U.N. climate summit in Marrakesh, Morocco. Signaling that he wasn't going to give up the fight against climate change, he made pointed references to Trump's campaign promises. "This is bigger than one person, one president," Kerry said.
I ask you, on behalf of billions of people around the world ... Do your own due diligence before making irrevocable choices. ... No one has a right to make decisions that affect billions of people based on solely ideology or without proper input.
He ended the speech with a reference to his granddaughter, stating, "Let us make clear to the world we will always remember the stakes."
On Thursday, after Trump announced that he would pull the U.S. out of the Paris deal, Kerry issued a scathing statement on Facebook, calling the decision an "abdication of responsibility" and fearing the loss of momentum. But he called for cities, states, and citizens to continue the fight against climate change.
America doesn't have to cede leadership even if its President has. America will not abandon the global community and put its children and grandchildren at risk. While Donald Trump may turn his back on facts and science, America will not.