This Photo Of An MLB Player Staring Down Trump Has Twitter Singing Praise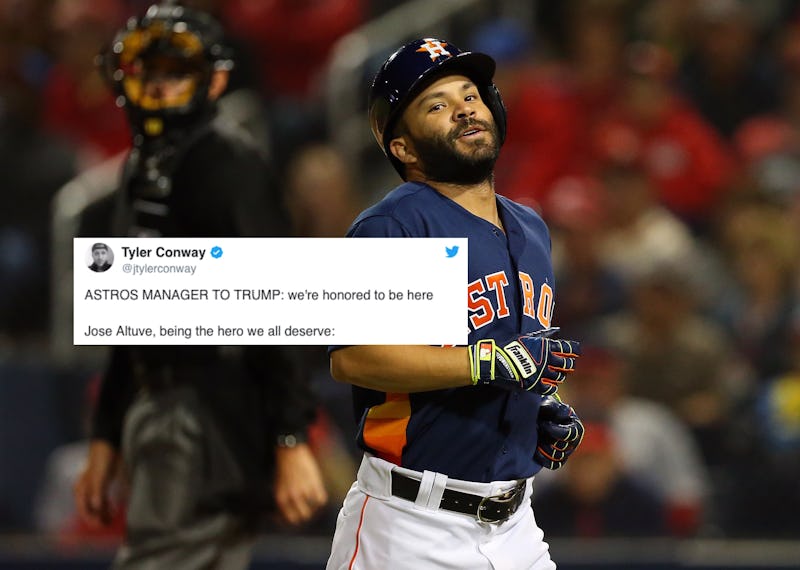 Rich Schultz/Getty Images Sport/Getty Images
On Monday, the Houston Astros visited the White House to celebrate their 2017 World Series victory. And one photo of Astros second baseman Jose Altuve and Donald Trump during the event is receiving extra attention. People are convinced Altuve's expression shows he's having a less-than-satisfactory time at the White House. According to The Huffington Post, while Altuve's actual political beliefs and opinion on Trump are unknown, the photo had Twitter singing his praises. The look on his face while listening to the president speak was just so relatable.
Altuve was the American League MVP for the 2017 season. He joined his teammates to head to the White House and meet President Trump, a customary activity for many national champions in American sports. Photos from the event show Altuve standing behind President Trump with an almost deadpan expression on his face as the president speaks. While you can't assume what Altuve's feelings were at the time, the photo resonated with Twitter.
Jason Foster, baseball editor for Sporting News, suggested Altuve looked like "he'd rather be anywhere else," while Twitter user @JQuasto proposed giving Altuve an award — "Can we just give Jose Altuve another MVP award because he earned it today."
While Altuve's expression appeared rather somber during some of President Trump's speech, the second baseman did smile when Trump singled him out. As the Houston Chronicle reported, the president heavily praised Altuve, saying:
Who could forget the amazing Jose Altuve? ... He's much taller than I thought. Unbelievable. That's a hell of a team. Congratulations Jose. What you've done is incredible. The American League MVP is a true fan favorite. He led his team in hits and set a new career-high with a .346 batting average. .346? Wow, that's good.
The president also stepped away from the podium to shake Altuve's hand.
However, as Deadspin reported, when the president went down the line of players to shake hands, Altuve appeared to be uninterested and did not extend his hand (though, the president also did not necessarily reach directly for Altuve).
While most members of the championship-winning Houston Astros team did attend Monday's White House event, several chose to skip out on the occasion. Shortstop Carlos Correa and closer Ken Giles both missed the meeting, with Astros management reporting that both players had family obligations they could not miss.
The Houston Chronicle also reported that Carlos Beltran chose to skip the event. Beltran told reporters that his decision to forgo the White House visit was not because of President Trump. However, the outlet reported that Beltran did say he was "disappointed in the government's response to hurricane-ravaged Puerto Rico."
Still, other members of the Astros team expressed excitement about their White House visit. "If you're going to spend an off-day doing something, other than relaxing, I think the White House is a pretty good gig," said pitcher Dallas Keuchel ahead of the event, as reported by MLB.com.
All in all, Astros management suggested that the team was honored to receive an invite from the president. As the Houston Chronicle reported, business operations President Reid Ryan said prior to the event:
This is a tradition and an honor. For many people, this might be their only time to ever be invited to the White House. ... And as the representatives of baseball and the World Series champs, when the White House calls and invites you to come up, it's something that as an organization we felt both a responsibility and an obligation to be part of.
Overall, it seems like Trump's invite to the White House received a somewhat mixed reaction from players — and Twitter thinks Altuve's expression during the event is perfectly reflective of that. Whatever the reasoning behind his expression, though, photos from the visit certainly provided some lighthearted entertainment that was much-needed.