Check Out Young Justin Trudeau's First-Ever Magazine Cover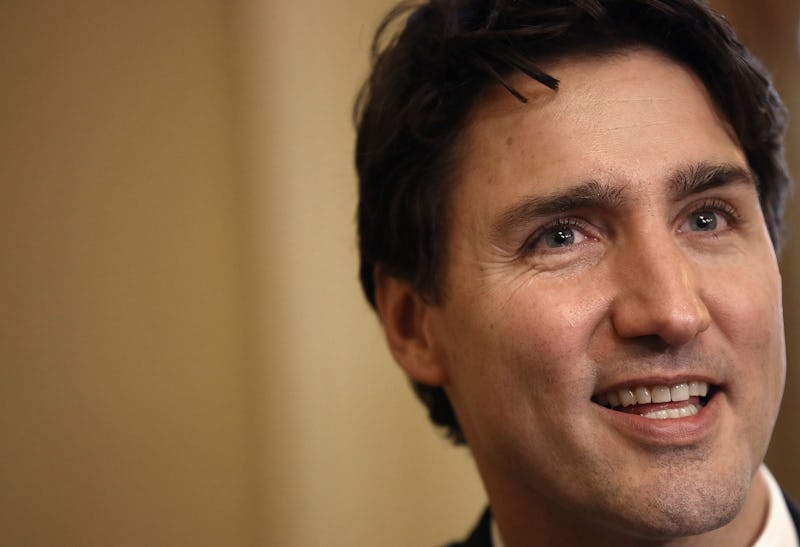 Win McNamee/Getty Images News/Getty Images
Recently, social media has been particularly fascinated with pictures of a young Justin Trudeau, the current prime minister of Canada. Several weeks ago, dozens of photographs of a teenage Trudeau made their way through Twitter and Facebook and were shared thousands of times. Now, a photo of Justin Trudeau's first-ever magazine cover has emerged, featuring the now-government leader at a much younger age than you may expect. The photo epitomizes the Trudeau family's longtime significance on the Canadian political and social scenes.
The photo depicts the July 1972 issue of Chatelaine magazine and shows Margaret Trudeau, the current prime minister's mother, lovingly cradling an infant Trudeau in her arms. The photo is simply captioned, "Margaret and Justin."
For those who may not know, Trudeau is, interestingly, the son of a former Canadian prime minister, the late Pierre Trudeau, and his wife, actress and author Margaret Trudeau. Trudeau was the second-ever child to be born to a Canadian prime minster while in office. Thus, Trudeau's birth received a great deal of attention and certainly explains why, at such a young age, Trudeau already featured prominently on magazine covers.
In addition to his mother and father, Trudeau comes from a long line of prominent family members who have particularly made their mark in politics. For example, Trudeau's grandfather, James Sinclair, was the minister of Fisheries during a previous Canadian prime minister's administration and his fifth great-grandfather was Major-General William Farquhar, who was one of the leaders in the founding of modern-day Singapore.
Trudeau's children, like their father and ancestors, seem to also already be similarly making waves at a young age. Interestingly, in 2008, the same magazine, Chatelaine, featured a very similar magazine cover of Trudeau's wife, Sophie, cradling their firstborn son, Xavier James. The photo was captioned, "Hello, Baby Trudeau," and was published while Trudeau was serving in Parliament as a member of the Official Opposition.
Since he became prime minister, Chatelaine has also published an intensive photo essay on Trudeau, his wife, and his three young children, once again demonstrating the very prominent role the Trudeau family has played in Canadian society through multiple generations, a trend that certainly stands a chance of continuing as Trudeau's children grow up.
Overall, this photo of "baby Justin Trudeau" and his mother, Margaret, visually epitomize the likability, relate-ability and success that the Trudeau family has brought to Canada and Canadian politics for many years.