This Photo Of Kendall Jenner Is Causing A Frenzy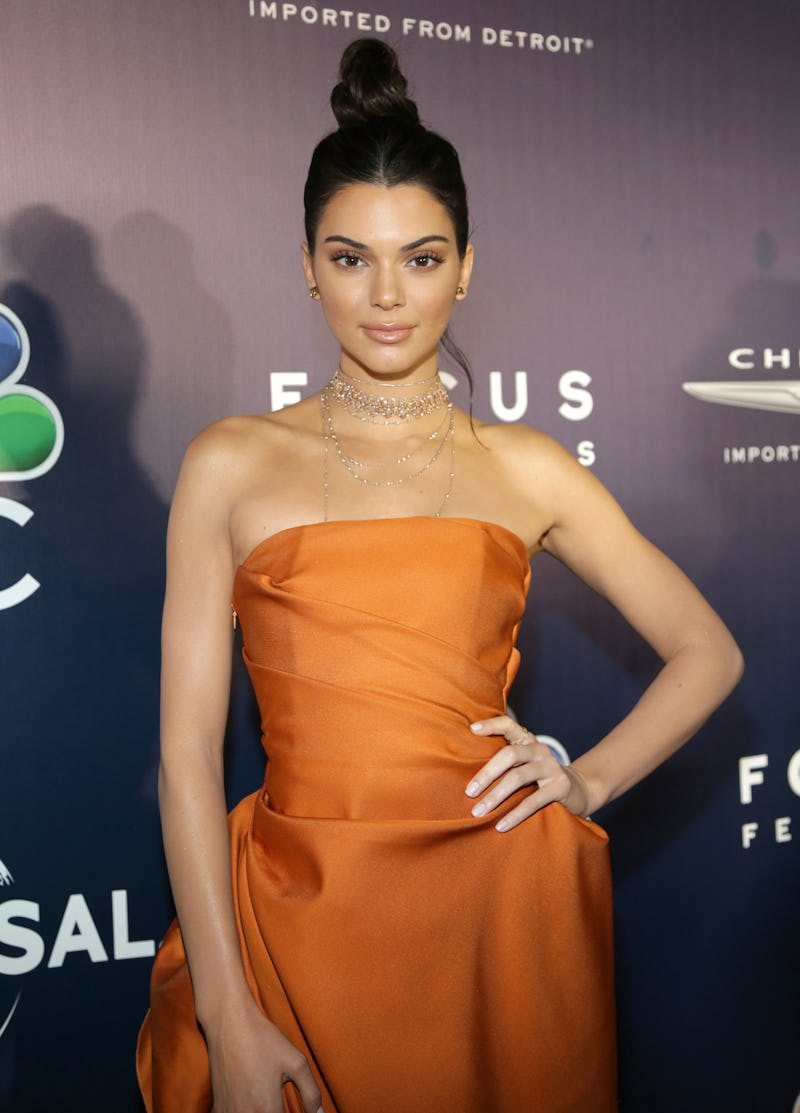 Loreen Sarkis/Getty Images Entertainment/Getty Images
Ahh, yes, we couldn't go without another great internet debate now, could we? This may not be "The Dress" status, but it sure is up there as far as online phenomena go. Everyone's asking themselves "where did Kendall Jenner's leg go?" after seeing a photo from the Golden Globes after party. And these Twitter reactions to Kendall Jenner's "missing" leg photo prove that she certainly has the online world fooled.
Let me explain what exactly is going on here. So, a photo of Kendall and Kylie Jenner posing with Hailey Baldwin while at the Golden Globes was posted to the the InStyle Instagram account, and it's given people plenty to talk about. Upon first glance, you can't see one of the model's appendages. It's lost in a sea of dresses and long legs thanks to her sister and Baldwin, who also have their legs exposed in the photo.
Jenner's torso is turned towards the camera, but her legs are facing straight. Well, at least one of them is. But, where is the other one? Huffington Post points out that what seems to be the final answer to the question came by way of Instagram comment. "Kendall's leg is in the dress and her legs are crossed! Her other leg is under the one that is showing it's just under the fabric lollll." Ohhhh, OK. I get it!
It's like Where's Waldo, but, you know, with Jenner's leg.
Considering this dress only exposed one leg, you can see where the confusion came from.
1. Disappearing Act
For real, though.
2. Photoshop?
Some people even thought Photoshop may have been to blame here.
3. All Figured Out
Thank goodness some people are here to set the Internet straight!
4. Can't Help But Wonder
Sometimes curiosity gets the best of you.
5. New Internet Game
I spy with my little eye...
6. Investigation
You're going to need a magnifying glass for this.
7. Yep, This Just Happened
This was all it took to cause a frenzy.
8. Confusing
This was confusing, to say the least.
9. Can't Even
Like it or no, another day brings another Jenner moment worth talking about.