The Photo Of Sad Tom Brady Is Everywhere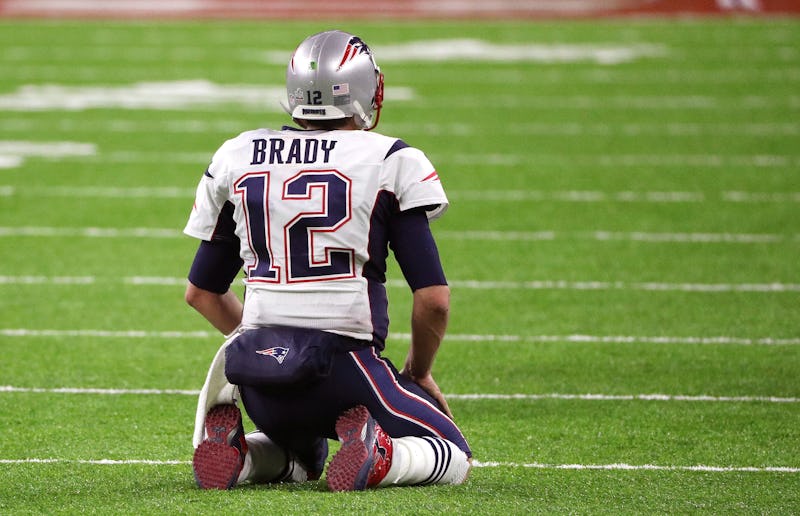 Patrick Smith/Getty Images Sport/Getty Images
In a video clip published on Twitter by Sports Illustrated that swiftly went viral, the New England Patriot's quarterback Tom Brady looked sad and downtrodden as he sat on a bench on the sidelines during the second quarter of Super Bowl LI. Brady's team is currently losing to the Atlanta Falcons 21-0, and the direction of the game certainly does not seem to be sitting well with Brady.
In fact, Brady's seemingly sad reaction to the game prompted many users to start using the hashtag #sadbrady to post Tweets about and further photos of the quarterback and his seemingly sombre Super Bowl experience. Brady is a seasoned player and has played more playoff games than any player in American football history. Brady has been hoping for a chance to win his fifth career Super Bowl against the Falcons on Sunday evening.
While the Super Bowl is far from over, Brady's demeanor certainly leaves one to question whether he now considers a Patriot victory a bygone possibility. Twitter users certainly seem to think that this may be the case, and have engaged in extensive commentary on the subject. Thus, the following is a list of some of standout #sadbrady tweets.
1. The One that Started it All
This is the original Sports Illustrated tweet that depicted a sad Tom Brady on the sidelines at Super Bowl LI. The tweet quickly went viral and prompted a host of additional #sadbrady tweets.
2. No Poker Face
This Twitter user commented on how Tom Brady seems to not be masking his feelings about the trajectory of Sunday's game, while also making reference to halftime performer Lady Gaga's hit, "Poker Face."
3. Inflategate
Making reference to the 2015 AFC Championship "deflategate" controversy that saw Tom Brady suspended for four games for his role in deflating footballs used in the game, this Twitter user hypothesizes that fully inflated balls at Sunday's Super Bowl may be the cause for Brady's apparent depression.
4. Another Angle
A Twitter user screenshots another angle of Brady looking downtrodden at the Super Bowl alongside the Falcon's winning score in the second quarter.
5. Sound of Silence
A Twitter user evokes Simon and Garfunkel's depressing song, "Sound of Silence," to evoke the sentiments Brady seems to be expressing on the Super Bowl.
6. When the Guac is Extra
A Twitter user compares Brady's apparent feelings on the game to those people experience when they find out they have to pay more for guacamole at Chipotle.
7. All the Memes
A Twitter user reflects on how the preponderance of #sadbrady tweets have made her night during an otherwise one-sided game.
Overall, the rapidness with which the hashtag #sadbrady was used and related memes and tweets were created was quite impressive. Only time will tell if the Patriots will continue their scoreless run and the #sadbrady characterization will continue to apply, or if the Patriots will start scoring and a "happy Brady" will emerge.