This Photo Proves Practically Nothing Can Stop Simone Biles From Competing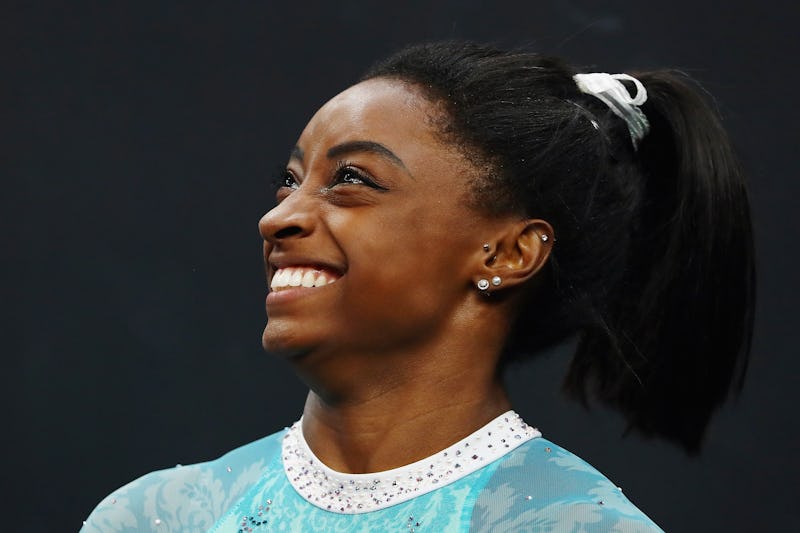 Tim Bradbury/Getty Images Sport/Getty Images
She's already smashed Olympic records and proved herself to be one of the best gymnasts on the planet. Now, a photo of Simone Biles in the ER shows that there's not a force on earth that can stop her from competing.
Biles posted the photo to her Twitter and Instagram accounts on Friday, a day before she's set to compete with the rest of the U.S. team in the qualifying rounds for the 2018 Gymnastics World Championships in Qatar. It depicts her smiling in a hospital bed, and in the captions beneath, she pledged to compete on Saturday...despite apparently having a kidney stone.
"nothing like a late night ER visit less than 24 hrs before world championships," Biles wrote on Twitter. "this kidney stone can wait.... doing it for my team! I'll be gucci girls !" She posted the same photo to Instagram with a shorter caption, declaring that "this kidney stone has nothing on world championships."
Other than the two social media posts, Biles hasn't spoken about her hospitalization or kidney stone, so it's unclear when she was diagnosed or how physicians have advised her to treat it. Given how intensely she's devoted herself to gymnastics, though, it's probably no surprise that she plans to compete in a crucial qualifying round despite having what's widely regarded as one of the most painful ailments a person can suffer from.
A 21-year-old native of Columbus, Ohio, Biles is the most decorated U.S. gymnast — male or female — of all-time, having won 17 medals in Olympic games and world championships. In addition to the many other records she's set, Biles is the first gymnast to win three gold medals at a single Olympics — or four, for that matter, which is how many golds she took home at the 2016 Rio Games.
After Rio, Biles took a two-year break from gymnastics. Upon her return, she almost immediately broke another record when she won the U.S. national all-around title at the U.S. Gymnastics Championships in August. This makes Biles the only woman to ever win five national all-around titles. She also won four event titles during the championships, which means that Biles — in what was just her second competition since her two-year hiatus — won every event she competed in. Her victory in this competition also made her the first non-teen to win the U.S. all-around gymnastics title since 1971.
At that competition, Biles wore a teal outfit that she designed herself to show solidarity with victims of sexual abuse. Teal is often used to raise awareness about sexual assault, and Biles is one of hundreds of women or girls who have accused former USA Gymnastics doctor Larry Nasser of sexually abusing her; Nasser is currently serving an effective life sentence for those and other charges.
Earlier in October, Biles won the all-around competition at the USA Gymnastics selection camp, making her the first woman to win a spot on the six-person team that America will send to the world championships in Qatar. Her kidney stone notwithstanding, she seems more than up to the challenge.