A White House Advisor Fell Asleep During A School Safety Meeting & There's Even A Photo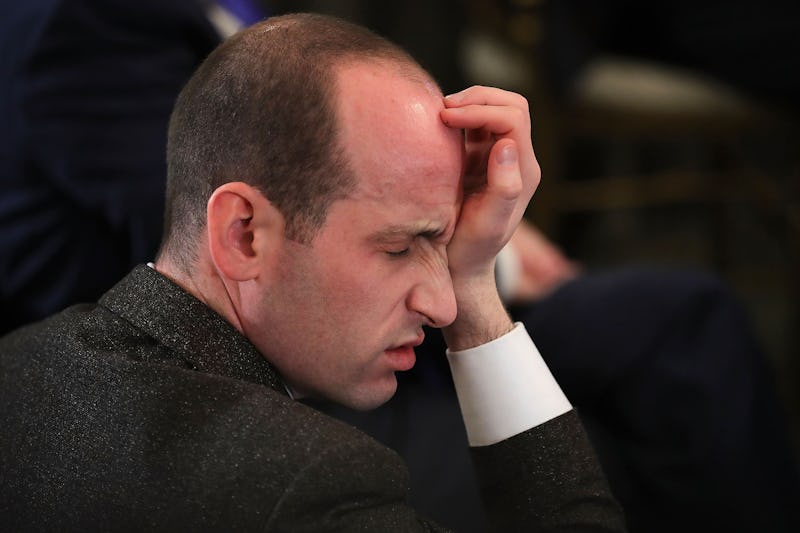 Chip Somodevilla/Getty Images News/Getty Images
On Monday, President Trump hosted governors from around the United States for a discussion about school safety. The backdrop for the meeting was the Feb. 14 shooting at Marjory Stoneman Douglas High School (MSD) that left 17 students and staff members dead. Among the White House officials in attendance was senior adviser Stephen Miller, who opted to take a brief nap while the meeting was in session, if the photos were any indication.
According to The Hill, the photos in question were snapped by the European Pressphoto Agency. They featured images of Miller leaning on his hand with his eyes closed, yawning, rubbing his face, and with his head drooping. Miller did not publicly respond to accusations that he dozed off during a meeting largely focused on school shootings, even while the images took off across Twitter.
Whether or not Miller did fall asleep, the summit was largely reported to be on the livelier side. Among the highlights, President Trump said that he believed that, were he at MSD on the day of the shooting, he would have run into the building unarmed in the interest of protecting the students.
"You don't know it until you test it, but I think — I really believe that I'd run in there even if I didn't have a weapon, and I think that most of the people in this room would have done that, too," he said.
The President also took the opportunity to heavily criticize an armed sheriff's deputy who was at the school at the time of the shooting, but who remained outside the building. "I got to watch some deputy sheriffs performing this weekend," he said. "They weren't exactly Medal of Honor winners, alright? The way they performed was frankly disgusting."
During the same talk, Trump reportedly bounced around from idea to idea when discussing potential solutions to school shootings. Among his proposed solutions is and was a ban on bump stocks, arming teachers to protect their classrooms, and raising the legal age to purchase a gun from 18 to 21 years old.
He also told the 39 governors present that he recently had lunch with members of the National Rifle Association (NRA). When discussing the gun advocacy group, he told attendees not to worry, as "they're on our side."
"You guys — half of you are so afraid of the NRA. There's nothing to be afraid of. And you know what if they're not with you, we have to fight them every once in a while," he said. "That's okay."
But according to reports, not all members of the President's audience were willing to sit quietly and listen to his ideas. Washington Governor Jay Inslee confronted Trump about his proposal to arm public school teachers.
"No, not your teachers," Trump interjected. "Arming a small portion that are very gun adept... You have a gun free zone, it's like an invitation for these very sick people to go there." He suggested that if some teachers were armed, shooters would not try to enter schools.
Inslee, however, was undeterred. As he began to tell Trump about speaking with teachers and law enforcement about the proposition of training educators to use guns, Trump crossed his arms and ceased responding.
"If I may respond," Inslee said, "Let me just suggest that whatever percentage it is... I have listened to the people who would be affected by that... and they don't want to do that in any percentage."
Repeatedly, Inslee insisted that Trump should listen to those who may not want to arm, or be tasked with arming, teachers.
"So I just suggest we need a little less tweeting here, a little more listening," Inslee said. "Let's just take that off the table and move forward."