This Photo Of Ted Cruz At A Houston Rockets Game Has Fans Saying He Cursed The Team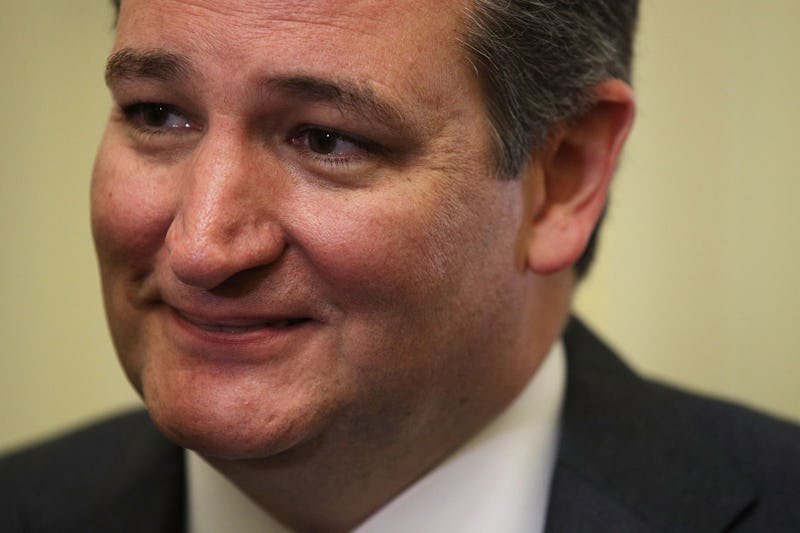 Alex Wong/Getty Images News/Getty Images
On Monday night, a certain U.S. senator posted a picture of himself at a Rockets/Warriors basketball game. While a seemingly innocuous move for the average game attendee, soured fans quickly blamed Ted Cruz's photo for The Rockets' loss later that evening.
"The Rockets missing 27 threes in a row was totally Ted Cruz's fault," wrote user Adam Best. "Him cursing them with his attendance is the only possible explanation."
While the ultimate score for the game — Golden State Warriors winning 101-92 — is not that wild, what caught so much attention was the string of missed 3-point shots that Best referred to. According to FiveThirtyEight, the odds of missing that many shots in a row are one in 72,000.
"The Rockets missing that many threes in a row is an almost unbelievable stroke of bad luck," wrote one user. "I think we can all agree to blame Ted Cruz, yeah?"
Others expressed similar sentiments. "Hot take: Ted Cruz sitting court side played a bigger role to The Rockets loss than Chris Paul not playing," said user Matt Deitsch.
Across Twitter, users took aim at Cruz's presence at the game, the photo he posted, and the corresponding Rockets loss. Virtually any aspect of his attendance seemed up for grabs.
"I think it was an act of high patriotism for The Rockets to lose that game so that we don't have to see Ted Cruz at another sporting event," wrote one user, suggesting that the team lost so that Cruz could no longer physically support them for the rest of the season.
Some were even cracking jokes before the game ended. "I hope The Rockets come back and win but they refuse to celebrate until Ted Cruz leaves the stadium and they locked all the doors but one so he has to keep tryin different ones," one user wrote.
Cruz, of course, was only one of the high profile attendees to score great seats at Monday night's game. According to the San Francisco Chronicle, Kylie Jenner, Travis Scott, Lil Wayne, Deshaun Watson, and Paul Wall were also present, just to name a few. But while the superstitious love to link the Kardashian clan to professional athletic failures, it was only Cruz who was so thoroughly teased online.
"No clue how, but I'm 100% sure Ted Cruz and this photo are the reasons The Rockets shot 15% from beyond the arc tonight," one user wrote of Cruz's picture.
"Missing 27 straight 3s?" asked one user. "Thats what happens when Ted Cruz is a Rocket fan"
Of course, given that Cruz is a Texas senator, and that he was rooting for The Houston Rockets, some couldn't help but make the loss political. "Ted Cruz showed up to Game 7 & The Rockets lost a shot at going to the finals," wrote one user. "This is why you should vote for @BetoORourke."
"Definitely gotta vote out Ted Cruz for making The Rockets lose," wrote another.
When it comes to being dragged on Twitter, the rule seems to be that no one is exempt, and that includes politicians going to basketball games. Of course, this wasn't the first time that Cruz was made into a meme that took off across the social media website. He's made the rounds several times over.
Even former congressman John Dingell got in on the jokes. After seeing that Cruz was at the game, Dingell quote-tweeted the photo, writing, "Well, go Warriors I guess."
While it's virtually impossible that Cruz's presence had any influence on The Rockets' loss, Twitter users couldn't let the opportunity pass to do what they do best: make memes.