People Can't Stop Laughing About This Photo Of Trump & Other Leaders At The NATO Summit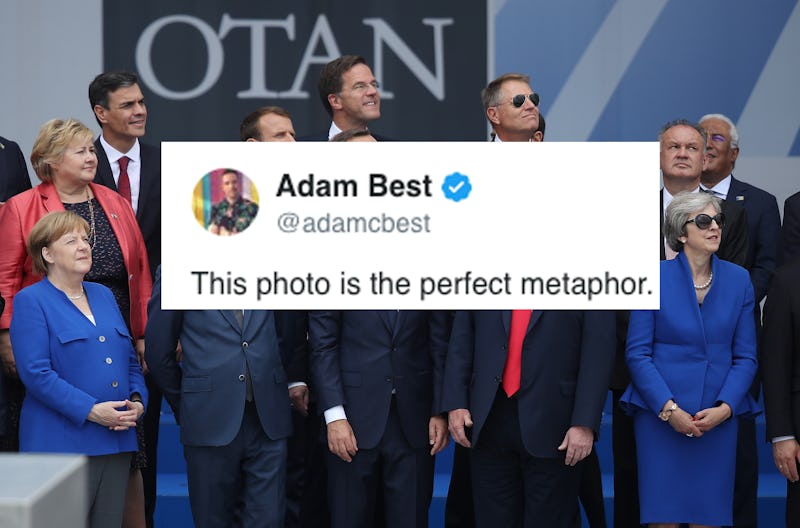 Sean Gallup/Getty Images News/Getty Images
As the 2018 NATO summit kicked off Wednesday, there seemed to be some tension between high-power world leaders. And people on Twitter are saying a supremely awkward NATO summit photo of President Trump and other officials captures the uncomfortable vibe perfectly.
The photo, taken by Sean Gallup in Brussels, Belgium, includes German Chancellor Angela Merkel, Belgian Prime Minister Charles Michel, NATO Secretary General Jens Stoltenberg, British Prime Minister Theresa May, and Trump. The group photo was taken at the opening ceremony and shows presidents, chancellors, and prime ministers alike looking in (mostly) one direction.
Although these leaders have traditionally been allies with the United States, both when it comes to military operations and the economy, some of these relationships have been strained since Trump took office, as Business Insider reported. This has to do with Trump's policies about trade and his relationship with and statements about Russian President Vladimir Putin.
Twitter had plenty to say about the the photo, in which Trump seems to be the odd man out, staring up into the air in an opposite direction from other leaders. Adam Best wrote on Twitter, "This photo is the perfect metaphor. Donald Trump clearly sees the world the wrong way when compared to other NATO leaders. Is it because he's a moron, because Putin tells him to or a mixture of both?"
It's true that Trump's relations with Putin are complicated at best, and he's tried to improve ties with Moscow since he was sworn into office. He's planning to meet with the Russian president on Monday in Helsinki, Finland, and analysts have told CNBC that this move on top of the NATO summit could "bring about the most dramatic geopolitical sea change since the end of the Cold War."
And the Russia meeting wasn't the only reason to believe things were frosty between world leaders at the NATO summit. Just last month, Business Insider reported that there was an air of drama at the G7 summit in Canada. This included Trump allegedly throwing Starbursts on a table in front of Germany's Merkel and saying "Don't say I never give you anything."
Although Starbursts are a sweet candy, Trump also kicked off NATO on a more sour note with Germany, saying the country was "totally controlled by Russia" because it relies on Russian natural gas, The New York Times reported.
Merkel later retorted: "I have experienced myself how a part of Germany was controlled by the Soviet Union," Merkel said, according to Business Insider. "I am very happy that today we are united in freedom, the Federal Republic of Germany."
None of this background was lost on Twitter, where users had a field day with this odd photo of the rag-tag group of leaders.
One Twitter user even compared the President's squint as he looked up towards the sky in the NATO picture to another photo that lit up the Internet during last years solar eclipse.
Photographs taken last year seemed to show the president violating the golden rule of solar eclipses, which is to not look at the sun without protective eyewear. Because, eye damage. As CNN reported at the time, one of his White House aids shouted at him 'don't look,' before he eventually put on protective eyeglasses. And his squint-eyed face on that day is reminiscent of the NATO photo.
The NATO summit ultimately had a productive means to an end. The group of leaders managed to set their differences aside in order to sign new plans for defense against Russia and terrorism, The Washington Post reported. And on top of that success, our Internet will forever be graced with this cringey photo and soon-to-be-meme for the ages.