Zac Efron Looks So Much Like Serial Killer Ted Bundy That It's Freaking Twitter Out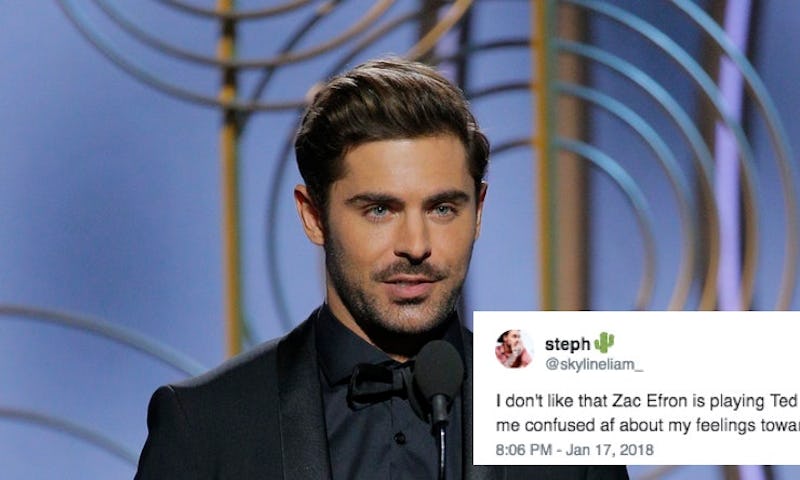 Handout/Getty Images Entertainment/Getty Images; skylinliam_/Twitter
Everyone knows Zac Efron may be dangerously sexy, but for his next role, he's going to be straight-up dangerous. Efron shared a photo as notorious serial killer Ted Bundy, and Twitter is absolutely shook by their similarity in appearance. It's true that from the looks of the first photo of Efron as Bundy, he appears to be the perfect choice to play the serial murderer, rapist, and necrophiliac in the upcoming film Extremely Wicked, Shockingly Evil and Vile. Honestly, it's downright scary how much Efron looks like him.
Efron shared a black-and-white photo from the set of the movie, which starts shooting on Jan. 18, on Twitter with a simple message: "Meet Ted." While the photo is wide shot of the actor, fans couldn't help but notice the striking resemblance between the Baywatch star and the serial killer who admitted to killing 36 women in the '70s.
One person even tweeted a side-by-side shot of Efron's photo with the photo he's recreating: Bundy's original 1975 mugshot after being arrested in Salt Lake City, Utah. "I never thought of Zac Efron as Ted Bundy," someone else wrote, "but now he's the only actor who fits." While another person tweeted, "I can't believe anyone doubted Zac Efron as Ted Bundy. i never doubted you for a minute sweetie I thought you were perfect from the start."
Being that Bundy was known for his charm and good looks, which he allegedly used to lure women, Jarrett Wieselman tweeted, "Zac Efron is playing Ted Bundy in a new movie and, well, that's gonna bring up some confusing feelings."
And he seemed to be right, since another person tweeted, "I don't like that Zac Efron is playing Ted Bundy bc that'll leave me confused af about my feelings towards a serial killer."
Others, though, didn't care what Efron looks, they just wanted to go back in time. "Imagine going back to 2006 and telling your kid self that Zac Efron would be Ted Bundy in 2018," one person wrote.
What also might be confusing for fans is that despite Extremely Wicked, Shockingly Evil and Vile being described as the "Ted Bundy movie," it's actually told from the perspective of Bundy's longtime girlfriend, Elizabeth Kloepfer, played by Lily Collins.
The movie — written by Michael Werwie and directed by Joe Berlinger — focuses on Elizabeth, who, according to Entertainment Weekly, "went years in denial of Ted's crimes before she ultimately turned him in" in 1975. Bundy was lated executed in 1989.
Collins also shared a photo of herself in character writing, "Meet Liz."
Still, some worried that having someone as good-looking as Efron playing the role was going to "romanticize" the serial killer, who has inspired five other movies including the 2002 film Bundy. "In case any of y'all start trying to romanticize Ted Bundy, read this," one person tweeted, posting an excerpt from Bundy's Wiki page, which states that he allegedly used his looks to exploit the trust of his young female victims.
At the same time, others point out it's possible to be a fan of Efron, and not romanticize the character.
Whether Efron was chosen for the role based on his looks or not, he's hoping it's going to be a chance to show his acting prowess. In a BuzzFeed interview with his The Greatest Showman co-star Zendaya, Efron said that playing Bundy will be his most challenging role to date. "I think it's going to be different and it's going to be fun," he said. "I'm super stoked."
Clearly, fans, whether they think he actually looks like Bundy or not, are stoked to see what Efron will do in his first real dramatic starring role.