This Pizza Prom Dress Is A Foodie's Dream Come True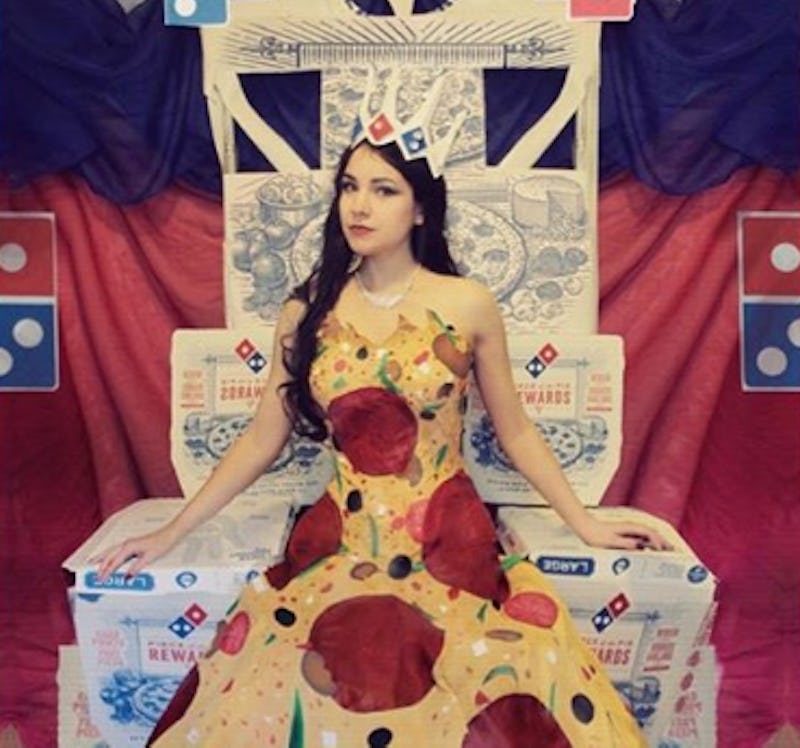 When people go prom dress shopping they normally think about their favorite cuts and colors, but this woman thought about her favorite food instead. Costume designer and Artist Olivia Mears created a pizza prom dress, complete with toppings and a crust around the bottom. So, basically, it's your dream come true. Trust me when I say that this is one quirky dress that you have to see to believe.
If you've been wondering what happens when fashion and food combine, this is it. In hopes of winning Domino's Piece Of The Pie Contest, Mears went above and beyond the call of her cravings to make a pizza ballgown (no, she didn't actually wear it to a prom or any other event). The strapless dress is — quite literally — a pizza brought to life. It features your traditional strapless corset design with a completely unconventional print — pepperoni, olives, green peppers, and mushrooms all made out of foam and a stuffed crust bottom. To say it's a pizza-lovers fantasy outfit would be an understatement.
As if the costume designer's gorgeous creation isn't already enough, Mears made a pizza box crown and a throne made out of Domino's pizza boxes to go with it. If this magical design doesn't win the contest, then I don't know what will.
Mears tells Bustle that it only took two weeks to make this stunning ensemble. She started by making the yellow dress, then she added the toppings made out of foam and other materials, added the foam hem as the crust, and painted and dyed the details.
It might sound like it took a lot of work, but Mears has had a lot of experience making quirky outfits. She designed an armored outfit out of Pabst Blue Ribbon boxes and even transformed herself in a real life princess with her Taco Belle costume. Mears has created everything from stunning ballgowns to cosplay attire.
There's no telling what Mears will come up with next!