This Politician Brilliantly Shut Down A Manterrupting Colleague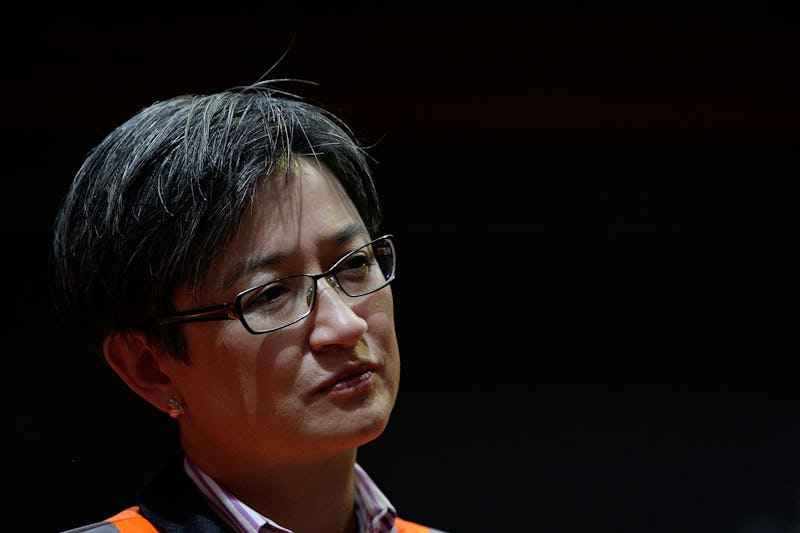 Lisa Maree Williams/Getty Images News/Getty Images
Women across the world face challenges unique to their cultures, but being interrupted by a man counts as a universal female experience. Which would explain why on Wednesday, when Australian female politician brilliantly shut down her "manterrupting" colleague in the Senate, it made international news.
Labor Party senator Penny Wong has an adversarial relationship with her colleague Ian Macdonald, who represents the Liberal National Party, which resulted in this exchange on the Senate floor. (Buzzfeed News reported that Wong is known to be "regularly interrupted" by Macdonald.)
When Macdonald attempted to speak over her, Wong shot back: "Senator Macdonald really does have an unhealthy obsession with me. But I digress."
Macdonald then interrupted again, though the comment wasn't audible in the recording of the exchange. And Wong, who is married to a woman and has two children, quickly responded, "You're not my type either, don't worry about it, mate."
Female politicians around the world are all to familiar with this culture of manterruption, especially in the U.S. Back in February, Sen. Elizabeth Warren was silenced by Senate Majority Leader Mitch McConnell for protesting Jeff Sessions' appointment to Attorney General. The exchange brought to life a new rallying cry for the left: "Nevertheless, she persisted."
Similarly, Sen. Kamala Harris was interrupted multiple times by her white male colleagues during congressional hearings regarding possible Russian involvement in the presidential election.
An analysis of female Supreme Court justices found that they were three times more likely to be interrupted than their male colleagues (of course, the sample size is too small to be fully conclusive, but the fact that there have only been four female Supreme Court justices should be enough evidence to indicate an issue right there).
Even the Obama White House had "manterrupt-itis" — female staffers had to fight to make themselves heard in meetings, or risk having their male co-workers take credit for their ideas.
There are a few reasons the epidemic of manterruption at the federal level might be happening, one of the most compelling being that men face fewer social consequences when they interrupt someone.
According to Georgetown University linguistics professor Deborah Tannen, women have no less natural inclination to interrupt than men, but they are judged more harshly when they interrupt. Additionally, women tend to interrupt each other in all-women conversation, but only so they can show their friends they are actively listening to them. For men, interrupting tends to be about appearing bold and assertive, a social instinct that's often heightened when in the presence of powerful women.
Masculinity may be fragile, but that doesn't mean women need to live their lives trying to protect men from harm. Powerful women like Wong and Warren have every right and responsibility to stick up for themselves and challenge the status quo, so that these discrepancies and microaggressions aren't perpetuated. Wong is a feminist role model for her callout on Macdonald, and you should definitely follow her example the next time Brad or George tries to cut you off in the staff meeting.