This Poll Suggests Most Americans Wouldn't Actually Pass A U.S. Citizenship Test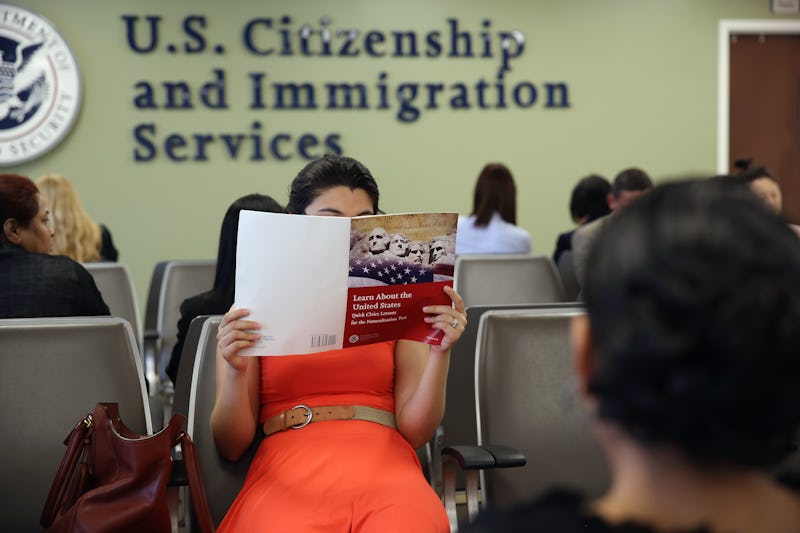 John Moore/Getty Images News/Getty Images
As midterm elections approach, a new poll on U.S. citizenship test questions found that Americans are perhaps less well-versed in the history of the country's democratic institutions than many would expect. The poll, which was released by the Woodrow Wilson National Fellowship Foundation, revealed that only around one in three Americans could pass a multiple choice test made up of questions taken from the U.S. Citizenship Test.
In a press release on Oct. 3, the foundation announced its findings, as well as described its polling methodology. The release noted that polling was conducted by Lincoln Park Strategies, an analytic research firm, and that the firm sampled 1,000 adults. The poll found that only 36 percent of Americans could receive a passing score of 60 on the aforementioned multiple choice test. The test included questions about America's history and institutions.
The press release also identified some surprising results for responses to specific questions on the test. The poll found that 57 percent of those surveyed did not know how many justices serve on the Supreme Court of the United States. Moreover, only 24 percent of those polled knew why the American colonists fought the British in the Revolutionary War that preceded the development of the United States of America. Notably, the poll also identified significant age gaps among respondents, with those 65 years and older scoring the best on the test, and those under 45 years of age scoring the worst.
Arthur Levine, the president of the Woodrow Wilson Foundation, warned that the results from this poll could be worrisome, particularly because he believes that understanding a country's history is crucial to participating in civic life, including voting. As Levine described in the aforementioned press release,
With voters heading to the polls next month, an informed and engaged citizenry is essential. Unfortunately this study found the average American to be woefully uninformed regarding America's history and incapable of passing the U.S. Citizenship Test. It would be an error to view these findings as merely an embarrassment. Knowledge of the history of our country is fundamental to maintaining a democratic society, which is imperiled today ... Americans need to understand the past in order to make sense of a chaotic present and an inchoate future ... [This understanding] offers the promise of providing a common bond among Americans in an era in which our divisions are profound.
As NBC reported, the actual U.S. citizenship test consists of 10 non-multiple-choice questions that are verbally administered by a United States Citizenship and Immigration Services (USCIS) officer. Applicants must answer six of these questions correctly in order to pass. The questions are taken from 100 possible overall questions, to which applicants typically study the answers ahead of time. In addition to this civics test, applicants must also pass a test evaluating their English language abilities in order to secure citizenship. Typically, the pass rate for both of these tests combined is quite high, with USCIS reporting that it was 91 percent as of June 2018.
Overall, the results of the Woodrow Wilson National Fellowship Foundation's most recent poll certainly seem to reveal some surprising findings about the level of historical knowledge among American citizens. However, in comparing outcomes from this poll to actual citizenship test results, it is important to note that, for the latter test, applicants typically prepare ahead of time to ensure that they have a strong likelihood of passing. Nonetheless, it is perhaps still somewhat confounding that those who have been exposed to an American educational system would not fare better on the exam, even without preparation.