There Was A 'Princess Bride' Water Commercial That Will Give You All The Nostalgia Feels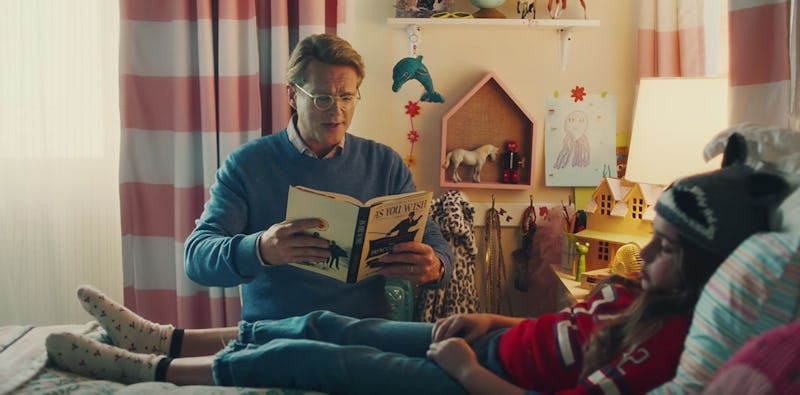 Culligan International Company/YouTube
If you could drag your eyes away from that Oprah speech for a second, there were actually a lot of cool things happening during the first awards ceremony of the year. For example, did you catch the Princess Bride water commercial during the 2018 Golden Globes? It was for Culligan Water and aired during the Jan. 7 broadcast. But, best of all, it starred the original Stable Boy himself, Cary Elwes. Even three decades after the film's 1987 release, our Westley still looks the same, speaks the same, has the same energy, and is bending over backward to do the bidding of a new princess.
This time around, it isn't Robin Wright's Princess Buttercup calling the shots, but an actress playing his daughter. The young girl has him running around the house dutifully accomplishing all her water-based requests. She asks for more bubbles in her bath, for a plate of noodles, and for a glass of lemonade with "clean ice cubes." She even interrupts a bedtime story of Elwes' own book, As You Wish: Inconceivable Tales from the Making of The Princess Bride, with one of her many demands.
But just as he did in the movie, the dutiful dad responds to each new request with a twinkle in his eye and a smiling, "As you wish." And, as before, you can tell that every time he says "as you wish," what he's really saying is, "I love you." To a daughter this time, but it still carries exactly the heartwarming weight as in the original. It's delightful.
As if that wasn't enough to pore over, at the very end of the 30-second spot, up pops a Wallace Shawn-lookalike to deliver one of the most familiar lines of the whole film. When Elwes effuses about the qualities of the water to his neighbor, saying, "...great food, soft clothes, and it tastes fantastic," the neighbor takes a sip of the water and responds, "Inconceivable." Vizzini would be proud.
The whole commercial is a little time capsule of nostalgia for all the Princess Bride fans out there. It almost feels like a little micro-sequel to the film itself, especially with the set-up of the bedtime story, which audiences will remember from the original. The entire movie was what Fred Savage's grandfather was reading to him as he lay in bed. So maybe this new young girl is Westley and Buttercup's daughter, somehow, and him reading to her about the behind-the-scenes of the movie is the frame for a totally new film? And everything will be about clean water and exactly how important of a right that is for everyone?
OK, there's a chance we're getting carried away here. This was definitely just a commercial for a water treatment company that provides softening and filtration, and not an announcement of an exciting remake. But can you really blame fans? Seeing Cary Elwes again in all his shining glory takes us right back there to the early moments of that film, when nothing had happened yet and anything was possible. And, at the same time it does that, it also transports us to our childhood, opening up a whole world of nostalgia in anyone who watches the ad and also saw the movie.
The only thing that could've made this ad better is a cameo by Robin Wright herself, but something tells me that the Princess Bride actor has a little more on her plate at the moment. She's over in Netflix world right now, kicking ass on a new Claire Underwood-centric season of House of Cards while Westley holds down the home front for Culligan Water. Would it be too much to ask for a crossover episode?