Pro-Trump Group Tries To Win Public Opinion With Anti-Comey Video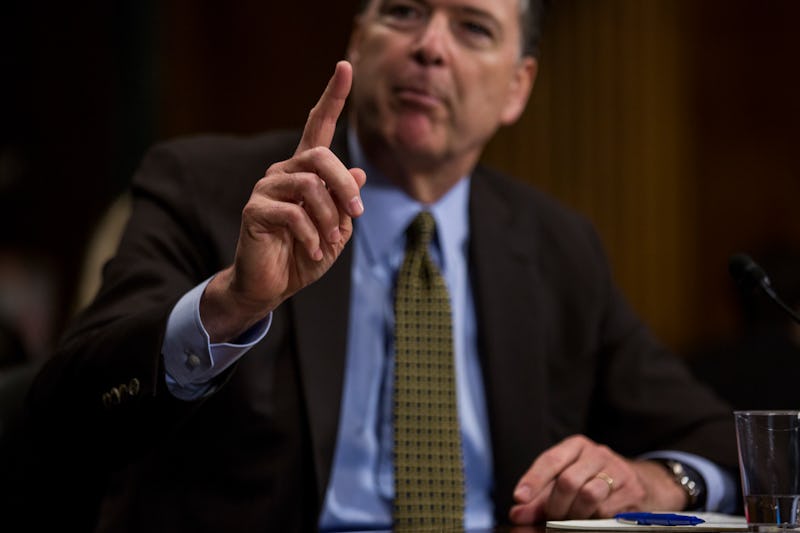 Zach Gibson/Getty Images News/Getty Images
James Comey's testimony will have a great influence on the congressional investigation into Russia's potential election influence, and potentially on Donald Trump's presidency too. Take the opening statement Comey released: it is already being covered extensively in the media, and he hasn't even given the testimony yet. Ultimately, though, the debate over Comey's allegations won't just occur in Congress — it will happen among voters, too. For instance, a pro-Trump group made a Comey attack ad in an attempt to sway the public's opinion of the former FBI director.
The group, the Great America Alliance, started airing the ad online Tuesday night. The title of the ad, "Showboat," uses Trump's own word to attack the former FBI director. The video is posted to Twitter and even has the president's Twitter account tagged (perhaps hoping for a retweet).
The ad claims that Comey put "politics over over protecting America" while he was leading the bureau. It also brings up the right's favorite term, "radical Islam," and claims that Comey allowed the agency to strike the term from its training manuals — evidently something extremely dire in the far-right's world.
"When terror attacks were on the rise last year, Comey was consumed with election meddling," the voiceover alleges. Then it sums up the group's view on Comey: "James Comey, just another D.C. insider only in it for himself."
The group doesn't shy away from its Trump connections, and they probably see this video fitting right in with their aims, to "realize President Trump's promise to 'Make America Great Again'" and "be the largest outside group to support President Trump's agenda." They support things like "a stronger economy, a more secure nation, and a society with less government intrusion and more freedom for American citizens," according to their website. In their view, keeping Trump in the presidency would fit with those goals.
Eric Beach, head of Great America Alliance, told the Associated Press that the group made the ad without any input from the White House. But words like "showboat" are clearly linked to Trump's past statements; he called Comey that very same name in his interview with NBC News' Lester Holt — the same interview in which he admitted that he had planned to fire Comey even before receiving the recommendation from the Justice Department.
Just to give you an idea of the type of group you're dealing with, take a look at who is involved. Key Trump allies are in charge of Great America Alliance — namely Newt Gingrich and Rudolph Giuliani — while the female conservative online media celebrity Tomi Lahren, former host on The Blaze, joined the group as spokesperson last month, Gizmodo reported.
So this attack ad may just be the beginning. It's scary to think that partisan messaging could get in the way of a congressional investigation, so keep your eyes pealed and let Comey's testimony speak for itself.