This Law Could Change Public School's Curriculums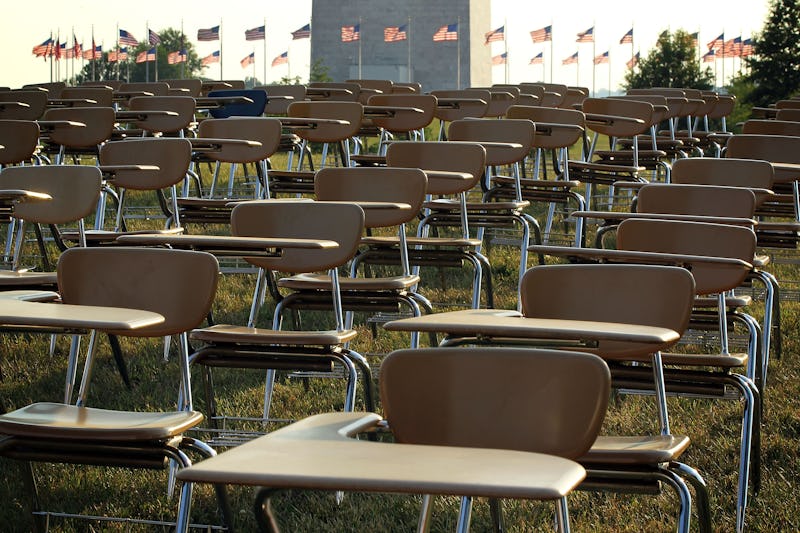 Alex Wong/Getty Images News/Getty Images
For the majority of grade-school students in the U.S., the nation's history is presented with a focus on the contributions of white, straight, able-bodied men, with a limited focus on the contributions of African Americans, and with other ethnic and social minorities ignored completely. Now, though, some public school curriculums are slowly changing for the better. And if a new bill introduced in the Oregon State Legislature passes, Oregon could become the second state after California to require ethnic studies for public school students.
HB 2845 would require Oregon's Department of Education to adopt ethnic studies standards into its social studies curriculum for K-12 students by the start of the 2020-21 school year. It is similar to, but more far-reaching than, California's Bill AB-2016, which Gov. Jerry Brown signed into law last year and requires that public high schools adopt an ethnic studies curriculum by the 2019-20 school year.
The bill follows earlier ones passed by the Los Angeles, San Francisco, and Oakland Unified School Districts ordering ethnic studies in their schools, with LAUSD making a one-semester course required for high school graduation by 2019. According to EdSource, by spring 2016, only six of California's nearly 1,000 school districts required ethnic studies for graduation.
If HB 2845 passes, Oregon and California could lead the country in revamping grade-school social studies to give students a fuller picture of U.S. history. And while advocates have been pushing for better recognition of ethnic and social minorities in school curriculums for decades, studies showing the benefits of ethnic studies have only come out over the past few years.
A 2010 National Education Association study concluded that "students of color and white students have been found to benefit academically as well as socially from ethnic studies," provided the curriculum is taught and designed well. Those findings were echoed in a 2016 Stanford Graduate School of Education study, which focused on San Francisco high schools' pilot ethnic studies program.
Perhaps most interesting is how the fight for ethnic studies in Oregon and Los Angeles has been led by the students themselves. The L.A. Times reported that students drove the campaign to require ethnic studies in LAUSD. Meanwhile, organizers from the Asian Pacific American Network of Oregon's (APANO) youth arm and Asian Pacific Islander Leaders for the Liberation of Youth (ALLY) led the fight for curriculum change in Portland.
As of March 13, HB 2845 has been introduced into the Oregon House and is sponsored by 19 state representatives and two state senators. A public hearing on the bill is scheduled for March 15.