This Rex Tillerson Speech Might've Just Trolled Trump Without Even Saying His Name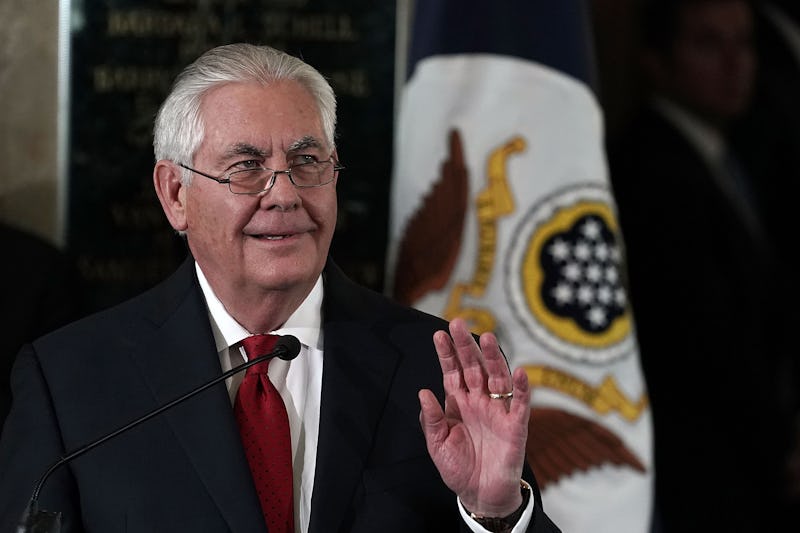 Alex Wong/Getty Images News/Getty Images
He may not have any affiliation with the White House anymore, but former Secretary of State Rex Tillerson might've trolled Trump pretty hard during a Virginia Military Institute commencement speech. Tillerson was speaking to soon-to-be-graduates at the time, and he certainly didn't mince his words. He may not have referenced President Trump or any of his aides explicitly, but he could've been speaking in reference to the Trump administration when he warned against the dangers of perpetuating false truth in a society.
During the speech, Tillerson spoke of the importance of reinforcing the sanctity of truth within American society, CNN reports. "If our leaders seek to conceal the truth," Tillerson proclaimed, "[Or if] we as people become accepting of alternative realities that are no longer grounded in facts, then we as American citizens are on a pathway to relinquishing our freedom."
Tillerson didn't stop there. He continued to remark upon "a growing crisis in ethics and integrity," NBC News reports, adding, "[if] we the People go wobbly on the truth...we go wobbly on America."
This is not the first time (or the second, or the third) that Tillerson and the Trump administration have seemed to clash. And you probably already knew that, given that President Trump ejected him from his role as secretary of state in March, replacing him with CIA chief Mike Pompeo.
During Tillerson's brief stint as secretary of state, he and President Trump grew increasingly hostile towards one another, with Tillerson reportedly calling Trump a "moron" in a Pentagon meeting, according to CNN. Though it's worth mentioning that Tillerson did release a statement on the report saying, "I'm not going to deal with petty stuff like that. I'm just not going to be part of this effort to divide this administration."
Additionally, he publicly disagreed with President Trump's stance on several political matters, according to The New York Times, which was the official reason for why President Trump ousted him.
"We were not really thinking the same," President Trump explained to reporters at the White House, via The New York Times. "Really, it was a different mind-set, a different thinking."
Since leaving the White House, Tillerson has kept a fairly low profile- until now, that is. Tillerson's remarks on Wednesday were comprehensive and pointed, arguing that the responsibility of an American citizen is to "preserve and protect freedom by recognizing what is truth and what is not, what is fact and what is not...and [to] demand our America's future be fact-based."
Given that, according to The Washington Post, Trump logged over 3,000 mistruths in his first year of office (defined, by The Washington Post, as statements that were either "misleading or totally false"), it seems pretty likely that Tillerson is speaking directly to President Trump, here. But of course, we can't know for sure.
Tillerson didn't only talk about his growing concern over fake news, though: he also spoke of the importance of not taking foreign allies for granted, The Hill reports, and stressed that the United States needs to find common ground with foreign entities, "both in trade relations and national security matters."
Although there has been no comment from the White House regarding Tillerson's remarks as of yet, it's safe to assume that President Trump might respond to it in the same way he publicized Tillerson's removal: via Twitter.
In his closing remarks, Tillerson gave some parting advice for the young graduates (you can watch the entire speech in full, in the video above): "See how the leaders you are following carry themselves...study how they communicate and make decisions...recognize that integrity is not unique to any one culture. No matter where you are in the world, integrity and good character are prized by every great faith, and every great tradition."
Though Tillerson and President Trump may continue to maintain a tense relationship in the future, Tillerson's message was one of unity and self-growth — which might just be why he received a standing ovation at the end of his speech.