Sofia Vergara's Ex Is Making A Controversial 'Roe V. Wade' Movie & It Sounds Very Dramatic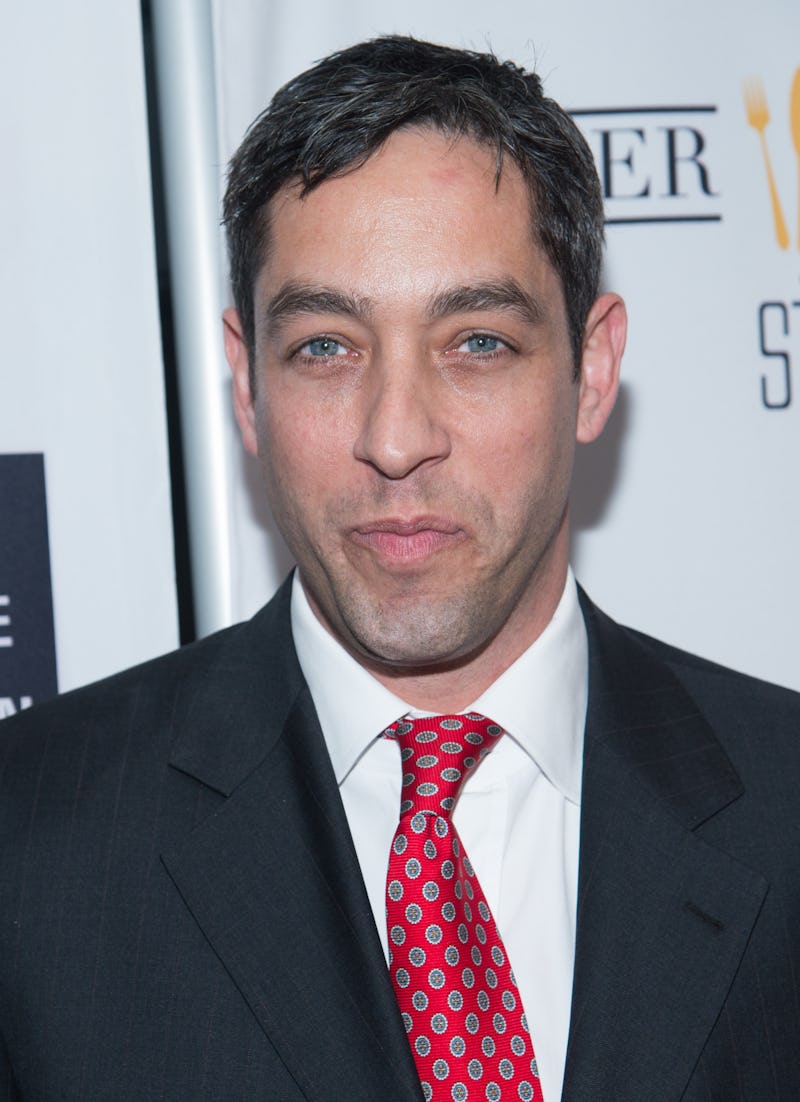 Mark Sagliocco/Getty Images Entertainment/Getty Images
Of all the movies to come out in the near future, this one might be the least progressive. According to The Hollywood Reporter, crew members are quitting a pro-life film Roe v. Wade, directed by Nick Loeb. Some might recognize Loeb as Sofia Vergara's ex-fiancé. The one who initiated a legal battle in which he claimed he deserved custody of the two frozen embryos created during Loeb and Vergara's relationship. Loeb is an actor, and the IMDB page for Roe v. Wade lists him and Cathy Allyn as co-writers and co-directors of the movie supposedly detailing the pivotal abortion Supreme Court case. Bustle has reached out to Loeb for comment.
UPDATE: Loeb responded to Bustle with this comment: "We are telling the true story of Roe v. Wade, we tell the truth about both sides of the issue. I feel it's sad when one side needs to become verbally abusive, threatening, and do things to be intentionally damaging to those with they disagree. The majority of people working as cast and crew on the movie have been super professional and represent both sides of the issue."
EARLIER: As you can imagine, a movie about the 1973 decision that determined a woman's right to an abortion free of political interference under the constitutional right to privacy is already stirring up controversy. Considering that President Trump had announced his commitment to overturning Roe v. Wade during his campaign, and now he might have the power to do so with his Supreme Court justice appointment after Justice Kennedy's retirement, a movie about Roe is certainly timely. But a movie that suggests that the monumental case deserves to be overturned? That's not exactly what anyone needs right now, and according to THR, crew members who were working with Loeb on the courtroom drama are stepping down from their roles with the movie in protest.
While talking to THR about the upcoming feature film, Loeb claimed that a woman approached him and asked, "Are you the director?" Then, he told the entertainment publication, "When I told her I was, she told me to go f*ck myself. Then she threw her headset on the ground and walked off. I found out later she was our electrician."
Because the subject of Loeb's movie is so contentious, especially right now, THR reports that the movie has made great efforts to keep information about its political agenda a secret. The movie's title, for instance, has yet to be released, and the cast wasn't announced before the film began shooting around New Orleans in mid-June. The Hollywood Reporter, however, revealed that the cast does include some of Hollywood's most outspoken conservatives, Jon Voight and Robert Davi, as Supreme Court justices. The other justices in the film will reportedly be played by Corbin Bernsen, John Schneider, Steve Guttenberg, William Forsythe, Wade Williams and Richard Portnow, according to THR.
Voight and Davi aren't the only famous conservatives involved in the film. THR also reported that Clueless star Stacey Dash will be in the film, portraying Mildred Jefferson, who was the former president of National Right to Life. Dash formerly worked as a Fox News commentator and she frequently voices her support for Donald Trump, a habit that has not endeared her to fans of her earlier work.
While Loeb's film has found a good number of actors to play figures involved in Roe, the disgruntled electrician who allegedly quit after learning that Loeb was behind the project wasn't the only person to drop out of the movie. THR reports that the movie's pro-life angle has led three actors to drop out of the film. A costumer also quit after two weeks, which Loeb's co-director Allyn told THR was "because of the subject matter and pressure from her peers."
Even before Loeb's more recent legal battle with Vergara, the director and actor filed a court case in 2013 over the same frozen embryos, claiming he had the right to bring the embryos to term. As the Daily Beast points out, Loeb allegedly dropped the 2013 case because he had refused to share the name of two of his past girlfriends, who had gotten abortions, with the court.
While discussing his motivation for making the film about Roe, Loeb told THR, "I have my own pro-life issue going on with my fight over embryos, but no one has really told the whole truth about Roe v. Wade in a film. When I delved into this, I discovered conspiracy theories, fake news, made-up statistics and a whole lot of people involved who switched their positions from pro-choice to pro-life, including Norma [McCorvey]."
It's unclear what, exactly, the "fake news" is that Loeb is referencing. Nor is it clear what Loeb's agenda in making this film truly is. What is clear is that the more people find out about it, the less willing they seem to be to work on the film. And that may be for the best.