This Easy Recipe For Shakshuka Will Change Your Breakfast Game Forever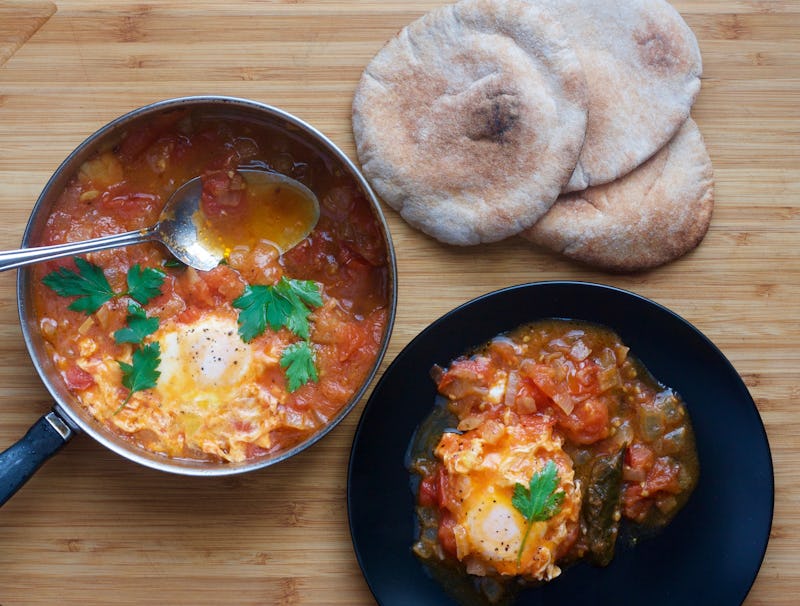 Abeer Najjar/Bustle
I'll freely admit that I am not a breakfast fan. I know: It's a controversial stance to take, but I'm sticking to it. That said, I'm a huge fan of breakfast foods — it's just the whole having to cook something elaborate and that's probably going to leave me with leftovers part that I dislike. Take Shakshuka, for instance: It's delicious and I love it, but it also seems like it would be totally intense to make first thing in the morning for breakfast. So, I decided to compromise with this Shakshuka recipe that will only yield enough for one person, and is also really, really easy to make.
Shakshuka is a North-African dish featuring eggs poached in a spicy, fragrant tomato sauce, and accompanied by warm, toasty bread. Throughout history, it was popular all throughout North Africa and the Middle East, but it's now very likely you will find it at your favorite brunch spots around the world, too. It looks like a tough recipe to make because, presentation-wise, it's so beautiful — but in reality, it only takes a handful of ingredients that you probably already have laying around your kitchen anyway.
This basic Shakshuka recipe is mouth-watering on its own, but it is also a great canvas for customizing it the way you like. Add seasonal veggies, different fresh herbs, or even top with some crumbled cheese! You can even swap out the bread for pasta to change things up, or just eat it on its own right out of the pan. It makes for awesome presentation (read: Instagrammable!), and saves you a few dishes to wash.
Here's how to get started:
4 tablespoons Olive Oil
2 Garlic Cloves, smashed
½ Medium Onion, chopped
1 Jalapeno or Serrano Pepper, halved
2-3 Roma or Vine-On Tomatoes, roughly chopped
2 Eggs
Salt and Pepper
Parsley for Garnish
Bread for Dipping
1. Chop up and prepare all of the ingredients. Take the eggs out of the fridge too to get them to room temperature — this will allow them to cook faster.
2. In a small skillet or pan over medium heat, add the olive oil.
3. When the oil is warm, add the garlic, serrano pepper, and onions. Cook them until the onions are soft and slightly brown, about 3-4 minutes.
4. Add the tomatoes to the pan and season with salt. Allow the tomatoes to cook down for about 5 minutes, until they're a chunky sauce consistency. If the tomatoes aren't very juicy, you can add about 1/4 cup of water to help create some more sauce.
5. Crack the eggs into a small bowl to avoid getting shells into the Shakshuka. Make a small well in the tomato sauce for each egg and gently drop each egg into its well.
6. Cover the pan and allow the eggs to cook until the whites are thoroughly solid, but the yolks are still runny — about 4-5 minutes.
7. Garnish the Shakshuka with parsley and enjoy while hot with your favorite bread.
Shakshuka is one of those recipes where a few fresh ingredients along with some simple technique results in a satisfying and comforting meal. With so few ingredients, you can even make some single servings of Shakshuka in advance if you'd like: just cook up a big batch of the tomato base (steps 1-4), then refrigerate or freeze each serving so it's ready to simply warm up and add eggs to whenever you're craving own personal Shakshuka!
How gorgeous is that? To health and happiness!
Check out more Single Serving recipe ideas here for when your speed is less "entertaining my crew" and more "watching Netflix alone on my couch."