This Dip Recipe Is Perfect If You Don't Have Any Super Bowl Plans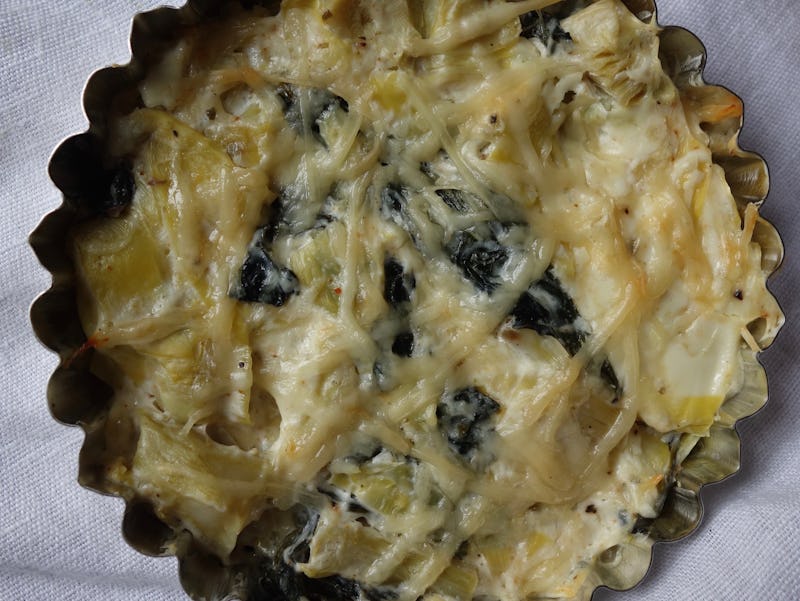 Brittany Bennett
You go to a Super Bowl party for the game, but, more often than not, you stay for the snacks. Even if you're more invested in the food lineup than the outcome of the championship, this easy spinach artichoke dip recipe for one will give you something to root for. Bonus points: it's numbingly simple to throw together and requires ingredients you might already have in stock. This will save you a trip to the grocery store on Super Bowl Sunday, which we all know can provide aisles as bleak as the ones we find on Thanksgiving morning. If you are the quarterback of your own life, this dip for one is a good call.
Every party must have an assortment of dips. As a result, every party also has a dip hogger. They're typically identified as that person who stalks the dip bowl until it's set down on the communal snack table, and then proceeds to submerge chip after chip after carrot stick after celery stick into the bowl until there's barely any dip left to share. There will probably be a ~super bowl~, if you will, full of dip at the party, and snack hoggers will consume all of it. Can you blame them? It's delicious, and it will basically be the center piece of the snack table. Don't stress about getting in on the action, though — just secure yourself a few dunks in the dip by making your own personal sized serving. It's not rude, it's proactive.
And delicious.
1 cup fresh spinach, long stems removed
2 tbsp non-fat greek yogurt
1 oz (2 tbsp) cream cheese, softened
1/2 clove garlic, minced
1/3 cup chopped artichoke hearts, from a jar
1 tbsp shredded parmesan cheese, plus more for sprinkling
Salt, to taste
Pepper, to taste
Pinch of cayenne, to taste
Pre-heat the oven to 350F and position a rack to the middle shelf.
1. Bring a small saucepan of water to a boil over medium-high heat. Blanche the fresh spinach for 45 seconds. Using a slotted spoon, transfer the spinach to a clean dishtowel. Let the spinach cool for 1 minute before wringing the water out of the spinach. Carefully, as the spinach will still be pretty hot. It's important to wring out as much water in the spinach as possible to avoid your dip from being a puddle of liquid.
(Very dreamy, no?)
2. In a small bowl, like a cereal bowl, combine the greek yogurt, cream cheese, garlic, artichoke, shredded parmesan, salt, pepper, and cayenne. If you like more than just a little kick, add a touch more than 1/8 tsp of cayenne pepper. Heat is a beautiful thing here.
3. Add the blanched spinach and stir everything together with a spoon or rubber spatula until all of the ingredients are thoroughly incorporated. Scrape down the sides of the bowl to get all of the goodness into the mix.
4. It will be tempting at this point to just dip a celery stick into the bowl, but refrain from such behavior. Scrape the dip into a 4" tart/quiche pan or amongst 2 to 3 muffin tin molds. Sprinkle extra parmesan on top. Bake for 20-25 minutes until the cheese has melted and begun to brown. If a more golden top is desired, broil for 1 minute once baking has concluded. Be careful to watch every second to avoid the dip from burning.
(Hello, sunshine.)
5. Enjoy the dip with a few toasted slices of baguette and vegetable accoutrements, preferably shaped as footballs. But if you would rather dig in fork first, by all means, do not hold back. This is your dip, after all.
Bon appétit, and go sports!