This State Could Be The First Without An Abortion Clinic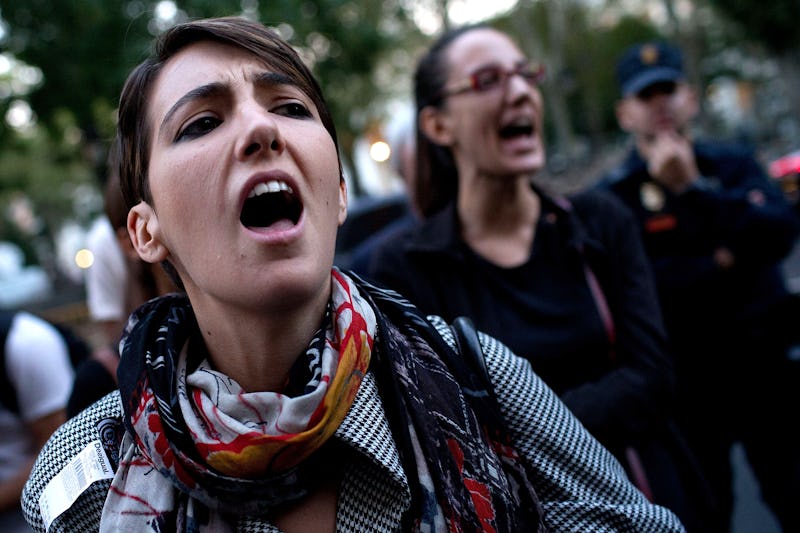 Gonzalo Arroyo Moreno/Getty Images News/Getty Images
When Dona Wells, an original founder of the EMW abortion clinics in Kentucky, began pushing for abortion rights in her state in the 1960s, she never believed abortion care would become legal. She grew up in Fort Thomas, Kentucky, a small town in northern Kentucky that she describes as a Catholic bastion. The town had less than 17,000 residents, according to 1970 census data, and the idea of seeking an abortion in that environment was terrifying.
"I know what it was like to have a friend who had an illegal abortion in Louisville and went to the hospital because she had a complication and no one would attend to her," Wells tells Bustle. "We saw illegal abortionists and these dirty places we heard about, and we just thought: That's how it's always going to be."
In 1973, with the landmark Supreme Court decision of Roe v. Wade, everything changed — not only in Kentucky, but across the country. Abortion was finally legalized, and Wells was thrilled. She eventually helped found the EMW Women's Surgical Center in Louisville, followed by the EMW Women's Clinic in Lexington. By 1978, the state, a historically blue mecca in the South, was home to 17 abortion providers.
In the wake of Gov. Matt Bevin's 2015 win (he became only the second Republican governor of the state in four decades), EMW Women's Surgical Center in Louisville is Kentucky's last abortion provider. And, if the state has its way, it will soon be shuttering the clinic's doors.
Since taking office, Bevin, who calls himself "unapologetically pro-life," has worked tirelessly to limit abortion access in the state. In January, after Republicans took control of the Kentucky House for the first time in 95 years, measures were passed that banned abortions after 20 weeks and required doctors to narrate the ultrasounds in detail, regardless of the women's wishes. Bevin also blocked a Planned Parenthood clinic from performing abortions, and, after a lengthy legal battle with the state over licensing issues, EMW's clinic in Lexington was forced to close earlier this year.
In the latest turn of events, the state threatened to revoke the Louisville clinic's licensing in April after alleging EMW's agreements with hospital and ambulance services contained technical deficiencies, even though the state had approved those same agreements when they renewed the clinic's license in 2016. In a letter, EMW was notified that it'd be forced to close within 10 days if the demands weren't met.
"This was completely out of the blue," Brigitte Amiri, Senior Staff Attorney for the ACLU Reproductive Freedom Project, tells Bustle. "The clinic is inspected on a regular basis, they had been inspected in the years prior, the agreements were in the possession of the government, and, nevertheless, EMW received this letter saying there were these deficiencies."
The ACLU filed a lawsuit, EMW v. Glisson, aimed at blocking what they consider to be unnecessary and unconstitutional state laws. In April, a federal court issued an order that permitted EMW to remain open while the state challenges the clinic's agreements with local hospital and ambulance services. The trial starts on Sept. 6 and the temporary restraining order will remain in effect until a final judgment is declared.
"So that's really what this stems from, they say the wrong person at the hospital signed the transfer agreement. They are all these technical, nit-picky things to close the last clinic in Kentucky."
Amiri says Kentucky's case against the clinic is especially unconstitutional in light of last June's Supreme Court case of Whole Woman's Health v. Hellerstedt, which held that requiring business arrangements with a hospital serves no medical purpose and poses major harm for women. She considers the state's stringent licensing requirements to be TRAP laws, or laws that single out abortion providers and impose requirements that are more burdensome than those imposed on other medical practices.
"Hospitals are already required by federal law to care for any emergency patient and stabilize her," Amiri says. "There's really no need for an agreement between an abortion clinic and a hospital to ensure proper patient care. And the burden on patients would be extreme — this is designed specifically to make it impossible, or at least very difficult, for women to access abortions."
Nationwide, less than 0.3 percent of abortion patients experience a complication requiring hospitalization on the day of the abortion, and EMW's rate is even lower, according to the legal complaint. In the rare case that a complication does occur and requires hospitalization, it generally does not occur while the patient is still at the abortion facility. Despite this, EMW staff physicians have maintained admitting privileges with local hospitals, to comply with the state.
However, the government still wants to revoke EMW's license because their written agreement was signed by the head of the hospital's Department of Obstetrics, Gynecology and Women's Health — and they claim it must be signed by someone higher up at the hospital.
"So that's really what this stems from, they say the wrong person at the hospital signed the transfer agreement," Amiri explains. "They are all these technical, nit-picky things to close the last clinic in Kentucky."
Since its conception, EMW has consistently provided care for people across Kentucky. Wells says that, for instance, and in 2003, they saw 299 patients in March, 249 patients in April, and 254 patients in May of that year.
"And that's just the book I happened to pull out!" she says with a laugh about the provided dates. "We were doing much more than that in the early days because women didn't have good access to information."
She says the state of abortion care in Kentucky is much worse today than it was in the 1970s. It's one of seven states — along with North Dakota, South Dakota, Missouri, Mississippi, Wyoming, and West Virginia — with only one abortion provider.
Hillary Schneller, a staff attorney with the Center for Reproductive Rights who is involved with their legal team in Mississippi, says that since the presidential election, anti-abortion protests have especially picked up speed. "[Protestors] have gotten more aggressive and persistent in a region where abortion is already incredibly restricted," she tells Bustle. "To be one clinic in a very hostile state can feel very targeted and a focal point for protestors, and just a very difficult situation in which to operate."
From July 22 to 29, Operation Save America, a fundamentalist Christian conservative organization, will be holding disruptive protests in Louisville against EMW. On the group's Facebook page, they stated:
Roe v. Wade is not "the law of the land." It is a dangerous error to confuse law and lawlessness, as foolish an assertion to confuse God and the devil.
Amiri says that the organization also held protests against EMW in May — and physically blockaded the doors to prevent patients from entering. "We in the reproductive rights movement have not seen clinic blockades like that for decades," she says.
"They're willing to sacrifice the lives of Kentuckians for their own religious and political beliefs and that's extremely sad."
Marcie Crim, the Executive Director of the Kentucky Health Justice Network, tells Bustle that the state of abortion in Kentucky is at emergency levels. But, and in spite of the hostile environment surrounding abortion, her organization continues to receive about 30 phone calls a week from people across the state who need assistance accessing abortion care. The organization helps transport patients to abortion clinics and provides funding when they can't afford the procedure.
If EMW shuts down, she says they will be forced to transport Kentuckians out of state for abortions.
Not everyone in the state of Kentucky who needs an abortion will find us. So, what's going to happen to those people who don't know there is assistance out there? I don't know. The people who are trying to pass these laws, they're not thinking of what that actually means for Kentuckians. Either they don't care or they just don't even consider that fact that that means people will try to self-abort. They're willing to sacrifice the lives of Kentuckians for their own religious and political beliefs and that's extremely sad.
Wells remembers what life was like in the pre-Roe era. Sometimes, pregnant friends left town to give birth and place the child for adoption, she says. Other times, she says she drove young women to the airport to fly to New York for the procedure, since abortion was already legalized in that state. They boarded the planes, were picked up by vans upon arrival, and driven to far-off clinics, she tells Bustle. "Then they flew back on the plane just totally wiped out," she says. "That's just so unconscionable for anyone to have to go through that."
Kentucky women had no control over their reproductive lives, and it was scary, she says.
"I grew up in a time when so frequently, because we didn't have good access to information, people got pregnant and then they got married and I just thought that was so wrong for women not to have this option," Wells says. "To say there's no abortion in Kentucky, it's just a total chilling effect for all of us who are pro-choice, all of us who are feminists, all of us who care about people. It would be like we're going back to the 1800s."