This Stephon Clark Shooting Update Raises Questions About The Cops' Version Of The Story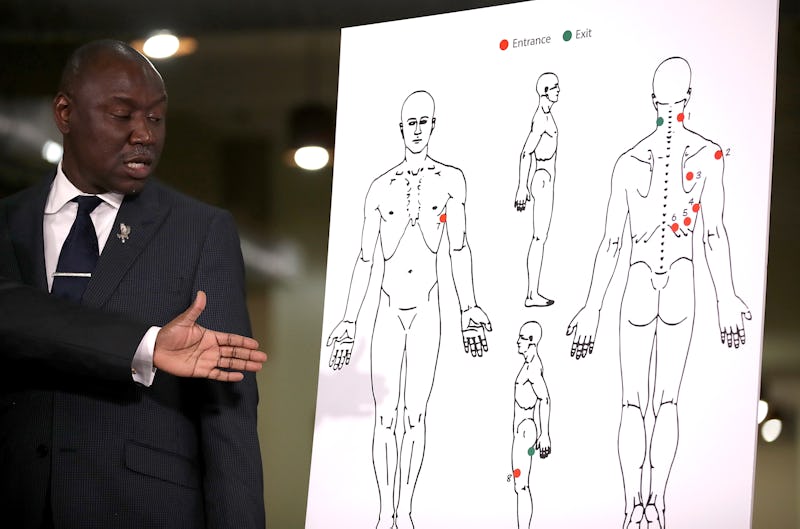 Justin Sullivan/Getty Images News/Getty Images
On Friday, the results of an independent autopsy of Stephon Clark were released by his family. They showed that Clark, who was killed by police in his own backyard while unarmed earlier in the month, had been struck by eight bullets, seven of them in the back, and that he took between three and 10 minutes to die. Earlier, Sacramento police had said that Clark was facing the officers when they shot him.
The autopsy was commissioned independently by Clark's family and carried out by San Joaquin County forensic pathologist Dr. Bennet Omalu.
"You can reasonably conclude he received seven gunshot wounds from his back," Omalu said at a press conference Friday. "During the entire interaction, he had his back to the officers, not his front." The Sacramento County Coroner's office hasn't released the findings of its autopsy of Clark, although it did say that he died of multiple gunshot wounds.
Clark was killed on March 18th. Police say that they were responding to reports of somebody breaking into cars in South Sacramento when they spotted Clark, who then ran to his grandmother's backyard. The officers pursued him and, seconds after ordering him to show his hands, fired at him 20 times. Footage from the encounter shows that both officers continued shooting at Clark after he'd fallen to the ground and was lying their motionless.
In a subsequent statement, police said that they thought Clark was armed, and an officer can be heard yelling "gun" repeatedly in footage from a body camera. However, Clark was unarmed.
After Clark's death, the Sacramento Police Department said in a statement that Clark had "turned and advanced towards the officers while holding an object which was extended in front of him," and that "fearing for their safety, the officers fired their duty weapons striking the suspect multiple times." The only object found on Clark's person after he was killed was a cell phone, however. Police later updated their statement to reflect this fact, but still maintained that the officers saw Clark "facing them and advance [sic] forward with his arms extended."
Omalu also said that Clark's death "wasn't instantaneous," and that the 22-year-old black man took between three and 10 minutes to die. That's relevant as well, given that police did not approach Clark or otherwise offer any medical assistance for five minutes after shooting him. Omalu said Friday that he couldn't be certain whether Clark would have survived had he received medical attention.
Clark's death sparked outrage and protests over police violence against unarmed black people. Less than two weeks after Clark was killed, police in Texas shot and killed an unarmed black man who was walking around with his trousers down. Two years earlier, Sacramento police killed an unarmed, mentally ill black man by shooting him 18 times.
"Our autopsy has shown that [Clark] was shot repeatedly in the back — which is certainly not characteristic of someone menacing officers or preparing an imminent attack," Benjamin Crump, a lawyer for Clark's family, said at the press conference.
The Sacramento Police Department refused to comment on the results of the independent autopsy, saying in a statement that it "would be inappropriate" to do so before the coroner's autopsy results are released. The department added that it has not yet received copies of the coroner's findings.
"We acknowledge the importance of this case to all in our community and we are committed to a thorough and comprehensive investigation," Sacramento police said.
Sacramento has been rocked with near-daily protests since Clark's killing. On Thursday, around 100 demonstrators blocked traffic in Sacramento to protest the shooting of Clark — the third straight day they had done so.