Trump's Lawyer Is Trying REALLY Hard To Keep Stormy Daniels Quiet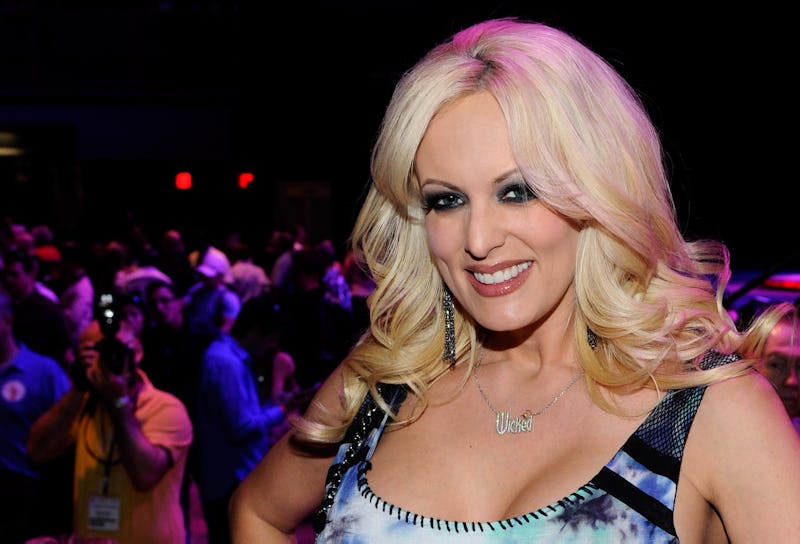 Ethan Miller/Getty Images Entertainment/Getty Images
In a statement on Wednesday, adult film performer Stormy Daniels' lawyer claimed Trump attorney Michael Cohen is making "threats" to his client, issuing legal warnings to try to keep her silent regarding her alleged affair with the president. Cohen has denied that President Donald Trump and Daniels had an affair, and White House Press Secretary Sarah Huckabee Sanders told reporters on Wednesday that Trump denies he had an affair with Daniels or knew about Cohen's payment.
Daniels, whose real name is Stephanie Clifford, is attempting to be freed from a nondisclosure agreement she reportedly signed in the final months of the 2016 presidential election, and for which she reportedly received $130,000 from Cohen. Then late last month, Cohen reportedly received a temporary restraining order to keep Daniels from discussing the alleged affair publicly.
For his part, Cohen has insisted that the $130,000 payout came from his own personal funds, and was not made with campaign money. Subsequent reporting by The Wall Street Journal has suggested that Trump may have known of and been involved in coordinating the payment, however, and reported that Cohen reportedly complained to friends that Trump hadn't reimbursed him the amount. Again, Sanders told reporters on Wednesday that Trump denies knowing anything about the payment to Daniels.
On Wednesday, NBC News reported that Daniels' lawyer, Michael Avenatti, said Cohen's own attorney, Lawrence Rosen, has been in contact with him and his client. Specifically, Avenatti characterized Cohen and Rosen's communications as "threats," and insisted that neither he nor Daniels would be intimidated.
Earlier today, Mr. Cohen through his attorney, Mr. Rosen, further threatened my client in an effort to prevent her from telling the truth about what really happened. We do not take kindly to these threats, nor we will be intimidated.
On Wednesday, Sanders said that Trump had already "won" an arbitration case against Daniels, a claim her lawyer has flatly and forcefully denied, calling it "completely bogus."
First of all, it does not appear as if he was even a party to the arbitration Ms. Sanders is referring to. How can you win something you're not even a part of? Secondly, claiming that Mr. Trump 'won' at arbitration when there has been no hearing, no notice to Ms. Clifford, no opportunity given to her to respond, and no decision on the merits, is completely bogus.
The arbitration hearing being referenced is likely the one initiated by Cohen back on Feb. 27, a hearing Avenatti has claimed Daniels was not present at and was not informed about, thus circumventing due process. More pointedly, he referred to it as a "bogus arbitration hearing." It was in that hearing that Cohen reportedly received the temporary restraining order.
In short, Daniels is clearly hoping to be freed from the terms of the nondisclosure agreement, thus enabling her to dish any details she wants about her alleged relationship with the president. Back in 2011, she gave a lengthy interview to In Touch magazine describing a 2006 affair with Trump, although in recent months she's also denied the story, ostensibly bound by the terms of the reported agreement.
In January, Cohen produced a letter allegedly written and signed by Daniels denying the affair, as well as the claim that she received a payoff. Daniels has since suggested, without directly stating, that the letter did not come from her.
If the allegations are true, it would mean Trump had an extramarital affair shortly after his wife Melania had given birth to their only son together, Barron. While it remains to be seen where this story and the lawsuit will go next, but it's clear from Wednesday's White House press briefing that it doesn't figure to fade away anytime soon.