People Are Sending Hundreds Of Coat Hangers To Sen. Susan Collins' Office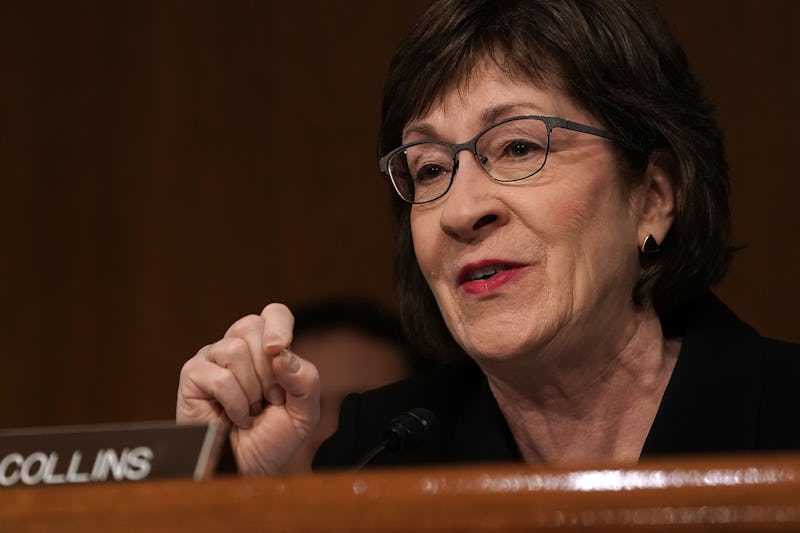 Alex Wong/Getty Images News/Getty Images
Maine Sen. Susan Collins, a moderate Republican who professes to hold pro-choice views, has drawn a lot of focus in the days since Supreme Court Justice Anthony Kennedy announced his retirement. She could cast the deciding vote to approve — or disapprove — Trump's Supreme Court pick. And now, people are sending Susan Collins coat hangers to remind her exactly how important her vote is.
The Cut discussed people on social media sharing their order confirmations of coat hangers sent to Collins' office, an act that is reminiscent of previous pro-choice protests in places as varied as Ohio and Poland. It's a throwback to the time before Roe v. Wade, when women sometimes resorted to unsafe abortions carried out using coat hangers, as Broadly reported. According to a report from the Guttmacher Institute, between 200,000 and 1.2 million women obtained illegal abortions each year in the 1950s and '60s, and death from these procedures was not uncommon.
By sending coat hangers to Collins, these activists seem to be making it clear that this is what they believe is on the line — women's right to essential health care. The Portland Press Herald reported that Collins had said that she would not hold potential nominees to a litmus test regarding their stance on Roe, and women immediately responded by beginning to send the coat hangers.
Bustle has reached out to Sen. Collins' office for comment.
While numerous women have been sending the hangers in various quantities, Collins will definitely receive over 100 of them — particularly because one woman posted an order confirmation on Twitter that she had sent a pack of 100.
"Shes [sic] old enough to know whats going to happen," wrote one woman on Twitter, along with the screenshot of an order confirmation. "Shame on her."
As the New York Times has reported, Collins has repeatedly stated that she would not vote for a nominee who had been outwardly hostile to Roe v. Wade, and that instead she would be looking for a justice who would respect the precedents set my previous courts. She has also played down the importance of her role in choosing the next Supreme Court nominee, for example in an interview with the New York Times' "The Daily" podcast, but the fact remains is that she is one of two Republican senators who have expressed pro-choice views.
Therefore, she and her other pro-choice colleague, Alaska Sen. Lisa Murkowski, are naturally the focus of attention and questions. During the campaign, Trump pledged to appoint anti-abortion justices to the court, according to the New York Times. His list of candidates was also all approved by the conservative Federalist Society, according to the Washington Post, which Collins actually took issue with, suggesting that he look beyond such a conservative bunch for his second appointment to the Court.
Despite Collins' claims that she would not select a judge whow would be out to overturn Roe, many don't entirely trust her standards. Collins did vote to confirm Neil Gorsuch, Trump's first Supreme Court appointee, and recently she told CNN that she didn't think that he would vote to scrap Roe. So far, however, Gorsuch not been kind to reproductive rights on the bench, joining the majority in a decision that favored the rights of so-called "crisis pregnancy centers" and arguing that Utah should be allowed to defund Planned Parenthood, as The Slot pointed out.
For now, both Trump's Supreme Court nominee and Collins' vote on that person remain mysteries. The White House is likely to move fast, though, so the pressure will only keep increasing on Collins. Perhaps the coat hangers at her office will shift her in one direction or the other.