A Teacher Copied Her Student's Hair To Help Empower Her & Yes, You Will Cry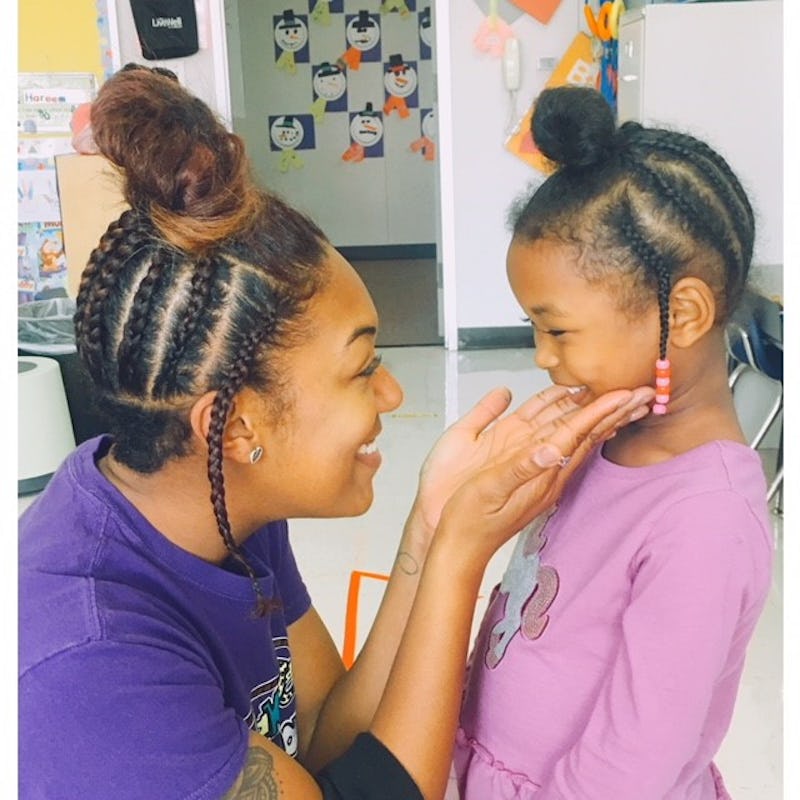 Leigha Bishop
Representation matters, especially when you're young. Seeing someone who looks like you portrayed as strong and smart and beautiful is important, helping young kids internalize that message and be proud of who they are. That's why Leigha Bishop, an elementary school teacher for seven years, recreated her young student's braided top knot in an effort to empower the girl to be her truest self. She wanted to show the little girl that she's an inspiration to others and incredibly special.
When one of Bishop's students came to class with a braided top knot, the teacher immediately complimented the style and said she wanted to copy. But her student didn't believe her, responding with a, "Sure, Ms. Bishop" as she walked away. To show the girl that she really did inspire her teacher, Bishop got to work on her hair that same evening and came into class with the same exact up-do, much to the surprise and delight of her student. And she took this moment as an opportunity to teach her class that they should love themselves.
"While I am teaching them content needed to grow and move on to the next grade level, I am also teaching them to love themselves a little more for the next challenge they might face in the next stage of development," Bishop shares with Bustle. "It is with the connections and relationships that I am able to help students succeed academically, and it is with those same connections and relationships that I am able to possibly save lives of children who never knew what being whole felt like."
She says she recreated the look to show her students that she genuinely cares about them. If they know that Ms. Bishop is in their corner, she says, they will be more willing to open up and ask for help if they're struggling with something in class or at home.
Bishop posted their matching hairstyles on Twitter, where it instantly became viral thanks to it's heart warming message.
"When your student is just so cute, you HAVE to copy her," she wrote in her caption.
And Twitter started collectively sobbing over how sweet and important this was. "We need more of this. Building confidence and reinforcing the natural beauty of our little girls," one user wrote.
Others acknowledged how simple of a gesture it was, but also how much potential it had to affect and shape the little girl.
Others highlighted how important it is to see yourself represented in culture and other people who look like you, likening it to the moment a little black boy touched President Obama's hair because it looked like his own.
Meanwhile other educators hopped onto the thread, feeling inspired to share the same kind of love and encouragement with their own students.
Bishop was happy that she inspired people with her copied up-do, saying that her life's purpose is to teach children that they're whole and loved.
She also acknowledged how important it is in both school and life to show children of color that they're represented and respected.
"Though I advocate for all children, black children do need more positive examples," Bishop says. "How often do we celebrate black women outside of Black History Month (if even then)? Almost never. If young black girls knew of the never-ending list of Black women who made a difference and are still making a difference, we wouldn't have so many little black girls with no one to look up to."
Bishop stresses that these girls need to know that they are important, too. And that they come from a long line of strong, impactful women.
"They have a voice that can be heard," she says. "They have a story that can be told. They have a heart that can be loved and respected."
And by showing up to school with her hair thrown into a braided bun just like her student, Ms. Bishop made her kids believe that with even more conviction.
"No matter what shade of 'black' you are, no matter what texture your hair is, no matter what kind of home you come from, you have the ability to do anything in the world," she says. "Yes, even the things the world says a little black girl can't do."