This Texas Bill Would Cut LGBTQ Protections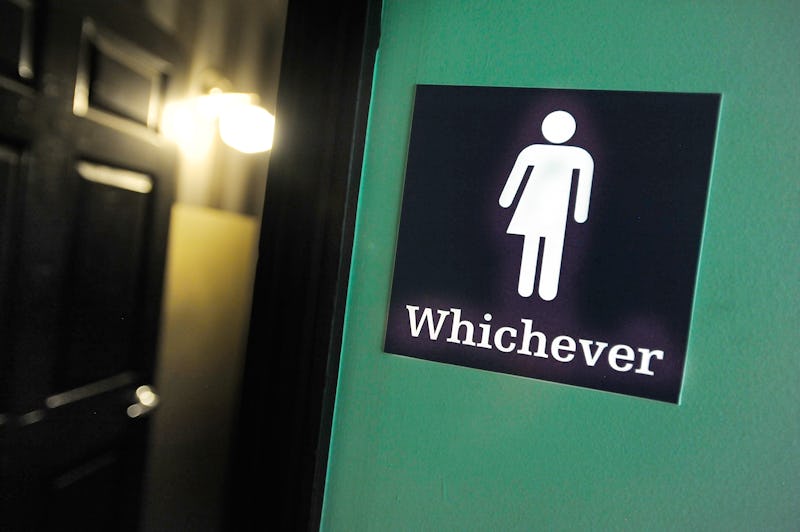 Sara D. Davis/Getty Images News/Getty Images
One of Texas' most controversial pieces of legislation seems to be swirling down the toilet. When the state legislature convened in January, top political leaders made it clear that the so-called bathroom bill would be a major priority for this session. But after it stalled in the House, hopes that the bill would make it to the governor's desk quickly disappeared. Lawmakers, though, haven't given up hope, and next week the Texas House will debate a bill that would cut LGBTQ and trans protections. This time, though, it seems to have key Republican support.
It seems that Texas is following in North Carolina's footsteps. When North Carolina passed its version of the bathroom bill last year, many Texas lawmakers — most notably Lieutenant Governor Dan Patrick — practically salivated over the prospect of passing similar legislation in the Lone Star State.
But as Texas lawmakers watched the huge economic backlash unfold over North Carolina's bathroom bill, support cooled considerably. The GOP controlled Senate passed bathroom bill last month, but just as North Carolina replaced its own bathroom bill, Texas' Republican House set aside the legislation in favor of a new measure that it hopes won't scare away business interests.
Under the version of the bathroom bill passed by the Senate, Texas would restrict access to bathrooms in schools and government buildings to the sex listed on a person's birth certificate. The new House bill, however, would ban cities, schools and other "political subdivisions" from passing non-discrimination ordinances. Additionally, the bill would overturn local ordinances that specifically protest transgender people from discrimination.
If that replacement sounds familiar, it's because it's extremely similar to a bill that just passed in North Carolina. The state ended a standoff with the North Collegiate Athletics Association when it replaced its current bathroom ordinances with a bill that would simply ban local entities from passing non-discriminatory ordinances. As the Dallas Morning News notes, Texas' legislation looks "quite a bit" like the recent bill passed in North Carolina.
Lawmakers have signaled support for the bill, which skirts the bathroom issue entirely, and — if North Carolina is any indication — seems to pass muster for some businesses worried about discriminatory policies. Although the Texas Association of Business is lukewarm on the new bill, a spokesperson for sports giant the Dallas Cowboys told the Dallas Morning News that "it's likely" that the franchise will support the bill. "It doesn't cross the line with us," the spokesperson said.
Advocates of the bill, however, said that it doesn't go far enough in protecting the LGBTQ community. Texas' law would ban local ordinances from passing non-discrimination regulations for classes of people not already protected at the state level. As the Houston Chronicle points out, Texas only protects against discrimination based on race, color, disability, religion, sex, national origin and age.