This Photo Of Rihanna & Lupita Nyong'o Is Amazing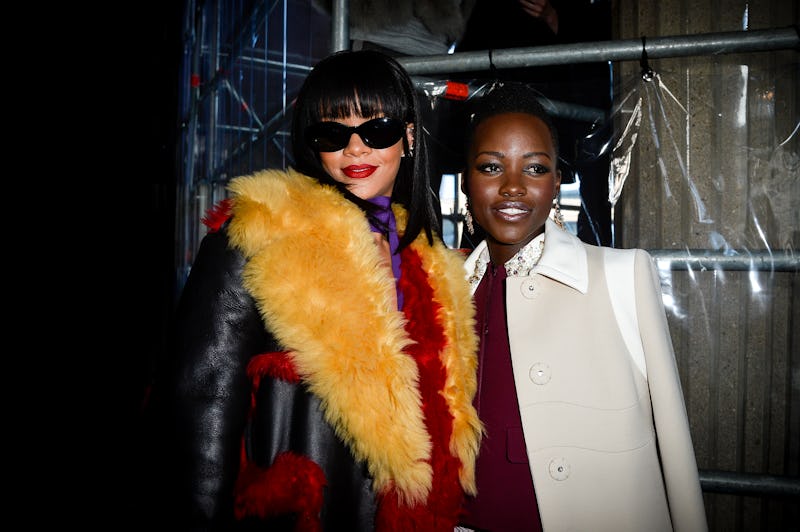 Pascal Le Segretain/Getty Images Entertainment/Getty Images
I'm fully aware that the all-women reboot of Oceans 8 isn't even out yet, but I already found you inspiration for Oceans 9, so listen up, Hollywood. This photo of Rihanna and Lupita Nyong'o in the front row at a fashion show is everything we need to spin out a compelling plot; whatever it takes to put the wheels in motion, let's do that. I mean it. Right now. The image that triggered this chain of events for me and everyone else is from three years back, when the badass duo was seated next to each other in the place of honor at the Fall 2014 Miu Miu show in Paris As with most things you thought would quietly fade away, it was unearthed again on Tuesday on Twitter.
In the picture, Rihanna wears a rich, goldenrod fur with a sharp bang, a bold lip, and sunglasses inside, like a true boss. Nyong'o sits beside her in a deep, jewel-toned sweater and embellished white collar, with elaborate earrings and smart-looking glasses. They are every inch the kind of criminal masterminds that you root for instead of against, because they're so good at what they do — which was pointed out by Twitter user 1800SADGAL, who retweeted the image with her own clever caption.
Um, yup. That's perfect casting, and now it needs to happen. Rihanna is already cast in and filming Oceans 8, so she's a perfect fit and would need almost no direction. But, if you need more incentive, Lupita Nyong'o is actually on board to make this happen. I repeat — ON BOARD TO MAKE THIS HAPPEN.
She saw the tweet herself and responded to it from her own Twitter account, and, ladies and gentlemen, this is not a drill.
Lest we forget, Nyong'o is an Academy Award-winning actress with a resume as stunning as her fashion sense, so let's not let this golden opportunity slip through our fingers, everybody. This movie is gonna make itself.
Plus, the rest of the casting is already done for us; all you need to do is zoom out on the original image. It's anchored by Rihanna and Lupita Nyong'o, of course, as the edgy man-scammer and the tech-savvy best friend, respectively, as we've already discussed. Then, moving down the row in either direction, you have Margot Robbie, Elle Fanning, Elizabeth Olsen, Blue is the Warmest Color co-stars Lea Seydoux and Adele Exarchopoulos, and Bella Heathcote to slot into the remaining roles.
This is fate and we'd be fools not to take advantage of the beautiful gift that just fell back into our laps. We missed it the first time around, in 2014, and now that we're older and wiser, we can't miss it again. We want this movie, we need this movie, we deserve this movie, and, by god, we're going to have it.