This Trans Activist Escaped Her Abusive Childhood & Pimp To Become A Community Leader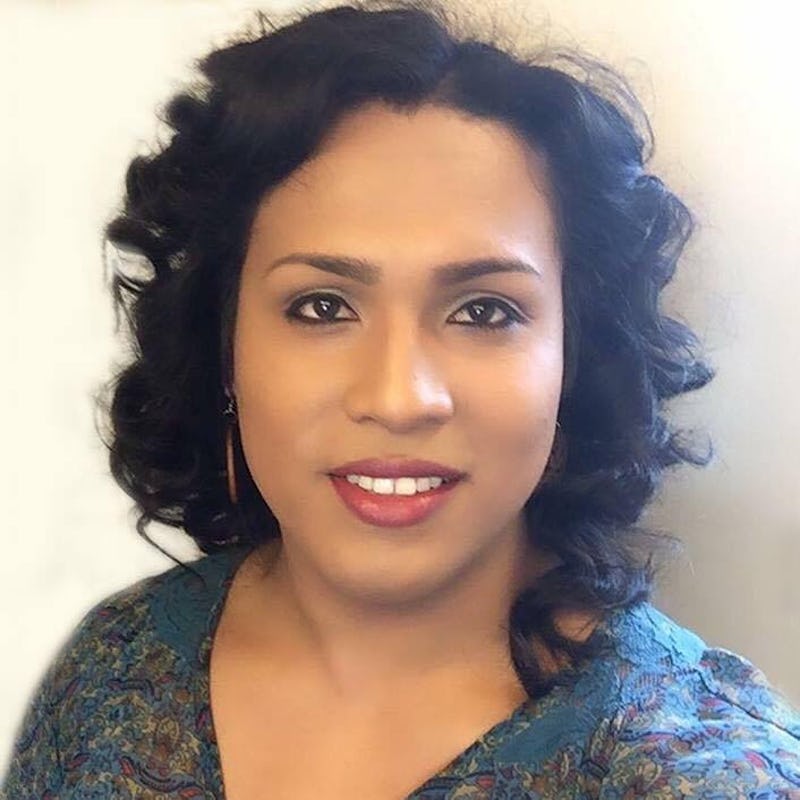 Liaam Winslet
At the Manuel De Dios Unanue Triangle in Jackson Heights, Queens, under the rumbling of the trains and sandwiched between unisex barbershops, taco carts and the constant flow of traffic on Roosevelt Avenue, around 50 people gathered on Nov. 17 in solidarity for the Trans Latina community. Many in the group were transgender or undocumented. They spoke mostly Spanish, worked low-wage jobs, and were used to the stares from those around them. But, that night, despite the constant honking of horns and roaring of the Number 7 train overhead, they huddled together to share their stories and honor lives lost. Plastic chairs were adorned with purple ribbon to symbolize the community's struggle against violence. Candles of remembrance were scattered between pink and purple high heels.
Behind the scenes, Liaam Winslet, 28, an activist involved with the organization Cólectivo Intercultural TRANSgrediendo, which promotes respect and equality for the trans community, worked to make sure Queen's first-ever Transgender Day of Remembrance, held entirely in Spanish, ran smoothly. She set up the PowerPoint slides, which displayed images of transgender women killed across the country. She played music over the sound system. Every so often, she paused to take a sip of water and snap a quick photo on her phone with friends.
Latin America is home to some of the world's highest rate of violence against the LGBTQ community. Between 2008 and 2016, there were 1,711 reports of murdered trans and gender-diverse people in Central and South America, accounting for 78 percent of murders worldwide, according to a report from Transrespect versus Transphobia Worldwide, which is a project operated through the advocacy group, Transgender Europe.
In Ecuador, the LGBTQ community is still in a precarious position. A 2015 decree from the Ecuadorian president allowed transgender people to legally change their names and gender identities, and in February, transgender people voted by their chosen gender (men and women wait in separate lines to vote in Ecuador) for the first time. However, there is an ugly history of hate to overcome. Between 2008 and 2014, 28 transgender people were murdered in the country, according to Trans Murder Monitoring project, which is also operated through Transgender Europe.
"We have to flee our countries not because we want to leave our homeland," Winslet, through a translator, tells me. "If something happens to you, the government is going to do nothing."
Winslet knows firsthand the terror of being trans in Ecuador. Growing up as a little boy in Guayaquil, Ecuador, she says she was always drawn to more feminine activities — jumping rope with the other girls, playing with dolls. She says she never understood why her grandmother bought her toy cars and balls every year for Christmas.
Trans women are still sometimes subjected to abuse by school officials or the police, even though the Penal Code considers psychological or physical violence on the basis of sexual orientation or identity as a hate crime, according to the OutRight Action Committee's 2009 report on the Situation of Lesbian and Trans Women in Ecuador.
"I cried like you have no idea," Winslet says. "And every single time I remember it, I feel anger. Sometimes you can forgive a little bit. But you definitely cannot forget."
Winslet was ultimately sent to conversion therapy. "I kept crying every time I had to go there," Winslet says about being forced to attend therapy. "Sometimes, it wasn't only talking with the psychologist. Sometimes, the psychologist turned violent and pushed me or grabbed my ears."
Winslet says she found solace with an organization created for transgender youth in Guayaquil and spent her nights on the streets, handing out condoms and running HIV tests.
However, that was hardly a panacea. Winslet says she was harassed by a pimp who said he would kill her. By then it was 2012. She was 23 years old at the time. And she realized that to save her own life, she needed to leave the country.
On May 27, 2012, at 4 a.m., Winslet says she arrived at the José Joaquín de Olmedo International Airport in Guayaquil. Winslet was bound for the United States to apply for political asylum. That meant making the case to U.S. immigration officials that her life in Ecuador was in danger because she was transgender.
For trans immigrants, the process of seeking political asylum is complicated and often takes years of uncertainty.
To qualify, applicants like Winslet must be living in the United States, prove fear of persecution in their home countries due to race, religion, nationality, membership in a particular social group or political opinion, and file an application within one year of being in the country.
For two years, Winslet says she lived without papers in the United States while working to gain asylum status. She entered the country with a tourist visa but stayed after it expired out of fear of being killed back home. She spent her first year in the United States on the streets as a sex worker.
"Society pushes you to engage in sex work because they close the door in front of your face," she says. "You put yourself in danger while doing sex work. But, you have to find a way to survive."
After a year of sex work, Winslet began working with Lorena Borjas, an activist and Translatina woman from Mexico City, at her organization, the Lorena Borjas Community Fund. She currently works as a peer educator for the Transgender Family Program at the Community Healthcare Network in Jamaica, Queens, in addition to her work with Cólectivo Intercultural TRANSgrediendo.
In August 2014, she found out she successfully qualified for political asylum. She says she cried like a baby in her lawyer's office when she found out. She is currently in the process of applying for her green card.
"I didn't think about it," Winslet says about her two years of being undocumented. "It was a total relief when I got my papers because there is a point where you see something as unreachable, but I've always thought that things happen for a reason."
"One of the things I've learned in my time here is if we stick together, organized and empowered, we are going to get our community visible."
Now, Winslet is trying to provide the support for the transgender Latina community that she had sought in her home of Ecuador. Among her advocacy work, she helps lead a weekly Translatina support group in the AIDS Center of Queen County, which she proudly notes is the largest in the borough.
"She escaped a lot of terrible things in order to be where she's at now, where she's a liaison to the community, where she feels like she's special in the community," Reverend Dennis Camacho, an advocate who co-founded a transgender support group in Queens, said about Winslet.
I attended one of the meetings and noticed how, in the back corner of the room, Winslet, in faded jeans and her hair piled on top of her head in a bun, stood and listened as members discussed their biggest challenges. At times, she contributed to the conversation with vigor — unassumingly forceful but always empathetic.
"One of the things I've learned in my time here is if we stick together, organized and empowered, we are going to get our community visible," Winslet tells me before the meeting. That night, she passed out flyers for an event intended to do just that: Queen's first-ever Transgender Day of Remembrance.
"We cannot be half visible or almost visible," she says, pausing to add, "We have to be visible."