This Clear Suitcase Will Make Airport Security A Breeze — If You Are OK With People Seeing Your Undies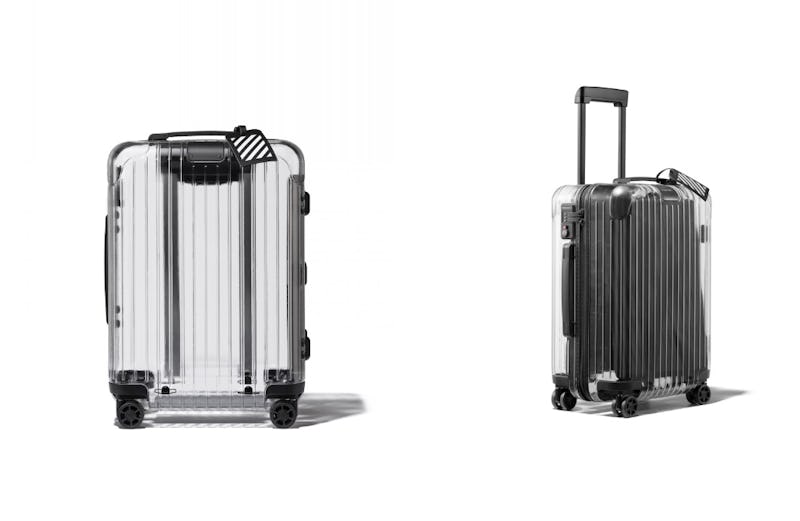 RIMOWA
Airport fashion is a lawless thing, where you can wear anything from a fisherman's vest to your high school pool slides and no one will think it weird. But there's one brand taking that kind of innovativeness and no-rules-barred mentality, and applying it to your luggage. The Off-White x RIMOWA luggage collab is bringing transparent suitcases to a store near you.
At a glance, that sounds quite risque. Even if you have packing cubes, electronic cases, and an organizational set up that The Container Store would be proud of, a person's suitcase can still end up looking ransacked even with the best of efforts. So how stylish, exactly, would a person look while wheeling around their clear carry-on as their pants, dresses, and socks are crumpled together in a mayhem-induced ball?
Then there's also the worry of what you pack. What if that one pair of ragged panties somehow mosey their way to the front, and you're sitting in the waiting lounge unaware that that one pair with the blown elastic is plastered to the case like a kid with his face pressed to a window. It could happen. And a certain amount of embarrassment might follow.
But don't worry, these guys are professionals and have considered all the angles and possibilities.
Off-White is a street-wear brand that has an edgy, street-inspired look where kitten heels mimic the bright yellow and black design of barricade tape, or thigh high boots have block letters going down their sides reading "FOR WALKING." Celebs like Kim Kardashian are a fan, where she was spotted wearing a bold pink tulle dress that was uncharacteristic and exciting for her usual body-hugging aesthetic.
RIMOWA is a German luxury luggage company that makes high quality aluminum and polycarbonate cases to survive the wear and tear of travel and airports. Together they have come together to create an innovative new collection that makes luggage a little less boring and a little more playful.
As Alexandre Arnault, the co-chief executive of RIMOWA, shared with Business of Fashion, it's all about the novelty factor.
"Maybe there's a bit of fatigue from customers of traditional brands and they're excited by fresh products done in a different way and this is something that's really well embraced by streetwear," said Arnault.
"A brazen, yet playful response to today's obsessive talk of privacy culture of surveillance and anonymity, the transparent design keenly hones in on the now and the next," the press page shared, tapping into how it's a novel piece.
The reason the two labels decided to make the cases clear is because it invites the owner to bring their own hand into the design process. The case transforms with whatever you put into it. "It's like 3.0 of personalisation. It's not just putting your initials on it but allowing another layer to come in play," Virgil Abloh, the designer behind Off-White, shared. "There's an emotional component to owning [the suitcase] and you become a performance art piece just by using the thing. It's like putting your items on display and rethinking the premise of a product." It coaxes out your emotional connection to your belongings — what do you want to share, and what do you want to hide?
This means you can stock up on cute cases or stylish bags to house all your clothes and packing essentials, and then display that inside the case. It might seem like a lot of work to the person that likes to just toss their things into their luggage and go, but if you're into streetwear and treat some of your fashion pieces like art, this a really interesting outlet to experiment with.
If you can't find any cases that you would like to display, this luggage comes with the brand's traditional Flex-Divider system in black, as well as customized bags for more efficient packing.
This collaboration will be available on June 25 at RIMOWA and Off-White stores, as well as on rimowa.com, but the European site. If you're in the mood to take your luggage up to the next level, this is a great option to play with.